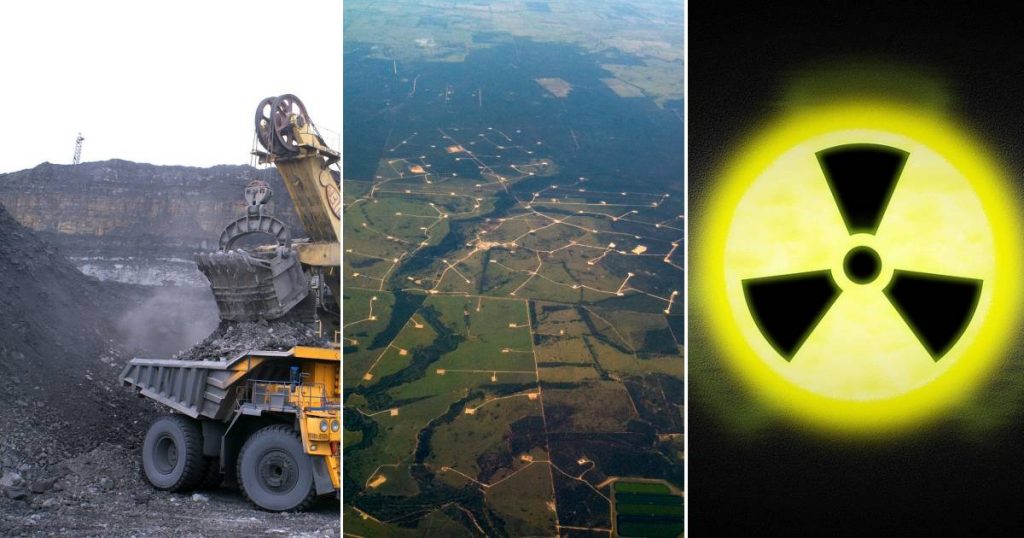 Adani's coal mine another step closer, fracking to kick off in the NT (WA soon too?) and our energy minister hasn't shut the door on nuclear power. Thank <insert choice of deity here> it's Friday.
Fossil fuel advocates will be punching the air and high-fiving each other with some recent news, while nuclear energy supporters in Australia may also see a glimmer of hope for their cause.
Adani Groundwater Plan Approved
The Queensland Department of Environment and Science (DES) approved Adani's Groundwater Dependent Ecosystem Management Plan (GDEMP) for its Carmichael coal mine in Queensland's Galilee Basin yesterday. This means the company can now start some work on the mine.
Federal Employment Minister Michaelia Cash reportedly stated it was a great win for Queenslanders and that "we need to take a long, hard look at red and green tape in Australia".
When I mentioned the approval to SQ's Ronald, he said:
"The Great Artesian Basin is the only artesian basin in the world that is in good health. I didn't realize we were keeping it pristine for the advantage of an Indian coal mining company."
While the news will come as a major disappointment to many, the Greens say the fight isn't over yet – not by a long shot.
"Adani still doesn't have all its legal licences, and it's never had a social licence," said Senator for Queensland and Greens spokesperson for mining and resources, Larissa Waters.
Before the first chunks of coal can be pulled from the ground, Adani will still need to gain other federal environmental approvals and a royalties agreement is yet to be finalised. Among the hurdles remaining is the little detail of getting the coal out of the area, with a shadow still looming over the Carmichael Rail Network; intended to link the Carmichael mine with Abbot Point Port near Bowen.
Questions also remain as to whether the mine is even financially viable, but Adani remains bullish on this.
The Greens say it will use whatever means are available in parliament, the courts and on the streets to try to prevent the mine going ahead; including continuing to push for a climate trigger in Australia's environmental laws.
"It's time for politicians like Annastacia Palaszczuk to come clean with coal communities, admit that there are no long term jobs in digging up and burning coal and work with the Greens on a plan to support these communities transition away from coal and towards sustainable, long-term jobs in the renewable energy sector," said Greens leader Dr Richard Di Natale.
Referred to as a "carbon bomb", the Carmichael mine has approvals to rip out up to 60 million tonnes of thermal coal annually, but Adani is reportedly planning to produce about 27.5 million tonnes.
More on the decision, the mine and some concerns aside from the massive amounts of carbon emissions and toxins that will be unleashed from burning what is pulled from it can be viewed here and here.
New Code Enables Fracking Up The NT To Begin
Earlier this week, the Northern Territory Labor Government finalised the Code of Practice for the NT's onshore gas industry; i.e. fracking.
"Our Government has a clear plan to protect our environment, create local jobs and ensure the actions of Government and industry are transparent and accountable," said Minister for Primary Industry and Resources, Paul Kirby.
It's now game on for fracking in the Territory. The fracking moratorium was lifted in April last year, but the Code needed to be completed before activities could begin – and it seems there's a number of players not wanting to waste any time in getting started.
While 49% of the Territory will be "frack-free", it means there's around 688,000 square kilometres that could potentially host fracking activity.
An ABC report says exploration could begin in "days, if not weeks".
On a related note, across the border in Western Australia work is reportedly under way on what could be WA's first fracking gasfield says Lock The Gate Alliance. However, regulations governing fracking in WA are yet to released or legislated. The WA Government has been clever in selling fracking, last year lifting the state's moratorium but committing to using fracking royalties for funding new renewable energy projects.
Angus Taylor On Nuclear Power – Willing To Consider It, But..
Australia's pro-nuclear lobby have also been thrown a bone; albeit a small, brittle one with sharp edges and very little meat left on it. The type you wouldn't give to a dog as it would probably choke.
Minister for Energy and Emissions Reduction Angus Taylor was quizzed by journalists in a doorstop interview on Wednesday about the potential for nuclear power in Australia. Here's the relevant bits.
JOURNALIST:  Are you now willing to start a conversation about nuclear energy?

ANGUS TAYLOR: The Prime Minister has made many comments on this in the lead up to the election. Right now, it is illegal to build a nuclear power station, and as he just said, when there's a very clear business case that shows the economics of this can work, we're more than willing to consider it.
You can read the full exchange here.
There's little hope of a viable business case being presented. While Minister Taylor may not have closed the door on nuclear power in Australia himself, he doesn't need to as it's pretty much already shut. This is just a distraction – nuclear power is horribly expensive; meanwhile the costs of renewables such as wind and solar energy (and energy storage) continue to plummet.
Minister Taylor also made some curious comments this week regarding LNG, stating Australia's LNG boom is " reducing our global carbon impact".