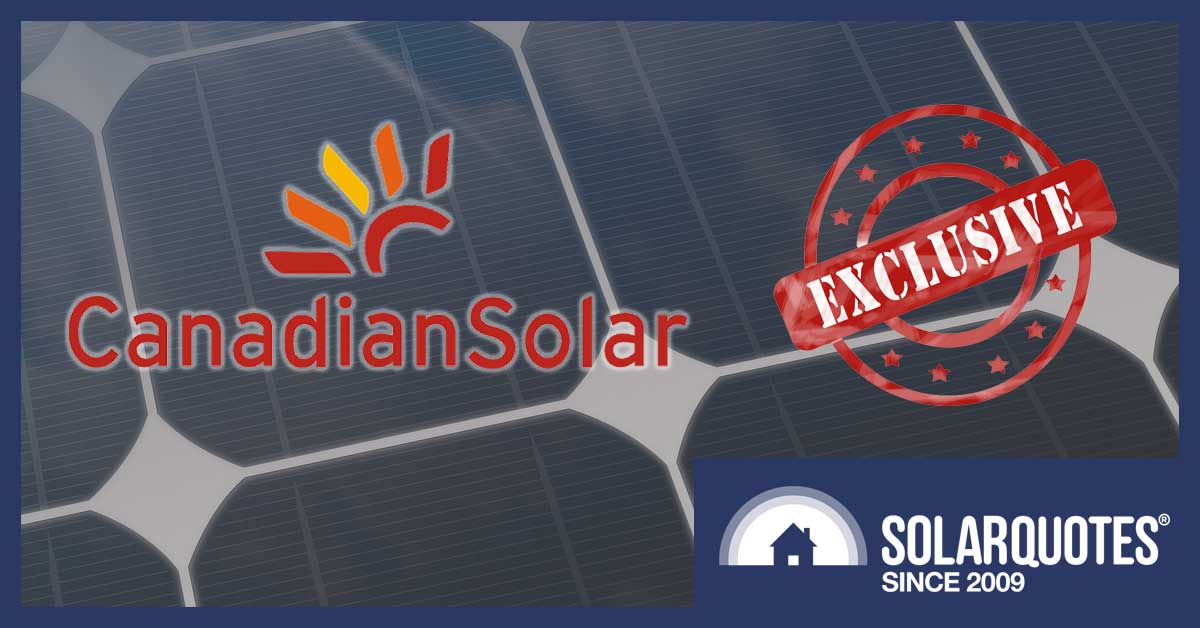 Today I spoke with Michael Rush, the head of Sales and Marketing for Canadian Solar in Australia.  Well, I say I spoke to him today, but you're actually reading this during my tomorrow — so my today is now your yesterday.  I guess time really is a wibbly wobbly thing.
He told me some interesting things.  They included:
They have a large Australian workforce of 50+ people.  I was told this shows they have a strong long-term commitment to the country.
The company will soon be providing Canadian Solar double glass panels here.
They now have an office in Toowoomba, one of the greatest bastions of civilization humanity has ever created.  However, the White Pages doesn't give a phone number for the Toowoomba office — they had phones in Toowoomba when I left, I swear!2 — so you'll have to go through the Melbourne office to contact them.
But the most important question I had for Michael Rush of Canadian Solar was whether or not he knew my Canadian girlfriend.  He didn't, but I shouldn't have been surprised as she does avoid the limelight more than the average billionaire, bikini supermodel, astrophysicist.
The second most important question I had was whether or not Canadian Solar would increase the product warranty on their solar panels.  The answer was..
"YES."
They had just extended it from 10 to 12 years and this applies to Canadian Solar panels being installed today.
Their product warranty is now superior to those of other competitively priced tier one panels.  This add some weight to Michael Rush's assertion that Canadian Solar panels are,
"…the best value for money available."
Solar Panel Product Warranty Vs Performance Warranty
Solar panels come with two warranties:
The Product Warranty:  That covers defects in materials and workpersonship and is 10 years or more, &…
The Performance Warranty:  This covers the output of the panels over time.  It is normally 25 years but can be 30 years for double glass panels.
I have argued that under Australian Consumer Law product warranties and performance warranties are effectively the same for homeowners.  Despite this, it is still a good thing when a manufacturer raises their product warranty because it indicates they have confidence in their panels.  All else was equal I would definitely recommend a panel with a longer product warranty.
Full Disclosure:  Canadian Solar gave me a pen.  It doesn't look as expensive as the one Sonnen gave me, but it may be better value for money.
Footnotes
Shingle solar panels are made of multiple, thin, overlapping solar cells.  An example of these are SunPower's P Series. ↩