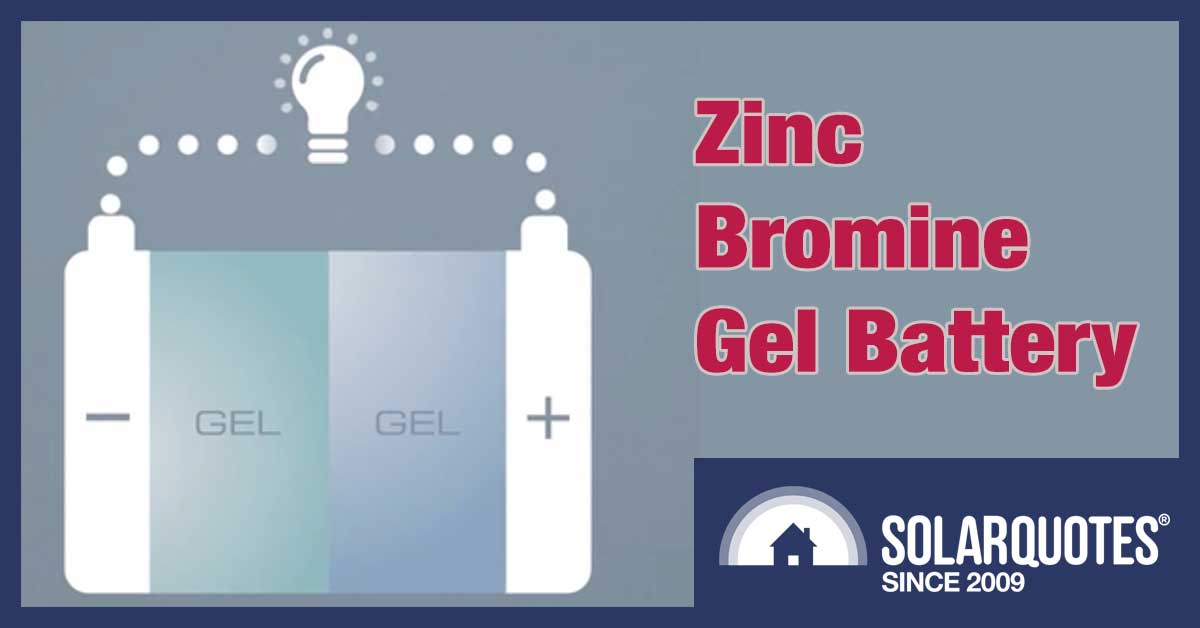 Like just about everybody, Australian battery innovator Gelion has had its business plans disrupted. But the company hopes it can have its first pilot trial production line ready early in 2022, and also anticipates commercial availability next year.
And because a new manufacturing facility in Australia seems to go against a (mostly) political narrative that Australia doesn't build things anymore, SolarQuotes interviewed Gelion CEO Andrew Grimes last week to discuss the company's battery technology and its plans.
Gelion's Battery Chemistry
Some readers will be familiar with zinc-bromine in flow batteries, such as those made by Queensland company Redflow. Redflow was in fact the genesis of Gelion, as Grimes explained to us.
"The founder, Professor Thomas Maschmeyer [of Sydney University], was approached by Redflow a few years ago to see if he could help them with some problems. He's a catalytic chemist, he did some work for them, and realised that there was an opportunity to use the flow battery chemistry."
What Maschmeyer realised was the zinc-bromine chemistry could also be built in a form factor similar to lead-acid batteries for stationary storage applications. That application wasn't of interest to Redflow, so the company gave Maschmeyer permission to pursue his idea. He set about building prototypes to demonstrate the technology, and in 2015 Gelion was born.
Grimes told us the chemistry is the same as Redflow uses:
"Zinc bromide gets split apart (into zinc and bromine) and brought back together, depending on whether you are charging or discharging."
However, instead of pumping the zinc-bromine across a membrane, the Gelion approach is similar to lead-acid batteries, with plates and electrolytes.
In a lead-acid battery, there's just a single electrolyte. In the Gelion chemistry, there are two – one zinc, and one bromine, both as gels – and it's the combination and division of those electrolytes that charge and discharge the batteries through the plates.
Finding A Place In A Fragmenting Market
In a market where all the popular attention is given to lithium-ion batteries – courtesy of Tesla's very high public profile – adopting a different chemistry might seem high risk. However, as Maschmeyer explains in this video, zinc-bromine is "nine times cheaper per electron transferred" than a lithium-ion battery.
Of course, as an early stage manufacturer, Gelion will start out with significantly higher labour costs than more established technologies. Grimes said as the company gains manufacturing experience, it will learn how to automate its processes as far as possible.
While not yet ready to name unit prices to SolarQuotes, he said the company knows where it wants prices to get to.
He believes the levellised cost of energy out of Gelion batteries – that is, accounting for whole-of-life costs such as disposal, the air conditioning a large lithium installation needs, the cost of transport and so on – will be significantly lower than large lithium.
Right now, it looks to the lay observer like the battery market is consolidating around lithium-ion batteries, but Grimes says that's a misconception. The world is still learning how different use cases have different requirements. While lithium-ion is the ideal battery for EVs, grid-scale batteries are better suited to technologies that scale up but use cheap materials (like zinc-bromine batteries).
So, Grimes said, the market is fragmenting, and that's a good thing for companies like Gelion.
"There is a real demand in stationary storage for other technologies – we see the market fragmenting as it gets larger and larger. And we see that our chemistry suits a particular application around stationery storage and energy shifting."
Recycling And Safety
There are other big advantages: like lead-acid batteries, zinc-bromine batteries are highly recyclable – Grimes said the Gelion batteries are "95% recyclable".
And the chemistry is intrinsically safe, with the electrolytes having fire-retardant properties. As you can see in this YouTube video (courtesy of the ABC), you can treat a Gelion battery very harshly without starting a fire:
Grimes said by its nature, lithium is a dangerous technology: "it gets dendrites that form a short circuit, and that starts the fire". And anyone who's seen a large lead-acid installation is familiar with signs warning of the spark risk.
Grimes pointed out that in the ABC video, not only did the battery not catch fire, it didn't stop delivering electricity.
This safety should be particularly attractive to remote users, since if you're half a day's travel from town, you're also a long way from fire-fighters.
"We're also in discussions with some of the large commercial building companies, who are very interested in putting batteries into new buildings, but don't want a lithium power plant in the basement", Grimes said.
Remote Households
The remote off-grid market is especially important in Western Australia and Queensland, he said, where operators can have single households connected to lines running tens of kilometres. Gelion reckons its batteries will be a perfect fit in such applications because of their safety, transportability (they can be transported at zero charge), and because they're less demanding on the users.
The zinc-bromine chemistry has a characteristic lacking in either lithium-ion or lead-acid batteries: instead of damaging the batteries, completely discharging the Gelion battery is beneficial.
"Essentially it's plating and deplating zinc on the anode side. On the cathode, it's dissolving and undissolving the bromine."
Those chemicals are quite happy to be plated and de-plated – Grimes said complete discharge performs a kind of "chemical reset" on the battery – and that's not true for the lead-acid battery.
"When you go too far down, you start getting reactions that are not reversible. You have sediment falling to the bottom of the battery that will never take part in a reaction again."
Everybody who owns a lead-acid battery bank knows the drill: whoever sets up the system has to decide the discharge limit and when to sound the alarm. A Gelion user will simply notice a blackout if they let the battery fall to zero.
Gelion Battery Manufacturing Nearly Ready To Go
With Sydney's lockdown ending soon, Grimes expects to start work on establishing the pilot production line in Fairfield soon.
"We are hoping to be putting small quantities of cells together by the end of the year. With battery manufacturing you start with a manual process, and as your process improves, you start putting in equipment and bringing down the costs."
It might look like an uphill battle in a national culture that assumes "nothing is made in Australia", but Grimes said Australia "punches above its weight" as a market for battery storage.
There's also the question of autonomy and independence from global supply chains that weren't as robust as everyone believed.
"Global politics and COVID have made us feel that being a little more self-reliant isn't a bad thing," Grimes said.
And since the company's initial customers will be here, being close to the customer makes it easier to be responsive.
Gelion's plan for the global market is to seek out partners among the world's lead-acid battery manufacturers because the manufacturing processes are so similar.
Author's note: This story has been edited. The original version of the story stated manufacturing could commence this year, which was in error.