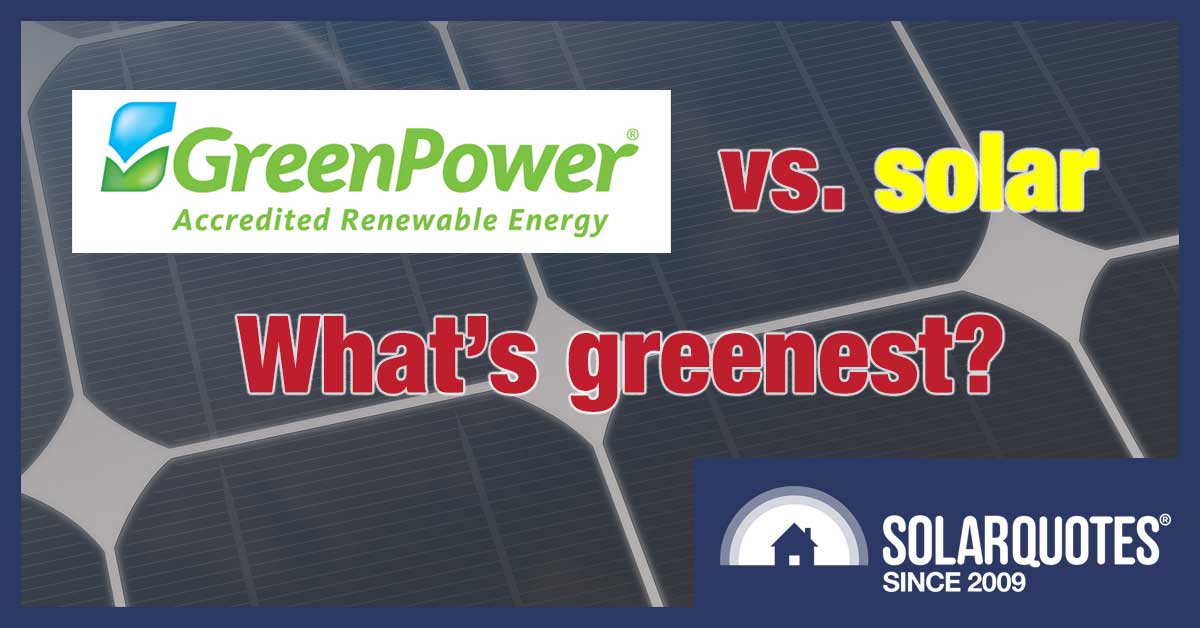 A while back a reader asked me for a post on rooftop solar vs. Green Power.  Or, if you spell as badly as a government national program — GreenPower.  So here it is:
Rooftop solar power is far better than GreenPower.
Done.
That was easy.  I guess it's time to have lunch.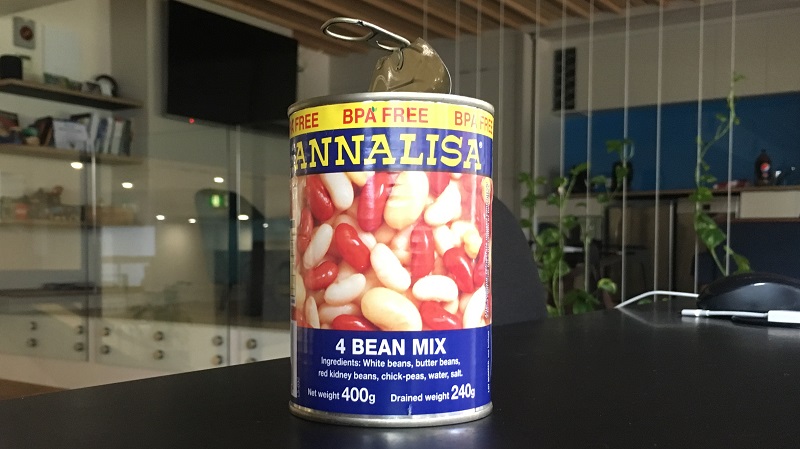 But before I eat I should probably explain how I arrived at that conclusion.  Also, it wouldn't be fair to GreenPower1 if I didn't point out it's a good thing for the environment and our lungs.  If you want to be extra clean and green you should get both.
In this article I'll explain why rooftop solar is better for your wallet.  Fortunately, it's an easy concept to get across — rooftop solar power decreases your electricity bills while GreenPower increases them.
I'll also explain what GreenPower is, how much it costs, and why it's likely to get cheaper.  I'll also cover why a large enough rooftop solar power system can be better for the environment than paying for 100% GreenPower.
What The Hell Is GreenPower?
GreenPower is a national scheme that allows households to contribute to the generation of renewable energy through an extra charge on their electricity bills that is used to pay for renewable energy certificates.  It's available from 25 electricity retailers through Australia.
The portion of your grid electricity use covered by renewable energy certificates purchases depends on your GreenPower plan and can range from 10% to 100%.  How much it costs partly depends on your electricity retailer.  As an example, here are the GreenPower options AGL offers with one of their electricity plans:

This is the first time so far in the article I've presented information from an electricity retailer and already we've run into the sort of shenanigans that make them such a joy to deal with.  For 100% GreenPower they say the price is 6 cents per unit but they also say it is 5.5 cents.  The chat feature on their website is down, so it appears I have no choice to find out the correct figure other than to call them.
Well, that was less painful than usual.
It turns out the 6 cent figure isn't the actual price, it's just 5.5 cents rounded up.  I'm surprised they didn't make it 5.49 cents so it would be rounded down to 5 cents and look cheaper.
Wait a minute…  If I'm now thinking of evil things AGL didn't think of, does that make me more evil than an electricity retailer?
Here is what Origin Energy charges:

At the moment their 100% GreenPower option is a little more expensive than AGL.
GreenPower Looks Like A Ripoff
The type of renewable energy certificates purchased with the money spent on GreenPower are called Large-scale Generation Certificates or LGCs for short.  At the moment they cost $39 per megawatt-hour.  There are 1,000 kilowatt-hours in a megawatt-hour, so by doing some advanced calculations using all 10 of my fingers, I can determine they cost 3.9 cents per kilowatt-hour.  That's about 40% less than what AGL charges for 100% GreenPower.
It can be much worse if you have 10% or 20% GreenPower where you pay a fixed amount of $1.10 or $1.80 per week.  If annual household grid consumption is 5,000 kilowatt-hours a year, which is typical for homes without solar panels, then you will be paying:
10% GreenPower:  11.5 cents per GreenPower kilowatt-hour
20% GreenPower:  9.4 cents per GreenPower kilowatt-hour
So you'll be paying 2.4 to 2.9 times the cost of the certificates.
But AGL doesn't rake in all the difference as 10% of the charge is GST.  While I enjoy a good bit of taxation every now and then, discouraging people from saving the planet is probably not the best way to go about it.
You May Be Better Off Doing It Yourself
Rather than pay for GreenPower it may be cheaper to simply buy LGCs yourself and just sit on them.  I suppose I should try to buy an LGC for myself and see how it goes.  I'll let you know how it turns out.
GreenPower Is Getting Cheaper
GreenPower is much cheaper than it used to be.  This is because the cost of LGCs has fallen by more than 50% in two years.   Because Australia's Large-scale Renewable Energy Target has been filled and is winding down they are expected to continue to fall in price.  According to future market estimates, in a year they may be only 2.3 cents per kilowatt-hour and in 2022 they might only be around 1 cent per kilowatt-hour.  So GreenPower should get a lot cheaper, even if retailers continue to charge a lot more than LGCs cost.
GreenPower Becoming Less Green?
The cost of renewable energy is falling fast, but not nearly as fast as LGC prices.  This means each LGC bought will pay for less new renewable generating capacity than in the past.  On the other hand, solar power and wind energy are much more competitive than they were, so this is much less of a problem.  It is not clear if LGCs will continue to reduce emissions in the same way as now their price is falling.2  But what is clear is buying LGCs, either directly or through GreenPower, will continue to support clean energy generation for as long as their price stays above zero.
Solar Saves Money While GreenPower Costs Money
Rooftop solar power and GreenPower are two very different things.  Rooftop solar is a direct investment in renewable solar electricity generation that provides clean energy and often pays for itself in under 5 years.  It works to lower electricity bills from the moment it is switched on.
GreenPower is an extra charge on your electricity bill that, after GST and retailer margin, goes towards buying renewable energy certificates.  It is helpful and does reduce CO2 emissions and air pollution.  But it's only useful to people who care about things like climate stability, protecting the environment, and those annoying things called children.  If your heart is full of pure evil, or you happen to be Tony Abbott, then you probably won't be willing to pay for it.  But even someone who is convinced there is no such thing as global roasting can still see the benefit of investing in solar power to save money.
Rooftop Solar Power Can Be Better For The Environment
Unless you start buying LGCs yourself — which may not be a bad idea — you cannot get more than 100% GreenPower.  But it is possible to do better than that with rooftop solar.  If a system produces more kilowatt-hours on average than the household consumes then solar will be more effective than 100% GreenPower at reducing emissions and air pollution.
Most homes are able to install a 6.5 kilowatt solar power system that will typically produce over 9,000 kilowatt-hours a year.  This is considerably more than the typical annual household consumption of roughly 5,000 kilowatt-hours.
Solar Plus GreenPower
If you want to be kind to your fellow humans and also puppy dogs and duck-billed platypuses, then you can get both solar panels and GreenPower.  This is what my boss, Finn, does.  I don't have GreenPower because I assumed contributing to getting solar systems built would be more cost effective.  For example, after I get my tax return done this year, I'll see if I can finally afford to get my sister solar power.  Don't tell her I'm willing to pay for it!  I'm still hoping to convince her to shell out for it.3
But there's no real reason why I couldn't get GreenPower as well as solar.  Even at today's prices it would only cost me around $100 a year.  However, it may be more cost effective to simply buy renewable energy certificates and then use them as toilet paper4 so no one else will ever use them to offset emissions.  So I'll see if I can buy an LGC for myself and if I'm successful I'll let you know how it's done.