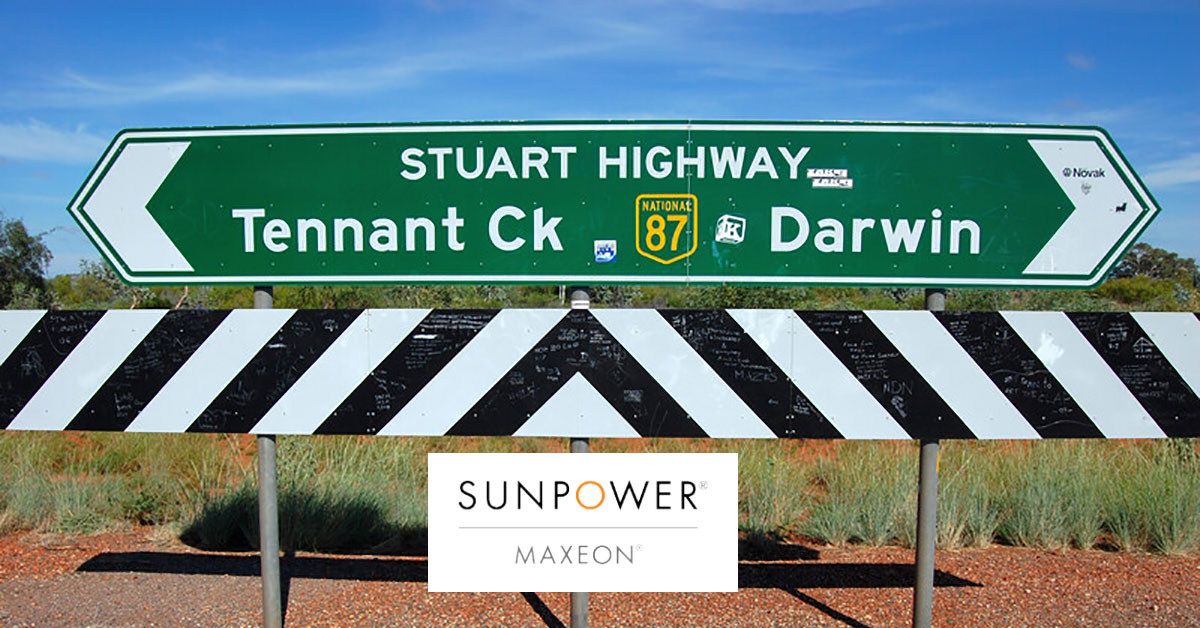 Sunpower's recent launch of the Maxeon range of PV panels has caught customers and installers in the Top End in a bit of a bind: the Maxeons replace the venerable but popular E-Series panels, but they haven't yet obtained the rating needed to get approval in cyclone areas such as Darwin (or for that matter the northern regions of Queensland and Western Australia).
The Maxeon units are pretty much the Rolls-Royce of super-efficient solar panels, but it's only just started shipping in volume (here's the launch announcement and we also mention Maxeon 3 here), and as our tipster discovered, the new system hasn't received Northern Territory approval for installation in cyclone zones:
"I have contacted a number of installers including those recommended on your blog. I also directly contacted Sunpower. I was told by Sunpower that they are no longer able to supply the Sunpower E Series E-20, 327W panels. These panels will be replaced by Maxeon 2 350W."
Well, we have good news for Territorians: Sunpower has assured SolarQuotes that it's aware of the issue, and is actively pursuing testing to get the Maxeon panels into Darwin as soon as possible. The company also reminded SolarQuotes that it has always obtained cyclone approvals for previous solar panels – so our friend has turned up a problem of timing, rather than intention. We're promised a speedy resolution for the customer's requirements.
Solar Panel Wind Loading Certifications
While SolarQuotes was awaiting answers – and props to Sunpower for answering our query quickly – we researched wind loading certification requirements, documents, and online databases, and information seems a bit scattered and fragmentary.
If you're interested in more mundane requirements, the Clean Energy Council has an extensive list of products and the approvals they carry at the bottom of this page. The Approved Product List tells you whether a product passes standards for salt and ammonia resistance, degradation over time (potential-induced degradation, standard IEC 62804), certification by German authority VDE, and covers 37 pages of individual modules.
Alas, cyclone rating isn't covered by the Approved Product List.
That's an important detail if you happen to live in a cyclone zone, and as we discussed in 2017, cyclone zones are where proper clamping is most vital – nobody wants their solar panel to seek a new life as a Ninja star!
Clamping and mounting isn't all that matters, however. In cyclones, solar panels need extra structural integrity to withstand sudden and severe changes in air pressure, so the Clean Energy Council says manufacturers should put their modules through James Cook University's Cyclone Testing Station if they're being used in cyclone zones.
In this PDF, NT Worksafe advised that all installations in the cyclone zone require a building certification, and directs you to the Northern Territory's "Deemed to Comply Manual" for further information.
The Deemed to Comply Manual is published by the NT's Building Advisory Committee (BAC), which sets building standards for high wind area construction.
The manual is searchable here, and the solar power sector is badly under-represented. There's a few racking systems in the database, and just one PV module with a current approval (made by Europe-based REC). Compare that to the solar hot water outfits: Rheem, Solahart, Rinnai, Suntrac, Thermomax have all obtained DCM listings for multiple products over the years. If a BAC listing is affordable for hot water systems, why not for solar panels?
We also note the BAC lists six facilities in Australia able to conduct "Low-High-Low" tests to demonstrate a product's ability to withstand a cyclone. The BAC lists Vipac, JCU, Lysaght/Bluescope, Adelaide University, BRANZ, and the CSIRO as offering LHL tests.
(Low-High-Low (LHL) cyclic testing subjects a product to as many as 4,500 cycles from low atmospheric pressure to high, and back to low. This is designed to simulate how gales behave in a cyclone. This PDF guide from James Cook University was written before LHL was adopted as a building standard, but it gives you a good impression of how a testing facility will conduct the test).
One source said the challenge for suppliers is compounded by Territorian attitudes – regardless of a lab's accreditation, the NT will still require that a local structural engineer has signed off that a product is suitable.
Even if that sounds parochial, there is genuine reason to be strict: the far north receives regular batterings, and extra care needs to be taken.
And while local solar installers know quickly enough what they can and can't work with, we can't help feeling that information access could be improved.