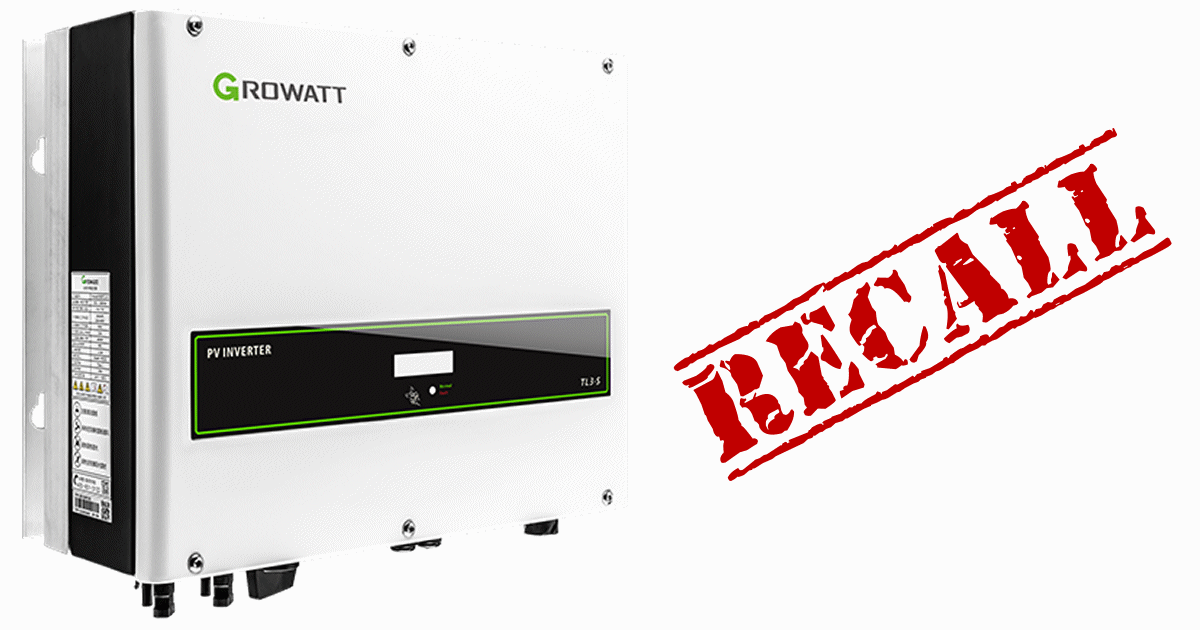 Hundreds of 8kW Growatt solar inverters sold in Australia are subject to a recall due to an electrical safety standards issue.
On Friday, the Australian Competition and Consumer Commission (ACCC) published a recall notice on its Product Safety Australia website concerning Growatt 8.2kW 8000 MTL-S inverters manufactured between 18 January 2021 and 26 February 2021. The units were sold/installed by several companies in New South Wales, Queensland and Victoria.
Serial numbers of the affected inverters can be found here – there's around 500 of them. The serial number can be located on the label on the left-hand panel of the inverter.
Sparking the Growatt 8000 MTL-S recall were connectors installed with the affected inverters being different types and manufacturers, which does not comply with electrical safety standards. The incompatible connectors could overheat or melt says the ACCC, and there is a risk of the connectors catching fire.
The ACCC advises owners of the affected units should shut down the inverter (consult your installer for correct shutdown procedure if you're unsure how to do this).
Growatt New Energy Australia will be contacting owners to arrange for the inverter to be repaired on-site at no cost. Owners can contact Growatt New Energy Australia on 1800 476 928 or via [email protected] – but more on that below.
Aside from the ACCC's recall notice, there didn't appear to be any information on the issue on Growatt's Australian web site or social media channels at the time of writing. This appears to be the first recall of Growatt inverters in Australia.
A Bit About Growatt
Growatt was founded in 2010 and has a 200,000 square metre manufacturing plant in Huizhou, China with an annual output capacity of 20GW. As well as residential, commercial and utility-scale PV inverters, the company also manufactures battery systems, microgrid systems and smart energy management solutions.
The company's previous generation inverters supplied into Australia were reportedly pretty ordinary and then the company abandoned Australia for a few years; returning with new inverters. Growatt solar inverter reviews from Australian customers here on SQ have been generally been pretty positive over the last 12 months.
The company is not currently listed on SolarQuotes' recommended inverter brands chart.
Contacting Growatt Problematic?
With regard to getting in touch with Growatt, we had a comment last week on an old blog post from an Australian owner who had attempted to contact the company about an unrelated issue over a period of 48 hours via the 1800 support phone number. He mentioned that provided 3 options, all of which were directed to a full voicemail box. And this was before the recall was announced.
"As the phone is never answered you can't talk to a person nor can you leave a message," said the commenter. "My email for assistance has gone unanswered. (not replied to)."
I tried calling the number early this morning. While it was outside of business hours and the recording stated that, it also said if I would prefer a call back, to press 1 to leave a message. Doing that just resulted in the same recording being repeated – there was no option to leave a message.
It's not a good situation at the best of times, let alone when a recall is active.
Related: How To Choose A Good Solar Inverter.