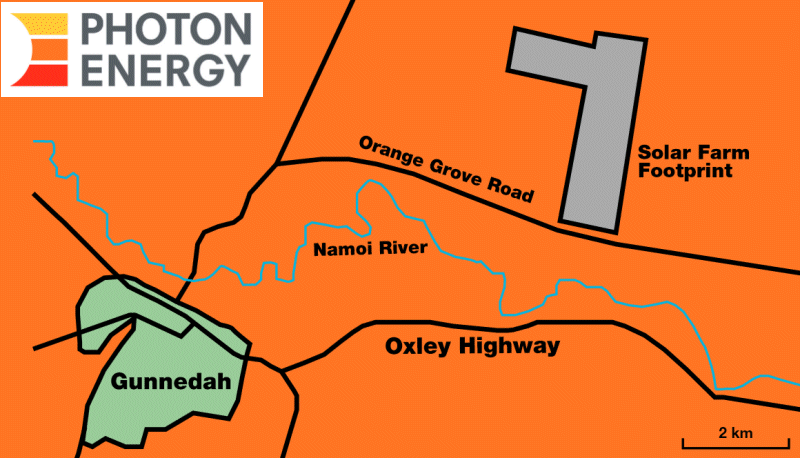 New South Wales' Independent Planning Commission has approved a contentious $200-million solar farm project near Gunnedah – with some added conditions.
Gunnedah Solar Farm is a 165MW1 project proposed for a site approximately 9 kilometres outside of the town. Developer Photon Energy Australia Pty Ltd says the facility will generate an estimated 293,000 MWh of electricity a year – enough to supply the equivalent of 49,000 households' requirements. Photon Energy states the clean power station will avoid 236,302 tonnes of carbon dioxide emissions annually.
We reported in November last year the project had been referred to the IPC as a result of 49 objections from the public (one a duplicate) being lodged. The threshold for IPC referral is 25 objections.
The objections were mainly around issues relating to land use, heavy vehicle traffic, flood risk and concerns over aesthetics and potential impact on local property values.
Since referral, Commissioners met with various parties including the developer and representatives of  Gunnedah Shire Council and the Department of Planning & Environment. A public meeting was also held to discuss residents' concerns.
"Following careful consideration of all the evidence and weighing the community's views, the Commission has today (Tuesday 12 March 2019) determined to approve the state significant development application, subject to conditions," stated the Independent Planning Commission.
Those conditions include ensuring the distance of the solar panels from the project boundary and their height along with proposed vegetation screening would appropriately screen the site. Photon Energy will also be required  to prepare a decommissioning and rehabilitation plan ensuring the site is restored to its pre-existing agricultural capability (it's currently being used for cropping) at the end of the solar farm's service life. The project has been designed for a lifespan of 25 years, but that may be extended.
Other conditions laid down by the IPC can be viewed here.
Photon Energy had hoped to make a start on construction during the first quarter of this year, but the referral to the Independent Planning Commission created a delay. At the time of publishing, the planned construction start for Gunnedah Solar Farm is in the final quarter of this year and installation should take approximately 12–14 months.
Photon Energy says the project will create approximately 100 jobs during construction and up to ten jobs during operation. The company has committed to employing local workers where possible.
Footnotes
IPC notes it as 150MW, but that may be the facility's AC rating – or perhaps the capacity has been reduced. ↩