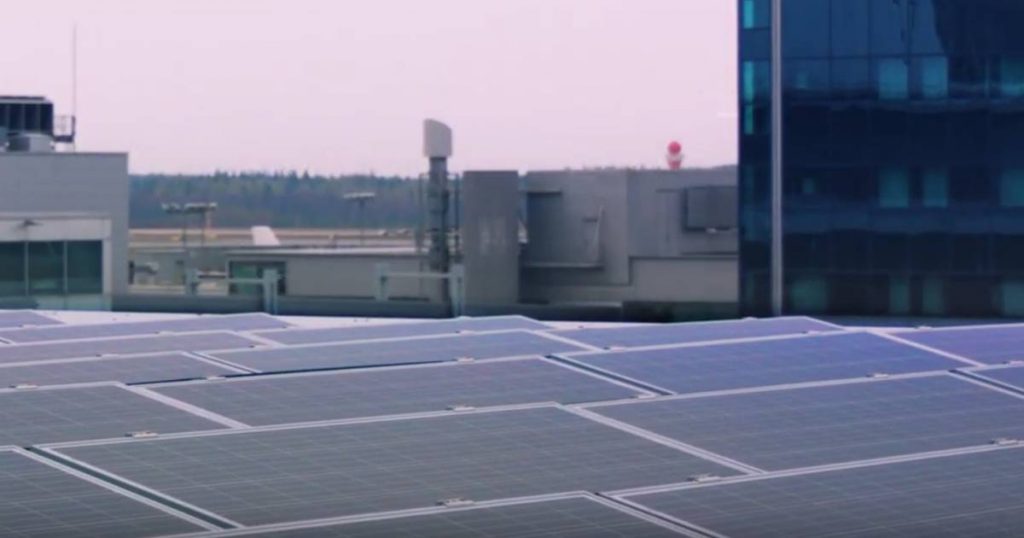 Finland may have long, dark winters, but it still pays to make use of sunlight for generating electricity says Finavia, which maintains and develops 21 airports around the country.
Early this week Finavia announced Helsinki Airport's solar power capacity will be expanded through an installation on the roof of the facility's new west wing. 330kW is to be installed and will generate equivalent of around 5% of the electricity required in the new terminal extensions.
This expansion will be followed by the installation of solar panels on the façade of the airport's parking building, the energy from which is earmarked for electric car charging.
Once completed, Helsinki Airport's total solar capacity will be around 660kW. Further installations haven't been ruled out at Helsinki and other airports given the amount of available land and roof area.
"Although wind power plays a bigger role in Finland, it pays to make the most out of sunlight, too," says Johanna Kara, Environmental Specialist at Finavia. "It's wonderful how the production costs of solar power have gone down."
Finavia says Helsinki Airport's solar capacity will be the largest among airports in the Nordics.
"Its details like this that add up to responsible operations," states the Finnish government-owned company.
SQ's Ronald recently took a look at solar power in Finland as part of his article on nuclear energy in the country1. It turns out the annual output of 1 kilowatt of optimally positioned solar panels in Finland's capital compared to Sydney is only one-third less. However, when comparing the worst month in the two locations, the Helsinki solar panels will only produce 4.5% as much as those in Sydney.
Aiming For Carbon-Neutrality Across All Airports In 2019
Helsinki Airport already has carbon neutral certification (Airport Carbon Accreditation), with renewable energy playing an important role in this – primarily wind power. Earlier this year, Finavia announced it intends for all its airports to be carbon neutral this year, one year earlier than previously planned.
In addition to utilising wind energy, solar power and biodiesel, some of its airports use geothermal heating and pellets for "carbon-neutral heating" – although some argue pellets may be considered renewable, but not carbon-neutral.
In other related efforts looking towards the future, the company is participating in financing the purchasing and testing of Finland's first fully electric aircraft.
"We believe that electric aircraft will be a realistic option for short-haul flights within a couple of decades," said Henri Hansson, Technical Director at Finavia back in March.
Footnotes
Nuclear energy in Finland was a topic of some debate between SolarQuotes founder Finn and Ronald in our latest vodcast. During the vodcast, Finn also indicated he was considering installing solar panels at a property in Finland he inherited – view the segment and the rest of the vodcast here ↩