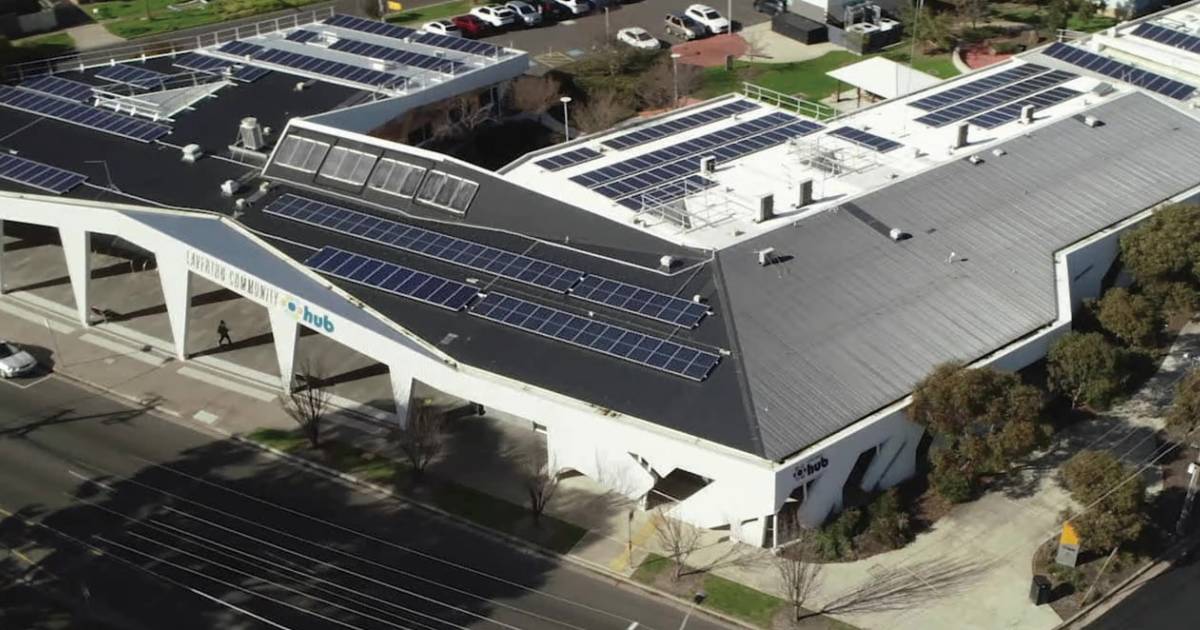 It won't be long before the initial stage of an innovative solar powered virtual energy network (VEN) project in the Victorian local government area of Hobsons Bay will be completed.
Back in August last year, Council announced a Virtual Power Plant project involving installation of solar panels on dozens more of its buildings. Many councils across Australia are installing solar panels, but the difference in this rollout is where surplus electricity is generated, this will be virtually "moved" to other buildings within the network that require it.
Among the more than 40 buildings to be part of the network, the latest to have solar power systems installed are Altona Civic Centre, Newport Hub and a building in Laverton housing social enterprise Mesh Mash. The Altona Civic Centre installation is a big 'un – a 402 kW system capable of supplying equivalent to around 80% of the building's electricity requirements.
Once the rollout – being delivered by Enervest – is complete, Council will have close to 4MW of solar capacity that will slash up to 55 per cent of its total carbon emissions. It's expecting a simple payback period of 9 years1.
Among some of the other solar systems part of the project:
Altona Library: 63.22 kW
Williamstown Library: 52.36 kW
Altona Meadows Library: 56 kW
Altona North Library: 50 kW
Newport Hub: 55 kW
Laverton Hub (pictured above): 99.28 kW
Virtual Power Plant (VPP) Vs. Virtual Energy Network (VEN)
While Hobsons Bay Council has previously referred to the project as a VPP, a conventional Virtual Power Plant usually involves an energy storage component such as batteries. In this scenario, a Virtual Energy Network (VEN), batteries aren't necessarily required.
Providing the tech smarts for "moving" the solar energy between buildings is Circle Energy. The company doesn't have a web site yet, but its Executive Director Justin McFarlane is also the ED of Rethink Sustainability, which does. That site makes reference to Virtual Energy Networks (VENs)
" our VEN platform will transform the way in which energy is managed from the traditional site by site model, to a model which allows control over how energy is sourced, generated, stored and distributed amongst existing portfolio and/or independent sites."
A VEN can be expanded to include other local industry and community partners, including households.
Council has noted batteries may be added in future to make the project a true virtual power plant.
"There will be a number of possible opportunities to use this battery stored energy, such as powering Council's electric vehicle fleet in the future."
The solar installations will be completed in the coming months.
"When we come out of lockdown, we are confident our community will enjoy using our facilities even more knowing they are fuelled by homegrown, renewable energy," said Hobsons Bay Mayor Cr Jonathon Marsden.
Mayor Marsden says what Council is doing can be expanded or replicated across the region, Melbourne or Victoria and he looks forward to potential partnership opportunities with the state government.
Footnotes
Payback on commercial solar can be much shorter – it's not uncommon for payback on a standard type of installation to be achieved in 5 years these days. ↩