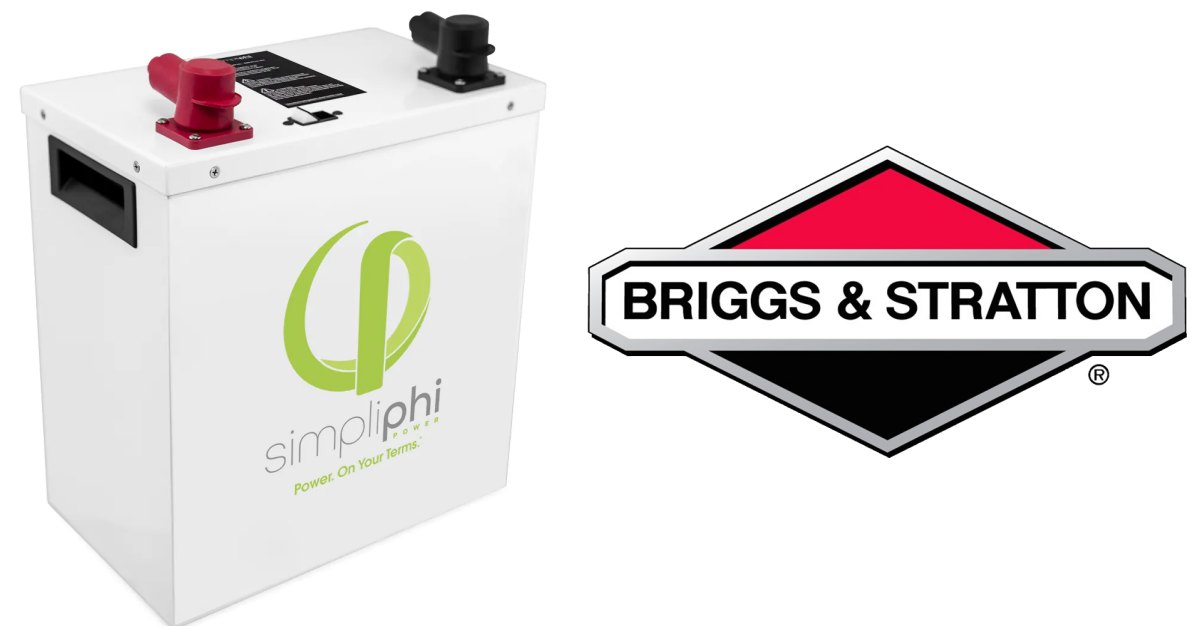 Lawnmower engine maker Briggs & Stratton has scooped up US off-grid/on-grid energy storage company SimpliPhi Power.
Briggs & Stratton has been around since 1908 and produces engines for outdoor power equipment under its own brand and for a bunch of others; including one that would be familiar to many Australians – Victa; acquired by the company back in 2008.
As for Simpliphi Power, the firm had its beginnings in California back in 2001/2002 under a different name – the very patriotic LibertyPak. Originally using cobalt in its batteries, the company switched to LiFePO4 (lithium ferrous phosphate) chemistry in 2007 due to that chemistry's efficiency, longevity and stability attributes.
While the Briggs & Stratton name has been more synonymous with noisy, emissions-spewing petrol powered internal combustion engine (ICE) stuff such as lawnmowers, go-karts and generators, the firm sees what the future holds.
"This acquisition quickly establishes a strong position for Briggs & Stratton in the high-growth energy storage system market," says the company's President and CEO Steve Andrews.
Mr. Andrews then goes on to mention Briggs & Stratton's portfolio of "power-agnostic" products and technology solutions. It does already have a battery electric motor among them under its own branding  – the 82Li Series lawn mower motor, and Victa offers a couple of electric lawnmower models.
Simpliphi Power seem pretty happy about the acquisition, stating Briggs & Stratton's expansive distribution network will accelerate its growth.
In other related news from Briggs & Stratton, back in July the company acquired a minor stake in Accelerated Systems, which develops traction and control systems for vehicles, and has design capabilities for electric motors, controllers and battery systems.
A Bit More About SimpliPhi
SQ's Ronald took a closer look at SimpliPhi Power 4 years ago and one of the company's batteries is listed on the SolarQuotes battery comparison table. It seems we'll need to update the table as the PHI3.4 Smart-Tech battery shown doesn't appear to be produced any more.
Simpliphi energy storage products have been used by the U.S. military in harsh environments such as Iraq and Afghanistan, but as to how widely they are utilised in another often harsh environment – Australia – isn't clear. However, according to the company, Australian miner Dacian Gold is using 21 x PHI 3.4's at a mine north of Kalgoorlie in Western Australia with a 26.1 kW solar power system.
SimpliPhi Power partnered with DPA Solar to distribute its energy storage technology in Australia and New Zealand back in 2015, and that relationship continues today.
We're yet to see any SimpliPhi solar battery reviews from Australian customers or much in the way recent local chatter about the company. So, for any Australian Simpliphi Power home battery storage owners out there; perhaps leave a review on that page to share your thoughts.
An interesting snippet – SimpliPhi recently donated a pallet of PHI batteries to its partners at Footprint Project to build mobile microgrids to help out the victims of Hurricane Ida, which knocked out power in the city of New Orleans and broadly affected electricity supplies in south-east Louisiana. Some of the state's residents may be without mains power for weeks.