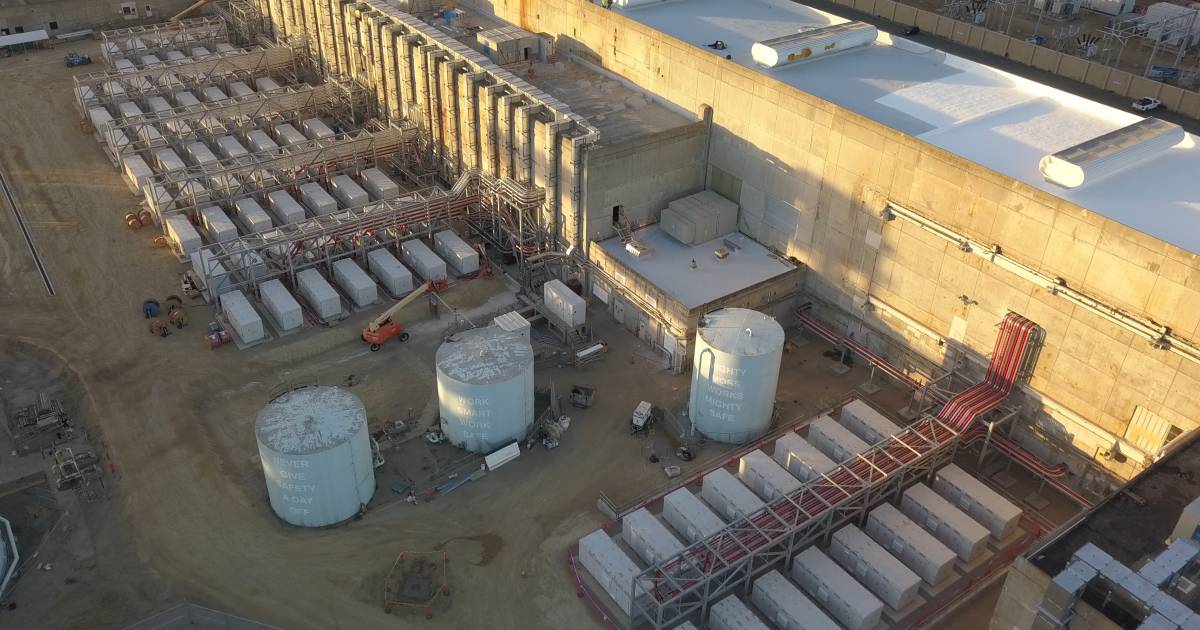 Late on Saturday evening, a major energy storage project in the USA was taken offline after an incident involving some battery modules.
At 300MW/1,200MWh,  Phase 1 of Moss Landing Energy Storage Facility in Monterey County, California is the world's largest operational battery energy storage system (BESS). LG Energy Solution supplied 4,500 TR1300 racks containing JH4 high energy cells for the project, pre-assembled at LG's factory prior to shipping to reduce construction time and associated installation costs.
Phase 1 commenced commercial operations on December 11, 2020. The batteries charge up during the day, taking advantage of local solar energy generation, and discharge back to the grid as solar electricity production drops in the evenings.
In the incident on Saturday evening (Sunday morning in Australia), integrated safety systems detected "a number" of battery modules operating at a temperature above operational standards, which triggered targeted sprinkler systems that doused the affected modules.
Owner of the facility Vistra Corp says while the incident was controlled and contained without the need for outside assistance,  the local fire department was called in as part of response planning.
A local news channel reported the incident was a bit more than battery modules getting a little warm, with the firies allegedly stating some battery racks had been "scorched" and wires "melted".
There were no injuries and at the time of publishing, it's not known when the facility will be returned to service.
"With safety as its No. 1 priority, the company is taking a conservative approach and keeping the entire facility offline as it investigates the root cause of the incident in partnership with its engineering contractor, Fluence, and battery manufacturer, LG Energy Solution," says Vistra.
North County Fire Protection District of Monterey County is also assisting with the investigation, along with other external experts.
In an update posted a short time ago, Vistra states it will take some time to fully assess the extent of the damage before developing a plan to safely repair and return the battery system to operation.
The incident has taken the shine off Vistra's recent announcement of construction completion of Phase II of the Moss Landing Energy Storage Facility. The 100MW expansion, also using LG Energy Solution batteries, brings the facility's total capacity to 400 megawatts/1,600 megawatt-hours. Phase II remains available for operation.
There's room for further expansion at the site – up to a massive 1,500 MW/6,000 MWh.
Victorian Big Battery Update
On a related note and closer to home, Victoria's Big Battery project – a 300 MW / 450 MWh facility consisting of 210 Tesla Megapacks under construction near Geelong – experienced a setback in late July after a fire in a Tesla Megapack unit at the project site.
An investigation was announced, but there have been no further updates posted to the project web site since August 13. The most recent update noted investigations were being carried out by the Country Fire Authority, Energy Safe Victoria, WorkSafe Victoria, Tesla and owner Neoen, and that learnings and insights from the incident would be shared with industry.
The Victorian Liberals fired up over the incident, demanding an open and transparent investigation.
The Victorian Big Battery was to go into operation in November this year.