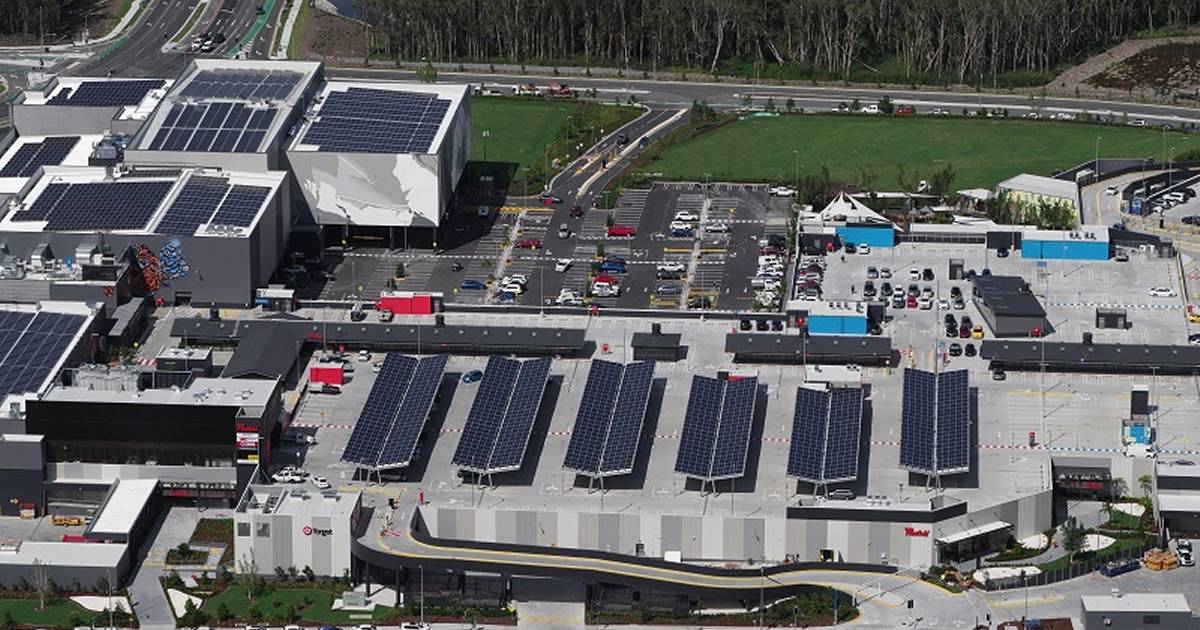 Westfield owner/operator Scentre Group generated a bunch of electricity from solar panels last year – and there could be more installations in the pipeline.
Scentre Group owns and operates 42 Westfield "Living Centres"1 across Australia and New Zealand that collectively host more than 12,000 outlets.
Last year the company committed to a target of net zero Scope 1 & 2 emissions by 2030 – this covers direct emissions from sources it owns or controls and the indirect emissions associated with generation of energy it buys.
Scentre Group CEO Peter Allen has noted the Group reduced its energy use by 10% last year2, of which 4% was continued operational efficiency – and electricity use has reduced every year since the Group was established 7 years ago.
Solar Energy's Role
Solar panels have been installed on several of Scentre's Westfield shopping, I mean, Living Centres.
"During 2020 we generated more than 8,000 MWh of electricity from solar installations across five of our Westfield Living Centres – Westfield Marion, Westfield Plenty Valley, Westfield Carousel, Westfield Kotara and Westfield Coomera."
The Westfield Coomera project (QLD – pictured above) is pretty impressive. Completed in 2018, the 2.3MW installation consisting of 6,000 solar panels has half its capacity across 3 separated buildings and the other half over a car park. This offers shade to shoppers, or "livers" I guess, while also cranking out clean electricity. Annual energy generation is in the region of 3,500 megawatt-hours, equivalent to the consumption of approximately 600-700 households.
At Westfield Marion (Adelaide), a 647kW car park solar installation was completed back in 2017. At the time it was the largest solar car park installation in Australia; a title it lost to the Coomera project the following year3. At Plenty Valley (Victoria), there's 300kW of solar capacity, 1MW at Carousel (Cannington, Western Australia) and 1.6MW at Kotara (New South Wales).
While it doesn't appear much if any solar has been installed in the last year or so, that should change.
"We will continue to evaluate and roll-out onsite solar opportunities as well as continue to assess off-site renewable energy procurement opportunities," said Mr. Allen. "Our New Zealand portfolio will be powered by 100% renewable electricity from January 2022."
It's not clear what flavour the renewables across the ditch will be.
Scentre Group's 2020 Responsible Business Report notes rooftop and car park solar structures are considered as part of every major redevelopment of its assets and the potential for battery storage also gets a (very) brief mention in the document.
Whether a huge operator such as Scentre Group or a small business operating in its own premises, commercial solar is rapidly becoming a must-have to help rein in energy costs rather than just a gimmick to attract eco-savvy shoppers. These days, if a business can afford to pay its electricity bills and has a suitable rooftop, it can afford – and benefit from – solar power.
Footnotes
Living Centres? When did the terminology change from shopping centres? Obviously, I don't get out much. ↩
Pandemic may have played a role. ↩
As far as I know, the largest solar car park in Australia these days is at Adelaide's Elizabeth City Centre – a whopping 3.2 megawatt installation. ↩