Does a solar panel specification with "Max Power" rated at, say 190W, really produce a maximum power of 190W when it is on your roof in the blazing sun?
Short Answer: Not on your nellie!
The max power rating (in Watts) that your solar panels are rated at is the figure that everyone quotes when talking about "panel size". If the installer or salesperson talks aout a "190W or 250W panel" they are talking about the "max power" rating of the panels. This rating is based on the power output measured from that panel under "Standard Test Conditions" (STC) that, unfortunately, are a long way from "Real World Operating Conditions".
Under these STC conditions, the solar panel is subject to a light source (technical term: irradiance) measured at 1000W per square metre. That number probably means nothing to you, so you have to take it from me that 1000W/m² is the equivalent of a strong sun.
That in itself is not a problem, as last time I checked, the sun is pretty bloody strong in most parts of Australia. The problem is, however, that the STC power rating is based on a panel temperature of 25°C.
Think about that for a second. The panel temperature is the temperature that the actual solar panel itself will get to when it is on your roof. This temperature is critical because all solar panels lose efficiency as they heat up.
That means that the solar panel has to be no hotter than 25°C to produce its rated max power. Unfortunately a solar panel on your roof will generally be 20° hotter than the ambient temperature (it's a big black panel sitting on the roof – it's gonna get hot!). That means that the ambient temperature for an STC test must be only a rather chilly 5°C.
When was the last time you were in strong sun and the mercury was only at 5°C?
Cowboy Salesman Trap #1: Ask him what ambient temperature the module will produce its rated power at. If he says 25°C, push him out of the door!
So unless you live in a very sunny, cold place, you are never going to get the rated power out of your panels. Sorry about that.
The good news is that you can quickly work out how much power you will get in the real world, if you are brave enough to look at the solar panel's specification sheet (also known as its data sheet). All reputable solar vendors will provide this as part of the quote.
Cowboy Salesman Trap #2: Kick him out if he can't or won't provide a solar panel specification sheet for your solar panel that looks something like this: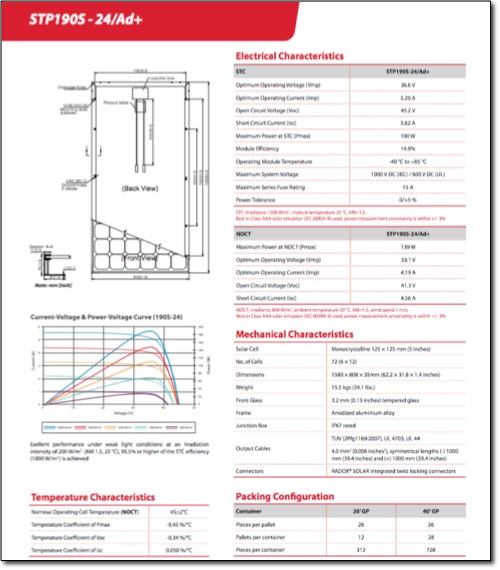 Here's how to work out the real max power output of your solar panels from the solar panel specification sheet:
First look for the part of the solar panel specification sheet that contains the "Temperature Characteristics". And look for the both the "Nominal Operating Cell Temperature"(NOCT) and the "Temperature Coefficient of Pmax". I've highlighted them on this specification for a Suntech panel (STP190S-24/Ad+):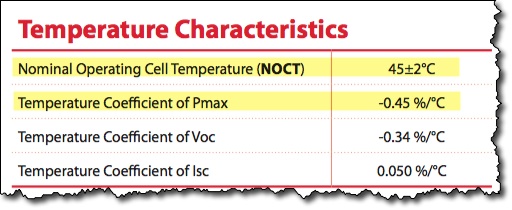 The NOCT is the temperature that the panel reached in the lab when subjected to 800W/m² of irradiance (moderate sun) at an ambient temperature of 20°C.  So it's a much more realistic measure of the temperature that your panels are actually likely to operate at. Here you can see that our panel will get to 45°C.
All solar panels reduce their power as they heat up. The "Temperature Coefficient of Pmax" tells us how much power it loses for every °C that the panel is hotter than 25°C (Remember that 25°C is the panel temperature that the STC power is measured at). The Suntech panel above will lose 0.45% of its max power for every degree above 25.
The NOCT has told us that the panel will typically sit at 45°C so it is a simple sum to work out the power loss at this temperature:
(45°C-25°C) x -0.45%/°C) = 20 x -0.45% = -9%
So expect the real max power out of the panel to be 9% lower than the panel's rated power. The Suntech STP190S-24/Ad+ is a 190W panel, so I would estimate its real world max power to be approximately 91% x 190W = 172.9W.
This is a much better number to use for solar panel comparison than the STC rated max power, because it takes into account the temperature performance of the panels, which is important Down Under! In fact in the USA the power we have just calculated above is on most solar panel specs and is called the PTC power (which stands for PVUSA Test Conditions). And even better than that, if the panel is approved for use in California, they actually measure the PTC power in a lab so that they don't have to rely on the manufacturer's numbers to calculate the PTC power. When they started doing this in 2009 they found that the real numbers were worse than the manufacturer's claimed specs by an average of 6%.  Check out the comparison tool I've put together that lets you compare the PTC of solar panels approved for use in Australia and California, if you need to compare panels before buying.
If you are interested in how the Suntech panel we used for our example tested in the lab, you can see the Californian Test results here. It actually tested to have a PTC of 171.5W, pretty damn close to the 172.9W calculated above. This goes to show how reputable brands like Suntech are gonna give you accurate numbers, but if you are buying your no-name panel from "Dodgy Bros" you might want to take the specifications with a pinch of salt.
>> Read part 2 of this post which shows you how to interpret 'Power Tolerance' and 'Efficiency' on a solar panel specification.