Note from Finn: This is a guest post by Dr Nick Engerer – Solcast is a super handy, free, quick and accurate way to check what your solar power system should have produced in the last 7 days.
Hello loyal SolarQuotes blog followers, and solar enthusiasts everywhere!
Last week, your intrepid leader in all things solar, Finn, posted an excellent blog about checking in on the performance of your home solar PV system. Amongst the several different methods he suggested, my company, Solcast made an appearance in the 3-minute Solcast method section of the post. In response, my team at Solcast received an influx of traffic, including sign-ups to our API service by a host of eager solar owners wanting to know the answer to the question:  "is my solar PV system performing as expected?"
But at the same time that blog went live, so did a brand new Solcast website. Needless to say, that left a few of you quite confused! Not only were most of you folks not able to find the solar forecast map demonstration hosted on our homepage, but many of you were left wandering around our website, looking for answers!

Please accept my humble apologies for your confusion and angst! Id like to make it up to you, by showing you how you can use our data to complete the calculation you're interested in. But first, a little background on Solcast, and what we're trying to do (this will give you some clarity on why your user journey through our webpage was so confusing).
Solcast's Mission
At Solcast, our mission is deploying the data and tools needed to build the solar powered future. Our technology is aimed at electricity network operators, solar farm owners, software developers and engineers, who are dealing with the massive amounts of solar being installed all across the world. We are making the data they need for planning, building and operating solar facilities easy to access and assess, by taking care of the big data problems that weather satellites and numerical weather models produce and delivering them useful information via an Application Programming Interface (API).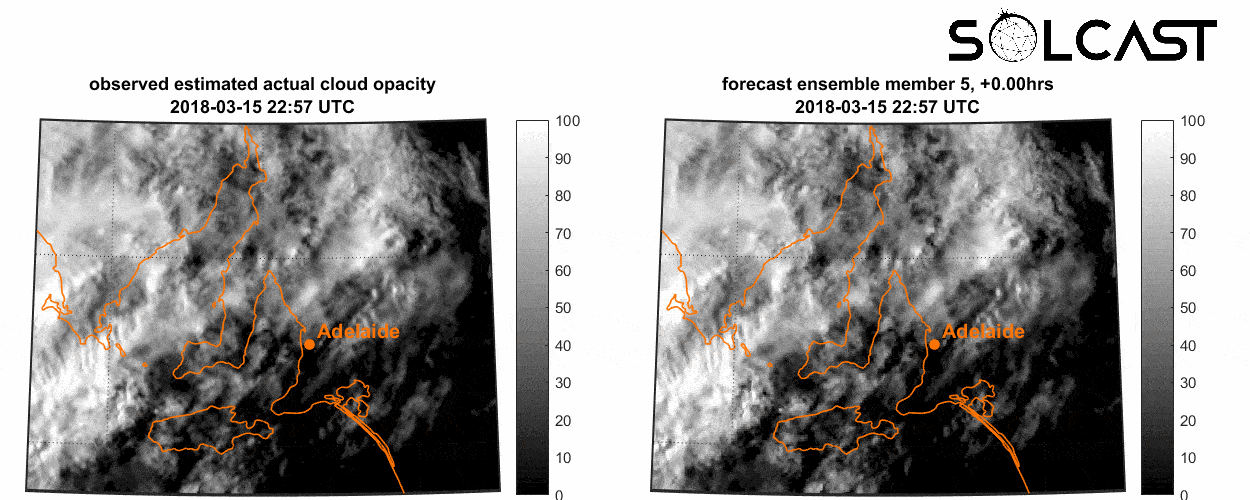 Solcast assimilates 30-40GB of satellite imagery data each day from a fleet of five high-resolution weather satellites, which provide new imagery of the Earth's surface and its cloud cover every 10-15 minutes, at 1-2km2spatial resolution. We make the effort to track the actual locations and estimate the characteristics of cloud cover in real-time, over every continent except Antarctica. At any given time, we know where all of the clouds near your home solar array are, how thick they are with respect to sunlight, and then forecast where they'll move next, by leveraging wind velocity data from high-resolution weather models. We do this all over the world, updating our data every 10-15 minutes, producing 600 million forecasts every hour!
But it's not just forecasting data that we can offer, we also produce Estimated Actuals data, which are historical estimates of how much solar radiation or solar power should have been available, based on the satellite images. The Estimated Actuals data, is what you'll be using today in our example.
How Solcast's data can enable you
Now, I'll spare you too many details about the technology we use, as you can find plenty of detail on the How it Works part of our webpage. What I need to do, is fulfill my promise to help you figure out how to use our data, in a way that enables you. This time, to investigate if your solar PV array is performing as expected.
To do this, you'll need basic competency with maths, and access to a calculator (with bonus tips for a way to do the required calculations in Excel). I'll make this a step-by-step process for those of you brave enough to venture onwards! Alright, here goes.
Step 1: Sign up for the Solcast API
Several of you have already done this, lucky you! For those of you that haven't, don't worry; it is free for hobbyists and researchers and we'll lump all of you into that category. Registration is fast, easy and takes just a few minutes.
http://solcast.com.au/register
You'll then need to click on a confirmation email link in your inbox, be sure to check your junk mail filter if you don't receive this in a few minutes!
Step 2: Go to your API account page
Navigate to the following link, making sure you are logged into the Solcast webpage:
https://solcast.com.au/solar-data-api/account/
If you have any trouble with this, you may need to reset your password via the login page that appears when you navigate to the above link. Also, you'll see an API key at the top of the page. Be sure to keep that key private (don't share it with your mates). you'll notice I've covered my API key up in the included images in this post.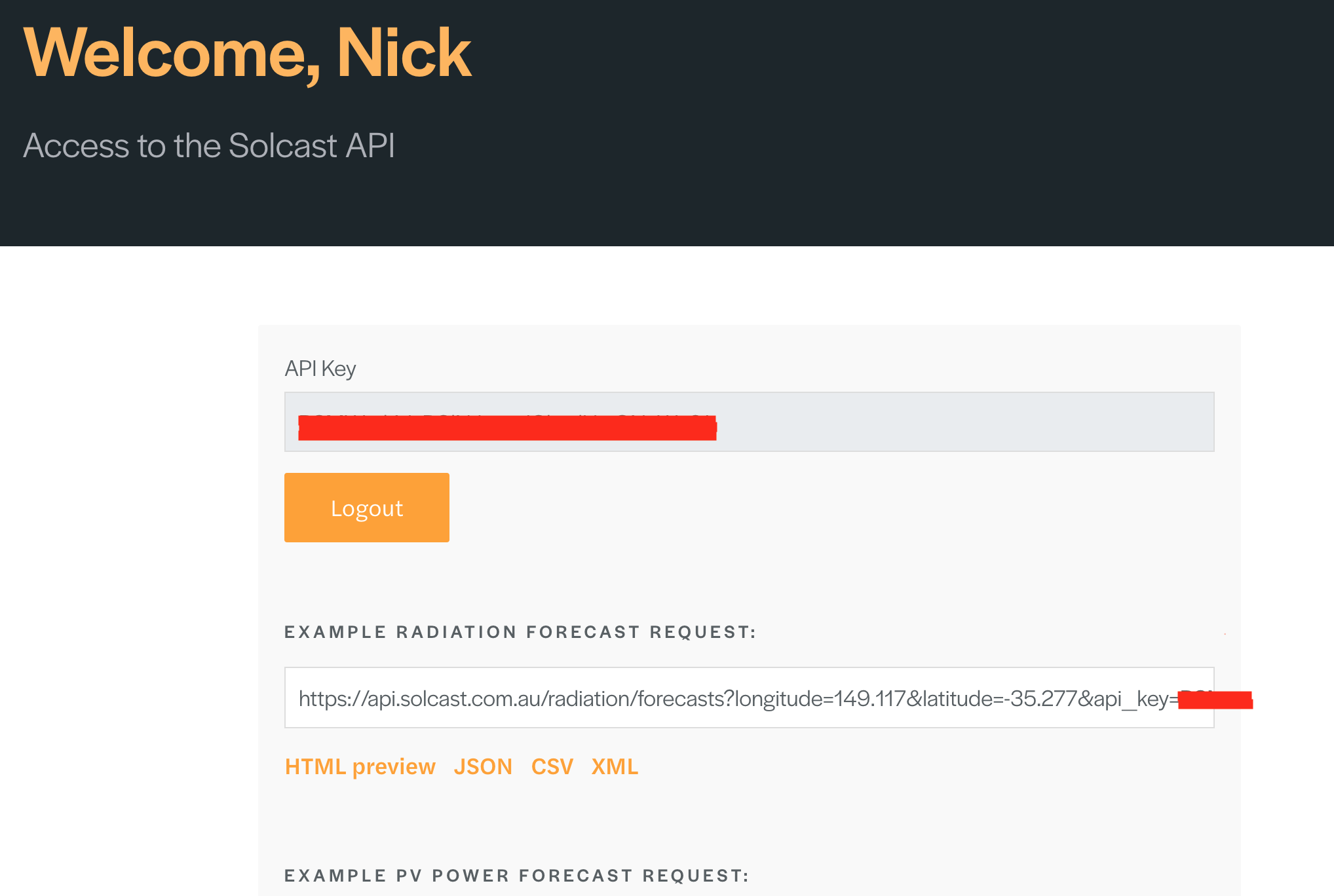 Step 3: Collect the basic information about your PV system
To proceed, you're going to need to know your PV array capacity (kW), the direction it points (its azimuth), an estimate of its tilt (most PV systems are mounted between 15-25º from horizontal).
The capacity of your PV system is the total Wattage of solar panels installed, or its DC rating. If you have a 3.4 kW PV system, this value would be 3400W (1kW = 1000 Watts). You can use your inverter rating as well, to make things easy, but the actual installed capacity of the solar panels is best.
I promised to make this easy, so here is a cheat sheet for the azimuth of your PV systems
If your PV system points NNE (between North and Northeast), just split the difference between 0 and -45, giving you -22.5, for example.
If your PV system is a split array, take the average azimuth of your entire PV system. For example, if you have one section pointed East and another to the North, use the value of Northeast (-45).
The tilt of your PV system is measured from horizontal. A flat PV system has a tilt of 0, a vertical PV system has a tilt of 90. It is hard to measure this, so just eyeball it with your best guess.
Lastly, you'll also want to know your location by latitude and longitude to within about 3 decimal places. (e.g. Canberra is -35.2809, 149.1300). Locations in the northern hemisphere are positive latitude values. Southern hemisphere locations are negative latitude values. Positive longitude is east of the prime meridian, while negative longitude is west of the prime meridian (the prime meridian runs through the UK, if that helps!). (Hint: Australia has positive values of longitude, and negative values of latitude)
Further details about each of these parameters are available on the Rooftop Solar API webpage here.
Step 4: Download some data!
Solcast provides Estimated Actuals, as I mentioned before these are historical data, created through use of satellite images. Our Estimated Actuals are an estimate of how a PV system should have performed over the past 7 days. For this use case, were just going to fetch the data from yesterday, for reasons you'll see in the next steps.
OK, here is the trickiest bit. you'll have to make sure that you are careful with entering the required data into the following URL (this is how APIs work).
Here is an *example* URL (what you enter at the top of your web browser while logged in) for a 1kW PV system, in Canberra, with a Northeast azimuth (-45) and 23 degree tilt:
https://api.solcast.com.au/pv_power/estimated_actuals?longitude=149.1300&latitude=-35.2809&capacity=1000&azimuth=-45&tilt=23
As long as I am logged in and haven't made any mistakes with the API URL request, I will be able to see a page like this one appear:

What you need to do is put your own latitude, longitude, capacity, azimuth and tilt into the URL, just after the = sign. Be careful to correctly insert any negative symbols – and to not remove any of the & symbols. If you make a mistake, just start over. It will work, I promise!
Once you have the webpage displaying data, you need to click on the .csv link in the top right (see picture). This will download some Estimated Actuals data for your solar PV site! Then we are onto the next step!
Step 5: Make a simple calculation on yesterday's data
Your next task is to open the .csv file, which you can do with Excel or other tools like Google Sheets. If you have trouble getting this to work, Google around for some help. There are many articles, and even online tools, for opening a .csv file.
Scroll down until you see the data from yesterday. This will be the first set of data you see after a series of zeroes. The timestamps on the data are in UTC time, so don't let that confuse you too much. You don't actually need the timestamps. You just want to focus in on the data from yesterday. Our data is listed in reverse order, with the most recent data at the top and oldest at the bottom. In total, you will be provided with 7 days of historical data.
Our next task is to add up all the power output numbers in the third column of data for yesterday. To keep this simple (as promised) you can simply add them all up with a calculator. Then, you need to multiply the result by 0.5 (this converts the value from Watts to Watt-hours) and then divide by 1000 (to convert watt-hours to kilowatt-hours). The end result is the kilowatt-hours of solar generation from yesterday! You'll  recognise kilowatt-hours (kWh) from your home electricity bill. This is the unit of energy that you are charged for each month by your energy retailer.
If you're a bit tech savvy, you can actually do this with an excel formula. (e.g. =SUM(..) formula. Here is a screenshot of the process.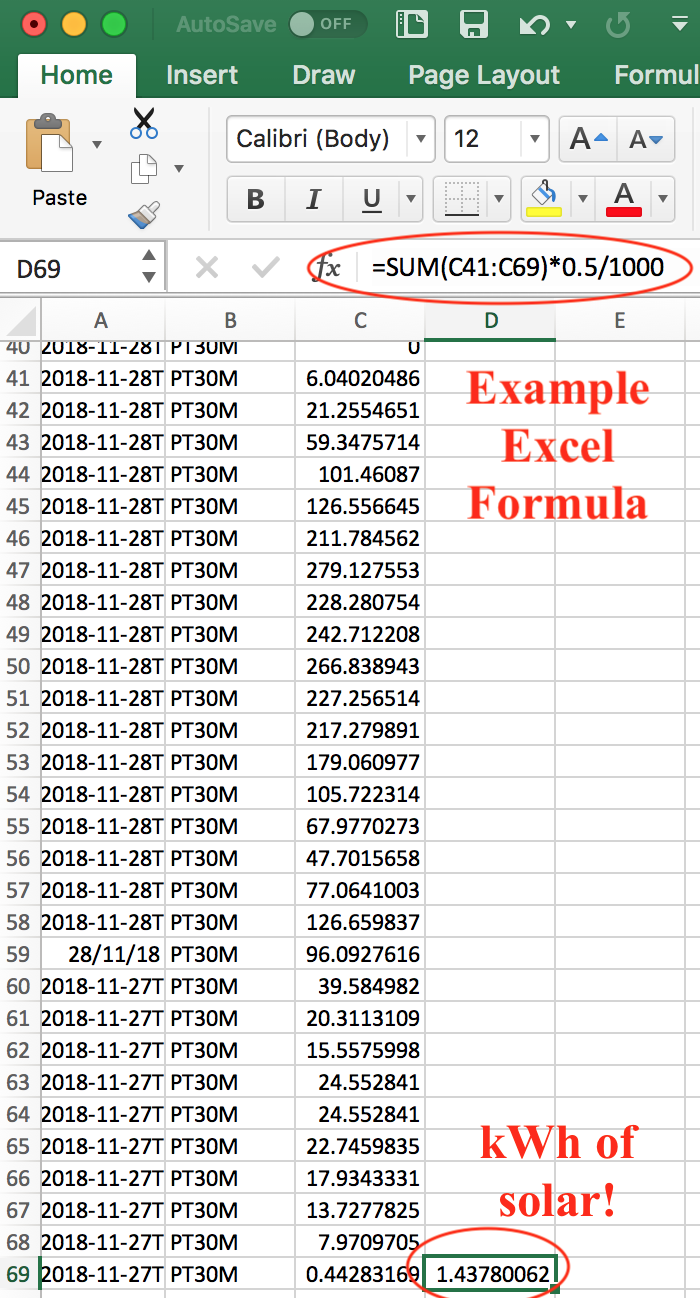 With the data I used for this example, yesterday was 28 November, which was quite a cloudy day in Canberra (with record rainfalls in Sydney!). My theoretical 1kW PV system in Canberra only produced 1.43 kWh over the daytime period, which is fairly low. But was this low value a problem? Probably not, because by using Solcast, we have knowledge of the cloud cover from that day (very cloudy), so we can know that energy yield should have been relatively low.
Pro tip: You can add &loss_factor= to your API request to simulate this. A value of 1 equals perfect performance, a value of 0.95 would mean there is 5% loss. Values of 0-1 are accepted.
Should be updated to: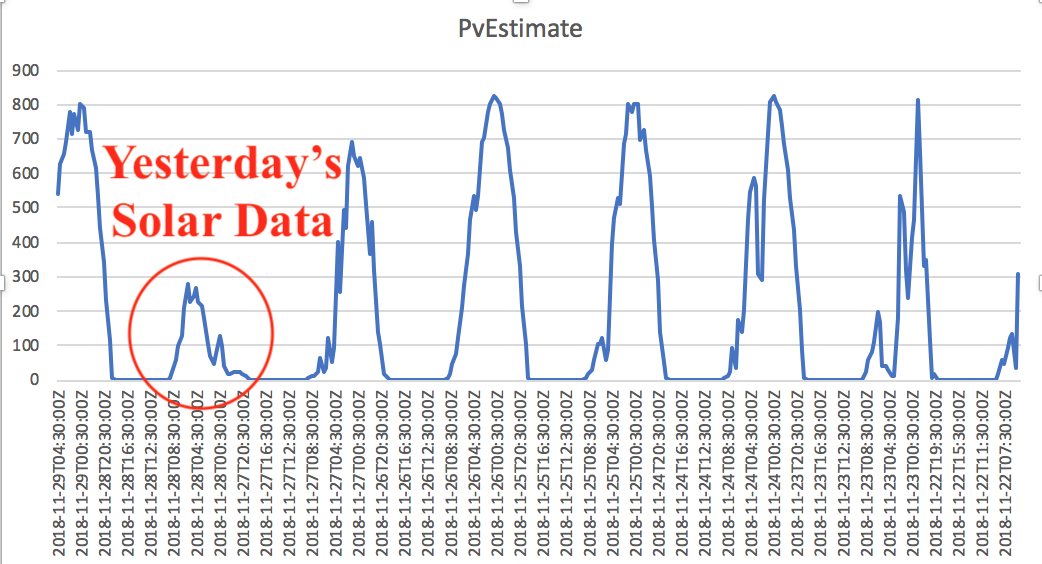 Step 6: Look at your solar inverter to find yesterday's generation
Nearly all solar inverters will report the total generation from yesterday in kWh. Those that don't make this possible, will also report the generation of the current day onscreen. There are far too many examples to walk through how to do this here, but if you've made it this far, I'm sure you can figure it out! You may have to adjust my instructions to look at today's data in the Solcast API and the inverter data, by perhaps undergoing this exercise in the evening after the sun has gone down.
If you've had success in using the Solcast data to compare it to your inverter, why not share your own tips in the comments below? That will make sure everyone can have a fair go at accessing the Solcast data successfully.
As far as assessing the numbers you find, I'll leave that to the solar experts at SolarQuotes, including the recent blog post that prompted this discussion. In general, there will be 1-2% degradation of solar panels each year, so if your solar PV system is 5 years old, you can expect the total energy yield to be 5-10% lower than our API reported. Other impacts such as shading are also important to consider. This simplified approach won't handle losses for you, so you may have to do some additional corrections. If you have ideas, be sure to share them in the comments below.
Pro-tip: You can add &loss_factor= to your API request to simulate this. A value of 1 equals perfect performance, a value of 0.95 would mean there is 5% loss. Values of 0-1 are accepted.
Hey, this is great! How can you repay us? I'm so glad you asked!
As I mentioned earlier, the Solcast API service is aimed at those folks working to deploy and manage the solar-powered future. We look to enable solar farm operators, software developers, power system engineers and even energy market operators with the solar forecasting data they require to integrate the large volumes of solar now being installed across the world.
In fact, one of the best things about the Solcast API, is that you can perform the calculations I shared here, anywhere in the world because we offer global coverage. That means you can share this idea with your mates, wherever they are, and they can have a go as well.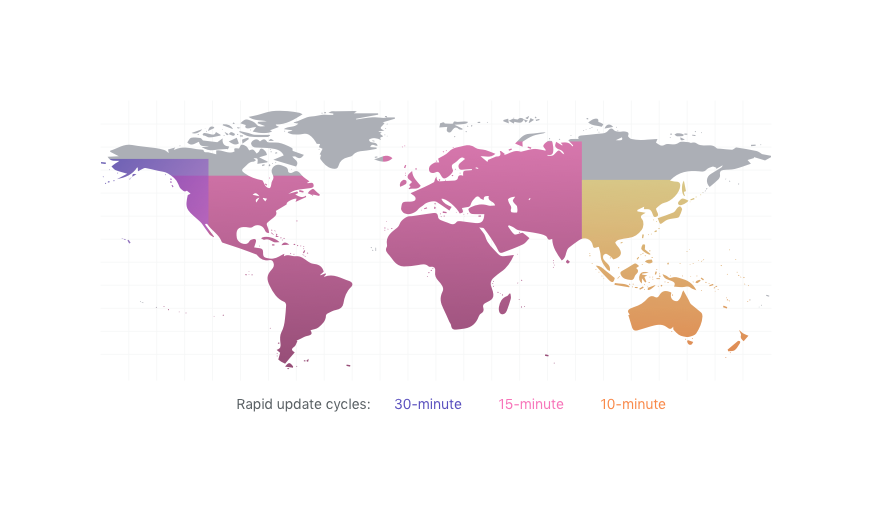 We make this data free to hobbyists and solar enthusiasts such as yourself, as a part of company philosophy of enablement. You can repay us by sharing this blog post, or some links to the Solcast homepage ( http://solcast.com.au ) on your favourite social media account. This helps us generate awareness of these tools more broadly, and enables us to keep this service free. We'd appreciate your help with spreading the word about our mission (deploying data and tools to build the solar future).
I hope this article will help to enable all SolarQuotes readers to have a go with the Solcast data, and hopefully, lead to a more positive experience for you! Feel free to send me questions on Twitter!
Peace, Love and Solar
Dr. Nick Engerer
About the Author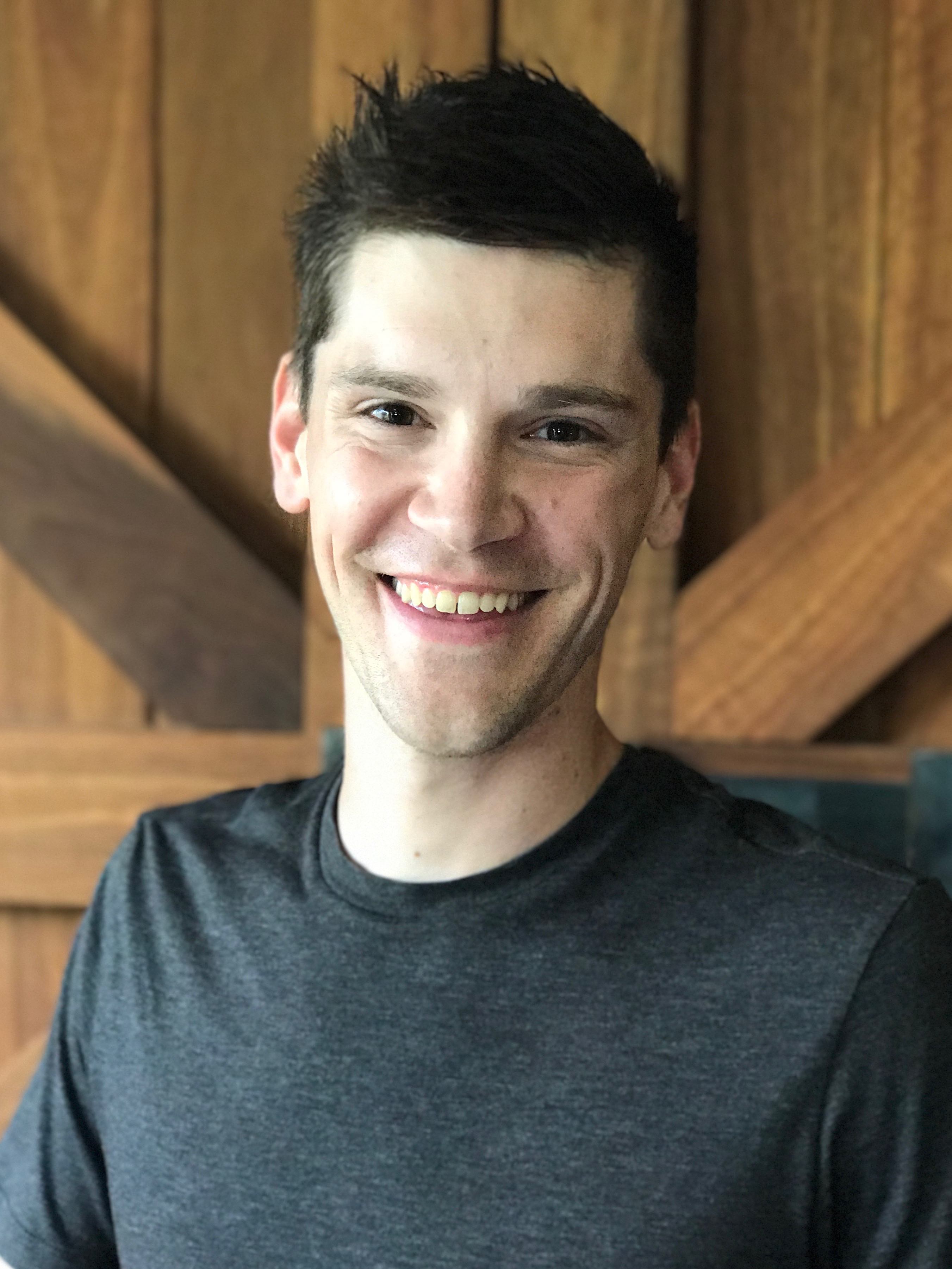 Dr. Nick Engerer is the CTO of Solcast. He is an expert in the field of solar radiation modelling and forecasting, and has co-founded Solcast out of a desire to enable others to build the solar-powered future. Nick displays an unusual level of passion for developing applied research projects and collaborating with industry to make BIG ideas a reality. Follow him on Twitter @nickengerer. For more information, visit http://solcast.com.au