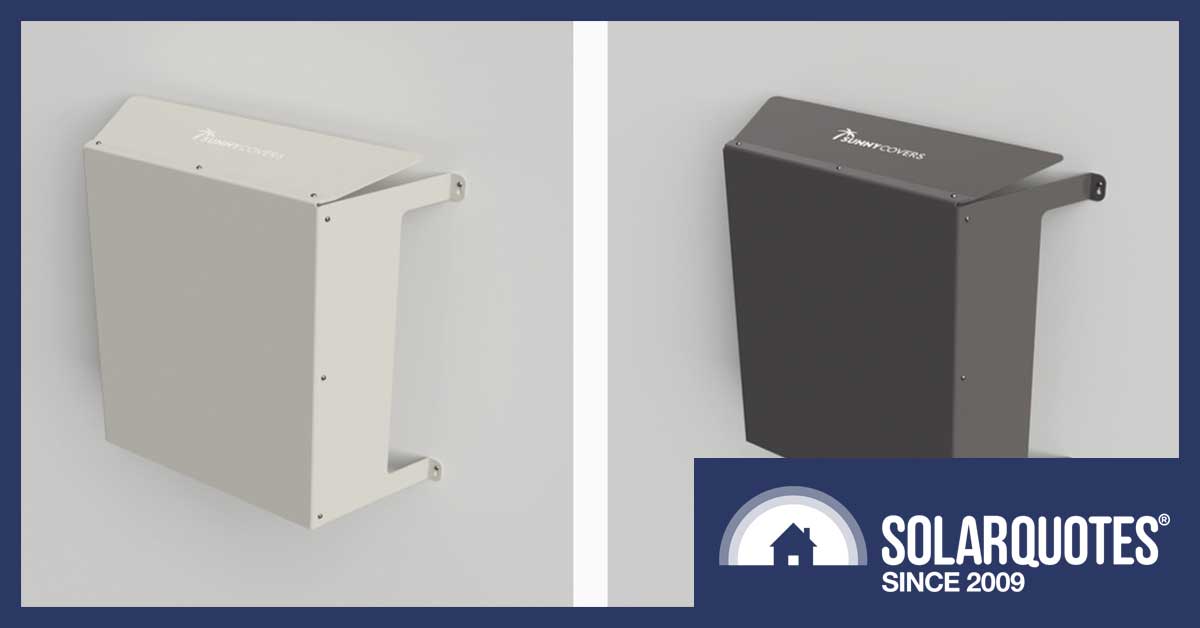 Good ideas can come from little things.
When solar installer Perry Borg wanted to protect customers' inverter warranties with extra sun protection, he couldn't really find what he wanted, so he decided to design and manufacture purpose-built protectors.
He's now launched the product under the brand Sunny Covers. It's a very straightforward sub-$300 solar inverter cover designed to provide sun protection where a house lacks an under-cover spot for the inverter, and doesn't have enough eaves to provide its own shade.
Turn Down The Sun On Your Inverter: Sunny Covers

Speaking to SolarQuotes ahead of launch, Borg said customers aren't always aware inverter manufacturers state their products must be installed away from direct sunlight.  
"So – normally the inverter is installed in the garage or under the awning. And it's best to be installed somewhere near the meter box. The majority of customers will have a place near the meter box with awning."
However, he said, that's not always possible: 
"Some houses don't have enough awning. In other cases there might be a gas fitting near the meter box, or clotheslines, or other things".
Borg added this should be a consideration not just for customers, but also for installers. If their installation voids the product warranty, the installer will bear the cost of inverter replacement.
Explaining the decision to create a protection product for sale, Borg told SolarQuotes the most common solution to the need to shade an inverter is to buy a cheap plastic awning from Bunnings, which he considers sub-optimal. He also found the few products designed as solar inverter covers to be using materials he regarded as inferior.
"I thought I could design something better, better quality product, and something that would look good as well."
The Sunny Covers product was originally a single-piece design*, but Borg told SolarQuotes he revised it to several pieces bolted together, so it could be flat-packed for transport. The covers use marine-grade aluminium, and he has contracted to have the product fabricated in Newcastle.
The 3mm aluminium helps with heat dispersal, and the shade cover is sized to comply with the inverter's requirement for a gap between the cover and inverter – for correct airflow and to provide room for conduit and switches. 
*Note: The original version of this article referred only to the single-piece construction and not the later revision.