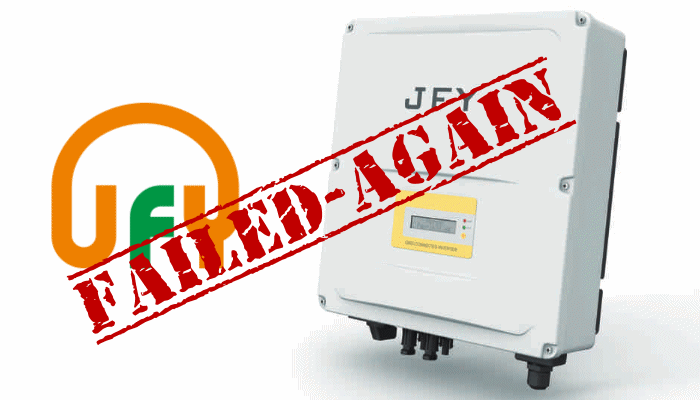 The JFY solar inverter saga continues, with latest testing performed by the Clean Energy Council at the manufacturer's request resulting in another failure.
Just to recap, back in February we reported a Shenzhen JingFuYuan Tech Co Ltd (JFY) inverter model (Sunleaf 3000TL) failed Clean Energy Council testing against AS 4777-2 (Passive Anti-islanding test and other issues). The CEC considered this result indicative of all JFY solar inverters and as a consequence, all were de-listed from the Approved Products List on March 2.
JFY appealed the decision, saying the wrong settings were used on the inverter during the testing process. The CEC's Product Listing Review Panel denied the appeal, stating this was due to the inverters being imported into Australia without instructions to installers that they must re-set the inverters to the correct settings.
The CEC reported yesterday JFY recently paid for re-testing of the inverter after inputting the correct parameter for AS 4777.2 passive anti-islanding settings, "AS4777AU". However, the inverter failed the re-testing.
"Therefore, existing inverters in the field cannot be made to comply simply by being reprogrammed to the recommended setting. Likewise, units that were programmed correctly at installation will not comply," states a CEC Member Update. "These inverters will shut down at a local mains voltage of 247.8V, meaning that the solar system will not perform as expected for many customers."
Currently, local mains voltage in Australia can reach as high as 253 – 254.4V (depending on the state) and still be considered within acceptable operating range. This means some solar power systems with affected JFY inverters may shut down far more often than they should under "normal" local mains voltage conditions, which can vary from area to area. In regions where voltages are regularly above the acceptable range for whatever reason, the issue will be even more pronounced.
Inverters that may have this fault were installed from 19 October 2016 to 2 March 2018 and the CEC has suggested these units should be replaced under warranty. However, it also says the inverters may be able to be manually reprogrammed according to manufacturer's instructions to individually input the correct AS4777.2 settings.
With regard to warranty or repair, the CEC states:
"If JFY do not agree to repair or replacement, this responsibility rests with the retailer and the importer/responsible supplier E1488, GPower Pty Ltd."
Removal from the Approved Products List means new system installations with JFY solar inverters, and those installed since March 2, are not eligible for Australia's major solar subsidy.