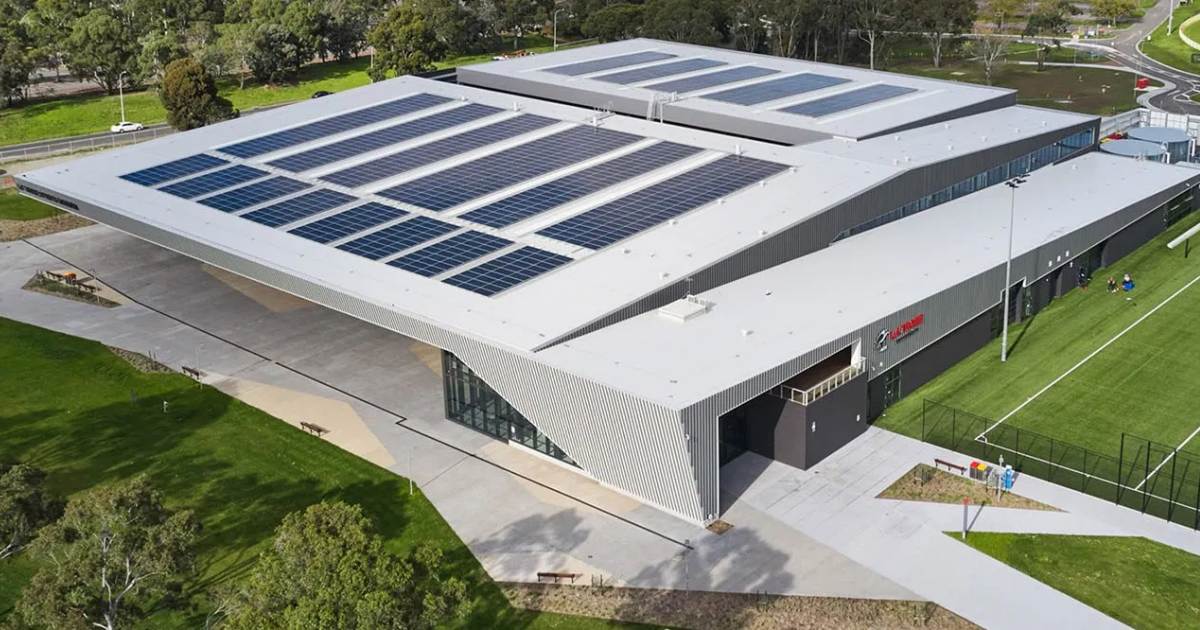 La Trobe University's Sports Stadium, located in the Melbourne suburb of Bundoora, has been awarded "6 Star Green Star Design and As Built v1.2 certified" by the Green Building Council of Australia.
For a building to score a 6 Star Green Star rating, it means it has been built to be highly efficient, fully powered by renewables, addresses a significant number of environmental and social issues, and contributes to the community.
On the renewables side of things, La Trobe Sports Stadium (LTSS) has plenty. 1,104 x 470W solar panels are installed on the roof amounting to 519 kW capacity, estimated to generate around 724,000 kWh of clean electricity a year. That's enough to meet the equivalent of the stadium's electricity consumption and also provide some surplus for other buildings on campus.
The rooftop, which is white to reflect heat, is also used for rainwater harvesting.
Completed in January last year, the facility has an indoor stadium, a teaching and research building, and office space for commercial tenants.
"We're very proud of the fact that we've been able to create this incredible facility while remaining true to La Trobe's values of being sustainable, protecting our environment and aiming to achieve Net Zero carbon emissions by 2029," said La Trobe Dean School of Allied Health Human Services and Sport, Professor Russell Hoy.
La Trobe University And Solar Power
As well as slashing emissions by making use of solar energy, La Trobe University will be saving big bucks on electricity too. Previously the University was consuming around 40,000,000 kilowatt-hours of grid-sourced electricity annually.
The Stadium isn't the only building at La Trobe's Bundoora campus with solar panels. All up, around 7,500 solar panels have been installed across 25 buildings for a total capacity of 2.5MW.
Elsewhere, we mentioned last month construction of new solar carports at the Albury-Wodonga campus had commenced, which involves 110kW of PV capacity. Another big solar carpark project is at the Bendigo campus where solar panels are providing an added bonus in the form of 200 shaded parking spaces. There are also hundreds of solar panels installed at the University's Shepparton and Mildura campuses.
While the goal is carbon neutrality by 2029 across La Trobe University, its regional campuses are expected to achieve this by next year.
As for energy that is still or will continue to be sourced from the mains grid, the University is working towards procuring zero emissions electricity that encourages further renewables development in the National Electricity Market (NEM), while also providing industry experience opportunities for La Trobe students. There's also a focus on fuel switching to transition away from all fossil fuel consumption – particularly natural gas use through electrification. For example, heat pumps were being assessed for a number of gas boiler replacement projects.
The University's net zero carbon emissions goal involves an investment of $75 million. Last year, La Trobe was a finalist for the '2030 Climate Action' category for the Green Gown Awards Australasia.