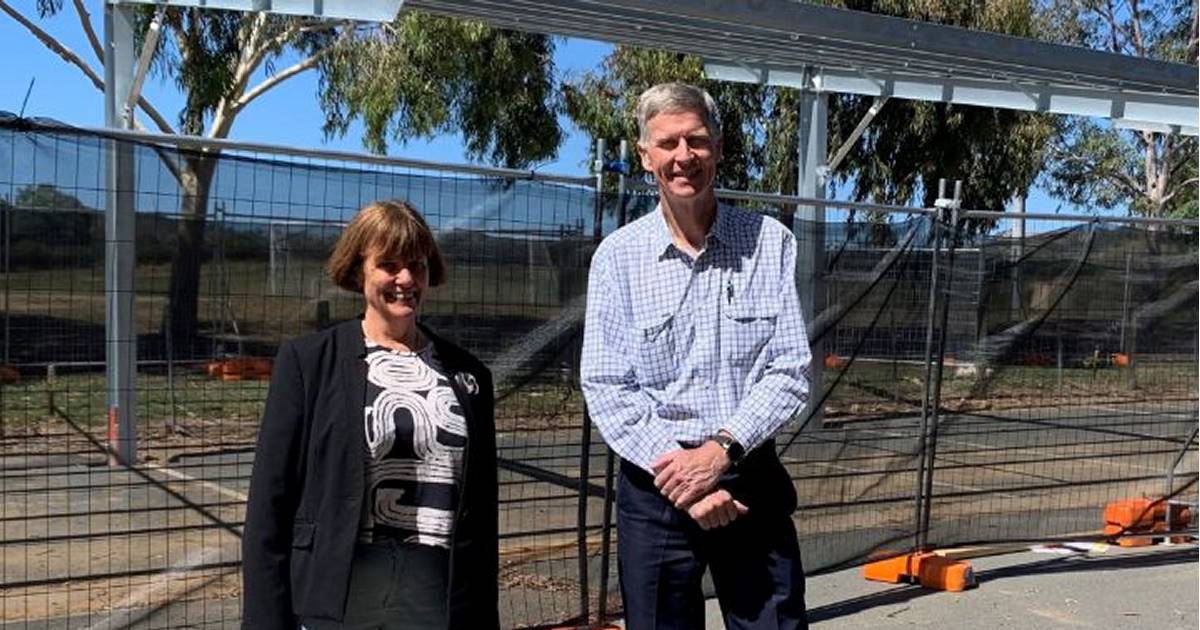 Construction of new solar carports at La Trobe University's Albury-Wodonga campus has kicked off, part of a project to achieve net-zero carbon emissions for all campuses.
La Trobe is a significant energy user, previously consuming around 40,000,000 kilowatt-hours of grid-sourced electricity annually. The University has set a goal of net zero carbon emissions on its regional campuses by 2022, and on all campuses by 2029.
La Trobe Vice-Chancellor Professor John Dewar AO says slashing carbon emissions is simply the right thing to do and the University also expects to make significant energy cost savings through its efforts.
At Albury-Wodonga campus, another 270 solar panels are being installed that will cover close to 30 parking spaces – generating clean energy as well as providing shade for the vehicles below. The new system will have a capacity of 110kW and is to be completed by the end of this month.
With this system in place, Albury-Wodonga will have 1,650 solar panels installed on-campus, generating equivalent to 40 per cent of the campus' electricity requirements. Other actions taken on campus towards the net-zero goal included 1,600 LED light fittings installed last year.
Professor Dewar said all four regional campuses will have more than 90 per cent of their lighting converted to LED by the end of this year.
PV At Other La Trobe Campuses
As for solar panels at other regional La Trobe University campuses:
Bendigo: 3,318 solar panels by the end of this year, generating close to 30 per cent of the campus' electricity requirements
Shepparton: 114 solar panels
Mildura: 340 solar panels
The most recent project in Bendigo kicked off last month and involves more than 1,500 solar panels covering close to 200 parking spaces.
At La Trobe's Bundoora campus in Melbourne's north, 7,500 solar panels installed across 25 buildings began generating electricity in July this year. The 2.5MW Bundoora project will avoid 4,000 tonnes of carbon emissions annually and save Bundoora a bundle of cash on electricity bills to boot.
Another important part of the University's net-zero initiative is the La Trobe Energy Analytics Platform (LEAP), created by academics and students from the Centre for Data Analytics and Cognition. The energy analysis platform monitors consumption patterns and building performance, enabling the University to create actionable insights to reduce energy consumption and make adjustments in real time.
The University's net zero carbon emissions by 2029 goal involves investment of $75 million – you can learn more about it here.
After a somewhat slow start, many universities across Australia have embraced solar energy and some have done so in a very big way.
Earlier this year, University of Queensland's 64-megawatt solar farm at Warwick in the state's south east officially opened. UQ said output from that facility – approximately 160GWh annually – in addition to solar capacity installed its Gatton and St Lucia campuses made it the first major university anywhere in the world to offset all its electricity consumption with its own renewables-based generation. UQ is generating so much electricity from renewables, it inked an offtake agreement for some of the surplus output with CS Energy back in August.