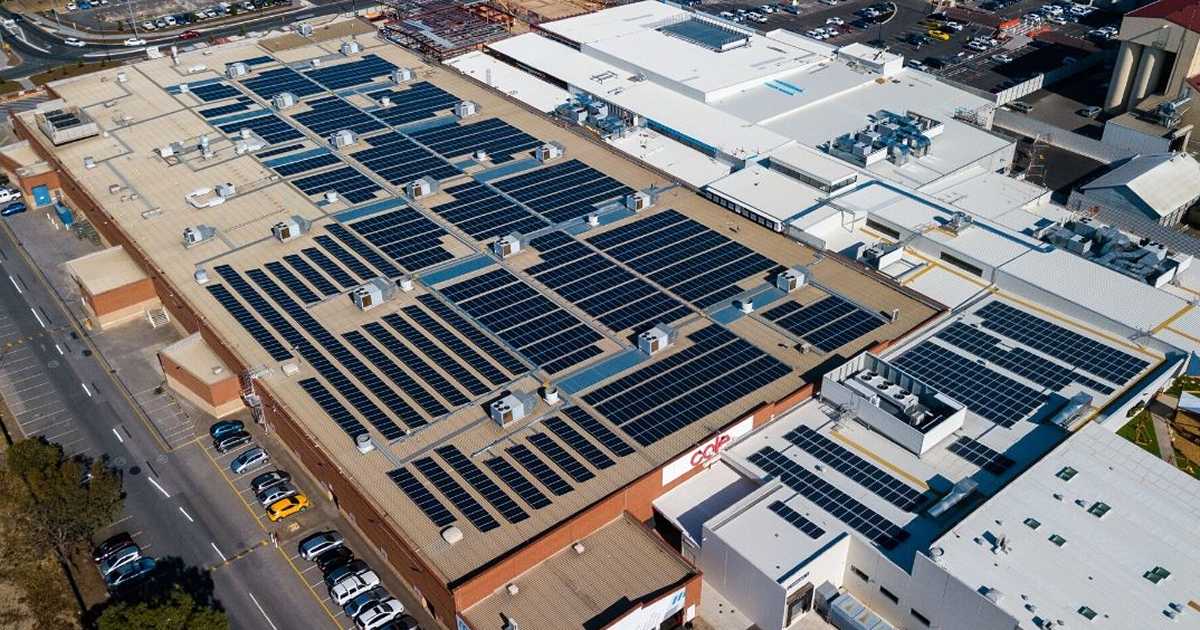 Commercial property investment and management company Precision Group has officially unveiled its completed $1.3 million PV project in Adelaide.
2,030 SunPower solar panels have been installed on the rooftop of Port Adelaide Plaza, which is around 14 kilometres from Adelaide's CBD. The shopping centre is in the midst of a $45 million-dollar redevelopment and expansion, with Stage 1 completed in April last year and Stage 2 anticipated to open around the middle of this year with a further 40+ specialty shops.
The 824kW system was switched on in January and is expected to generate the equivalent of around half of the centre's annual operational electricity requirements.
Expected annual output wasn't mentioned, but a rough conservative guess for a system of that size in Port Adelaide is around 1,300 megawatt-hours per year.
There's some shading going on with a few of the panels in the image above, but it looks like the photo may have been taken quite early in the day.
Solar Energy And Bags Of Rubbish?
The carbon emissions avoidance figure given for the system is an estimated 962 tonnes a year. In a video of the official launch, Precision Group states the system's emissions reduction attributes mean "38,000 less bags of garbage to landfill annually". Huh? After scratching my head on this for a bit, I think I get what they mean. I'm assuming it's a comparison against emissions associated with the decomposition of those bags of rubbish – but it's a bit of an odd claim to make and put in a weird way.
Anyway ..is solar, is good.
South Australian Minister for Energy and Mining Dan Van Holst Pellekaan attended the event and said the project was another example of the transformation of SA's energy system for the provision of cheaper, more reliable and cleaner electricity.
Founded in 1994, Precision Group owns and manages 11 properties across Australia and New Zealand collectively valued at over a billion dollars. Perhaps once the company sees the positive financial impact commercial solar can have, we'll start seeing more panels on Precision Group property rooftops.
Adelaide has seen a bunch of big PV systems installed on or around major shopping centres over the last few years. Among the recent completions was Australia's largest car park solar power installation at Elizabeth City Centre in Adelaide's north. 3.2MW of solar panels are shading 1,400 car spaces, adding to the existing 2.7MW of rooftop solar capacity installed at Elizabeth City Centre in 2018.