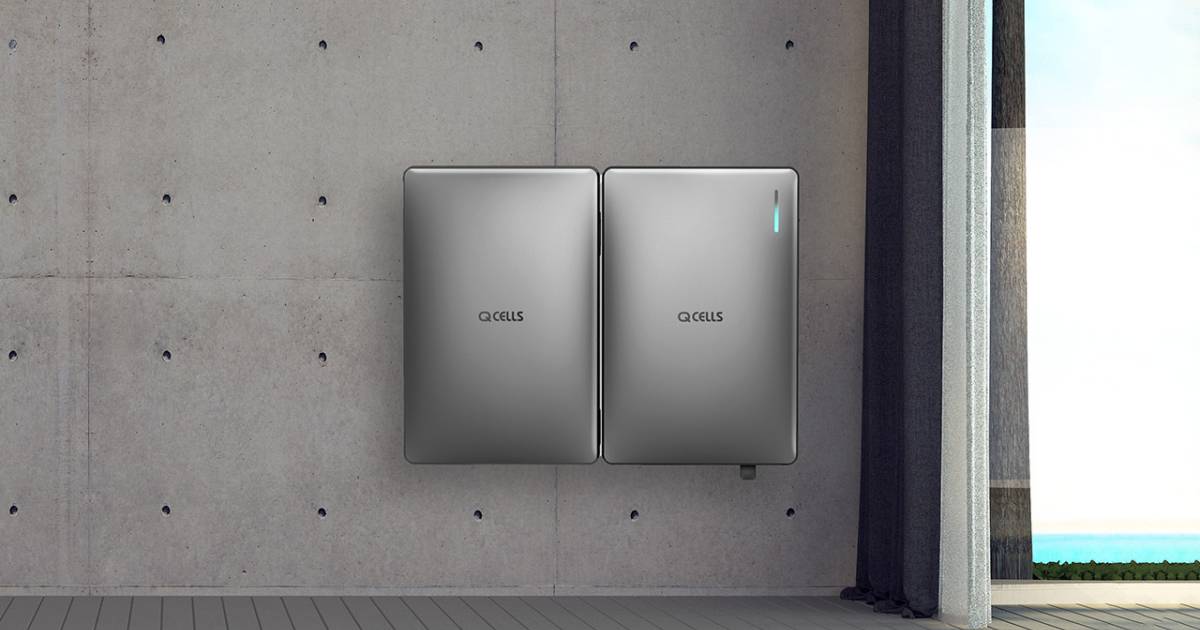 A new Q CELLS home battery system to be first sold in Australia is accompanied by a 15 year product and performance warranty as standard.
Q.HOME CORE is Q CELLS' third generation energy storage system (ESS) and will be available in Australia from next month. The first systems sold here will be utilised as part of Solar Victoria's VPP Pilot Program, which was recently expanded to include more VPP offers.
In an email I received last night, Q CELLS states:
"Q CELLS Australia has been selected as one of just a handful of approved partners for the program and will offering participants a fully-integrated energy solution including Q CELLS modules, 100% green VPP energy plan and Q.HOME CORE".
You can learn more about Virtual Power Plants (VPPs) here and see a comparison of VPPs here (Q CELLS Arcstream 100% Green and a couple of other new VIC programs to be added soon).
The Q.HOME CORE system is comprised of two units, the modular Q.SAVE battery the Q.VOLT inverter.
Q.HOME CORE specifications:
Q.SAVE battery: 6.86kWh, expandable to up to three units for maximum 20.5kWh capacity
Battery cells: Samsung SDI Lithium Nickel-Cobalt-Aluminium Oxide (NCA) chemistry
Q.VOLT inverter: 5kW
Production and consumption monitoring with Q.OMMAND software and app
Mounting: wall/floor
Inverter dimensions/weight: 460 × 700 × 221 mm / 37.5 kg
Battery dimensions/weight: 460 × 700 × 238 mm / 61.1 kg
Operating Temperature Range: Q.VOLT: −20 to 60°C, Q.SAVE: −10 to 45°C
PV Max. Input Usable Power: 8kWp ( 4 per MPPT)
Backup power with PV: 5kW
Switchover time to backup power: less than 0.1 seconds
Solar System to Grid (Max. efficiency): 97%
Solar System to Battery (Max. efficiency): 97.8%
Battery to Grid (Max. efficiency): 96.3%
I don't have any information on pricing yet.
The datasheet notes "competitive round-trip efficiency all-around system", but doesn't provide an overall round-trip efficiency figure. Round-trip efficiency is the combined loss of energy going into a battery and going out, expressed as the percentage of energy put in. If I've calculated correctly, the maximum round-trip efficiency based on the above would be around 94.2%.
15 Year Product/Performance Warranty
Q CELLS says it is the first manufacturer to provide a standard 15 year product warranty for an energy storage solution, which is backed by parent company Hanwha Solutions. Solar battery warranties currently usually range from 5 – 10 years.
—
Update July 19, 2022: It should also be noted the warranty states (bolding mine):
"Notwithstanding anything herein to the contrary, defects relating to the Energy Management System (EMS), Battery Management System (BMS), and Light Emitting Diode (LED) will be warranted to the Customer for a period of 5 years from Warranty Start Date".
—–
The warranty notes in terms of performance issues and in the event the battery system is no longer being produced, Q CELLS can choose to replace it with different product or refund the remaining annually depreciated value of the purchase price. The warranty shows the compensation rate of purchase price at year 9 -10 is just 5 – 6% and at year 14 – 15 year is 1 – 2%.  However, the warranty document does acknowledge the Q CELLS' warranty doesn't trump the Australian Consumer Law.
Expected SOH (State Of Health) at year 15 is 60%.
Commenting on Q.HOME CORE, Managing Director of Q CELLS Australia Jin Han said:
"This addition to the Q CELLS total solar solution allows homeowners the peace of mind of an outstanding battery storage product backed by our Fortune 500 parent company Hanwha Solutions, and the aesthetics that Australians are looking for to showcase their commitment to renewable energy in their own home."
You can find out more about Q.HOME CORE here.
Related: Q CELLS battery reviews | Q CELLS solar panel reviews.