Utility-scale solar electricity is going to drive fossil fuels out of the power generation market, sooner rather than later, according to clean energy investor and advocate Ramez Naam.
Nearly a decade after he first forecast a huge price advantage for solar energy over fossil fuels, Naam has had to admit an error: he under-estimated how far solar costs would fall.
In this very wide-ranging blog post published last week, Naam said solar costs plunged
"faster than anyone – including me – predicted".
Reworking his original and then-optimistic 2011 model (which he revised in 2015), Naam writes that solar prices will reach levels that are:
"insanely, world-changingly cheap".
If he's right, coal-fired electricity is done for. As former NSW Premier and Federal Foreign Affairs Minister Bob Carr wrote in the Sydney Morning Herald last week, there's already a capital flight away from coal, even before we get to where Naam believes solar power will take the world.
Looking at what's happened since he first forecast "cheap solar", Naam cites seven price trackers to demonstrate that between 2010 and 2020:
"The price of electricity from utility-scale solar projects (the unsubsidized cost) has dropped by a factor of somewhere between 5 and 8 in the years from 2010 to 2020".
While the International Energy Agency in 2010 predicted utility solar would deliver a kilowatt-hour of power at about 22.5 cents (US currency) this year – and Naam himself reckoned it would fall to about 12.5 cents – the reality is that nearly all trackers put today's kWh of solar power at around 5 cents. That's running "literally decades" ahead of the decade-old forecasts, he writes.
It's All About Scale
What's happened to solar electricity costs is very orthodox economics: when a technology scales up, it becomes cheaper (this is known as Wright's Law, and was formulated in 1936), which he summarises this way:
"Every doubling of cumulative production leads to a percentage change in cost."
In the case of solar, the cost of the electricity produced declines "smoothly" in line with how much solar power is deployed.
And that's where the forecasters got it wrong. The mainstream academic and forecasters – the IEA, Bloomberg New Energy Finance and the like – expected between 10% and 20% "learning per doubling change", and Naam himself expected 16%. The reality: the price of utility-scale solar fell by between 30% and 40% "with each doubling of cumulative solar deployment".
That's what he expects to drive future prices.
By the end of last year, when solar power provided 2% of the world's electricity, it was competitive with already-operating fossil fuel plants, everywhere except "high-cost locations" (where labour, capital and land prices load up the cost of a plant). In most cases, Naam wrote, a kWh of solar electricity costs between 2.5 and 5 cents.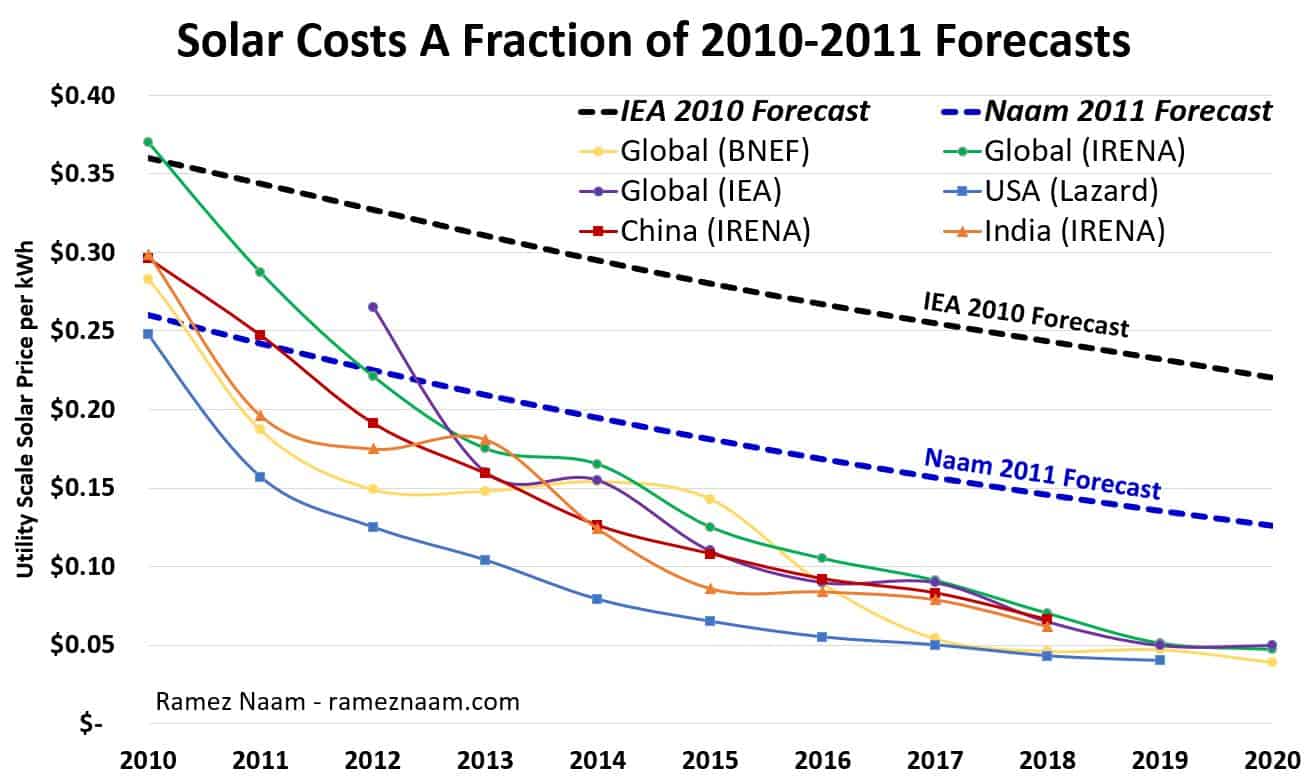 Assuming that solar maintains a 30% cost fall, he predicts that after two more doublings (from 600 GW today to 2,400 GW in the future), costs will have halved, and by the time the world reaches 19.2 TW installed solar, prices will between 0.5 and 1.5 cents per kWh.
When Too Much Solar Is Barely Enough
Is it feasible that the world will deploy that much solar, enough to power two-thirds of today's consumption?
Naam believes so: demand will continue to rise, driven by rising incomes and consumption in the developing world, the electrification of the world's transport fleet, more flexible demand, cheap energy storage, and industrial decarbonisation.
"Add these up, and it's plausible that solar's contribution to the energy system could double or triple the amount currently considered feasible for solar to provide," he wrote.
How soon might this happen? If the chart above tracks between 2020 and 2050, and deployment grows 16% annually, in just ten years building new solar will
"routinely be cheaper than operating already built fossil fuel plants".
Naam continues:
"In a purely open market, these incredibly low prices would drive the world's remaining coal plants into bankruptcy, and steal some of the most profitable operating hours even from cheap natural gas plants."
And while challenges like cheap storage, grid integration, and complementary generation to keep up with the northern hemisphere's winter peak consumption remain, it's clear to Naam that
"solar provides us an incredible tool for decarbonizing our electrical grid, while ultimately lowering costs for consumers, businesses, and industries".