An asthma attack following a child's night-time popcorn mishap set Adelaide engineer Dean McGurgan wondering why, in his ducted-aircon-equipped home, he even copped smoke exposure all the way from the kitchen to the bedroom.
And that set him on a development project he reckons could save money for others with ducted air-conditioning.
How? Because it became clear to McGurgan the baffles meant to divide a home into different zones don't work particularly well, especially when off. Such leakage might not matter much in summer if you own both solar panels and an air-conditioner, because if there's an excess of solar power, who cares about optimal efficiency? 
In winter however, when the power from rooftop solar is at its lowest and the risk of needing to import electricity from the grid greatest, McGurgan reckons leakage matters. So he set about designing an automatic louvre system that does well what baffles do badly – isolate different zones from each other.
And where he's at after more than three year's work is a working unit he hopes someone will want to license for manufacture, because in his home tests, McGurgan told SolarQuotes he believes it would pay for itself in a little over three years.
If the burned popcorn was the lightbulb-moment that made McGurgan realise baffles in ducted systems don't seal particularly well, what gave the project a personal urgency was watching his elderly father balancing on a ladder to put plastic over vents, because that's where heated air was leaking to in winter:
 "all of our hottest air bleeds straight into our ceiling vents and ductwork".
"Awesome To Watch"
The idea is simple enough: what McGurgan calls the "Anti-Gravity Ceiling Vent" would be built as a drop-in replacement for standard aircon four-outlet vent sizes (with spacer plates available for other sizes). It's self-installable since neither power or plumbing are required, and it's already won a People's Choice Award under Flinders University's Venture Dorm startup program.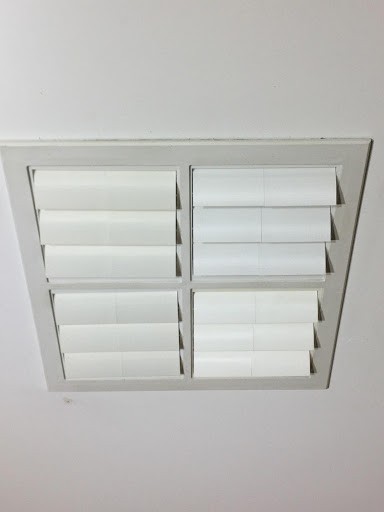 While coy about what he called the "secret sauce", McGurgan told us the provisionally-patented vent is activated by airflow – there are no batteries, no wiring, and no apps. 
"It's awesome to watch – when you turn the aircon on, they're all open." As time passes, the vent responds to airflow and closes its blades to keep the conditioned air in place.

"The aircon used to turn on every eight minutes," McGurgan said. "After I put the vents in, that went to every 13 minutes." 
Where does he get his cost-and-recovery estimate?
McGurgan told us in manufacture, the vent would cost between $25 and $35 – with four vents per outlet, that's $100 to $140. In a house with nine outlets (for example, four bedrooms, multiple bathrooms, and common areas like kitchen and family room) the total cost would be $900 to $1,200.
He told SolarQuotes "the average house in Australia spends about $1,800 a year on heating." 
When he measured his system with USB thermostats on each vent, he observed a 15-20% improvement in efficiency. That equates to more than $270 per year, so if the manufacturer can keep the cost down, the outlay could be recovered in a bit over three years. 
And we're beyond "he reckons it works": in August, McGurgan said the product received an airflow and analysis validation from Melbourne-based NATA laboratory Vipac.
Ready To Licence
And that's why he's ready to attract a manufacturer's eye.
"If every Bunnings store sold to just one household in Australia per day, that would be $300k of retail sales per day," he said.

"I'm at the point where I've developed it, tested in my own house, $5,500 on testing — I have a certificate that [it] works, so I'm looking to licence it. That's the hardest part – you have to work full time just to get interest!"
He pointed out to SolarQuotes that while there are individually-controllable vents (and of course, apps to control them), self-install isn't really an option if you need electrical wiring and solenoids.
Dean can be contacted here.