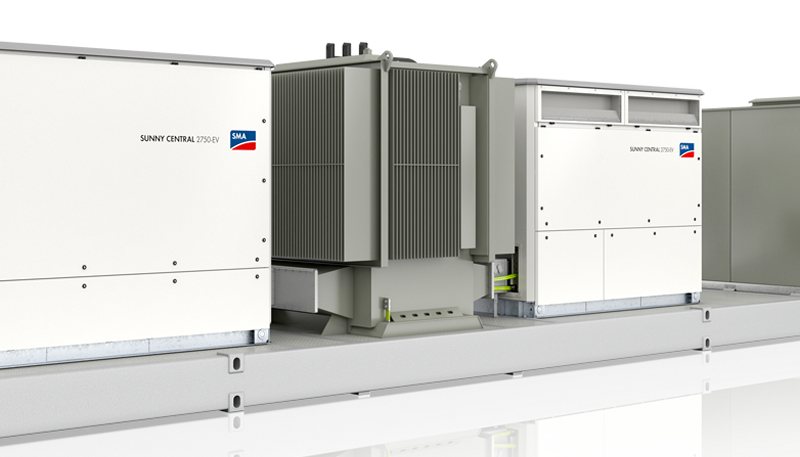 SMA Solar Technology AG says the company will have commissioned 1.8GW of solar inverter capacity associated with utility scale projects in Australia this year. 
It's been a huge year at this end of the solar sector for the company in Australia, as 2018 will bring SMA's total utility-scale PV power plant installations here above 2GW. 1GW of central inverters were commissioned just in September.
"The uptake in the utility segment has added 10 permanent staff members to our local service team in Australia and has resulted in 15 additional local employees being subcontracted to work on these projects for the duration of the plants' life," said John Susa, Executive Vice President, Sales – APAC / North America.
There's more to come – for example, SMA announced earlier this month it is supplying 57 Medium Voltage Power Stations (MVPS 5500) and two SMA Power Plant Controllers for Limondale Solar Farm in New South Wales. SMA's MVPS product incorporates 1500 V DC Sunny Central inverters, low and medium voltage connection areas, plus an Australian manufactured medium voltage transformer; all of which are integrated on a steel platform.
Limondale Solar Farm will be a 349MW facility, with  full commercial operations expected in mid-2020.
It hasn't been all sunshine and puppies for the company – SMA has long been a passenger on the solarcoaster ride. Once the biggest manufacturer of solar inverters in the world, it faced increasing pressure from Chinese brands and eventually bowed to it to a degree. Single-phase SMA solar inverters are now made in China, but its central inverters are still manufactured in Germany; as are SMA's three-phase string inverters – unless that has changed since March last year.
As well as large-scale PV facilities, SMA solar inverters have been a popular choice for residential and commercial solar power systems in Australia.
SMA Australia began operations back in 2007. The company, founded in 1981, is still headquartered in Germany, and has more than 3,000 employees worldwide.
Harder Road Ahead For Inverter Sector?
Globally, SMA sold a total of 6.2GW of inverter capacity from January to September this year. While capacity was up significantly on Q1–Q3 2017 (5.9 GW), sales decreased by 2.9%.
The company is bracing itself for more challenging conditions next year.
"For 2018, we expect a market slump of 26% in China, the world's largest photovoltaic market," said SMA Chief Executive Officer Dr. Jürgen Reinert earlier this month.
This will be a hangover from the Chinese government reining in solar subsidies says SMA, resulting in not only less happening in the country; but inverter manufacturers also increasingly pushing into international markets and creating what Dr. Reinert states will be "massive price pressure".
However, not everyone agrees – solar panel manufacturer JinkoSolar sees a possible rebound in Chinese demand next year, partly based on lower component prices.
While extremely competitive conditions may exist for SMA and other manufacturers, for buyers it should be positive news – assuming they choose a good solar inverter brand.