It can get bloody hot in summer thanks to the sun blazing down on our roofs and making them hot enough to not only fry an egg, but some bacon as well.
This post is about stopping the summer sun heating your roof, turning your home into a metaphorical oven.
There are 2 ways to stop your roof getting so hot:
#1 Make your roof more reflective.
The simplest way to increase the reflectivity of a roof is to make it lighter coloured.  A black roof will absorb almost all the sunlight's energy while a white roof will reflect around two-thirds.  There are also specialist heat reflective paints, but their effect is small compared to going from a dark to a light colour.
#2 Cover your roof with solar panels.
Solar panels cool your home in 3 ways:
They shade the roof beneath them.  While the panels may get hot, the air gap underneath prevents most of the heat from the being transferred to your roof.
Solar panels are dark and so absorb most of the sunlight energy that falls on them, but they turn a portion of that energy into electricity which stops them getting as hot as they otherwise would.
The solar electricity generated can power air conditioners.  While light coloured roofing material or heat reflective paint can reduce the need for air conditioning, it can't power it, so this is a huge advantage.
I'm going to compare the economics of using heat reflective paint versus installing rooftop solar1.
Rather than keep you in suspense, I'll tell you right now that when the value of solar air conditioning is included, rooftop solar comes out way ahead.  It doesn't just win by a country mile, it wins by such a long way it must be like a mile on Jupiter.
A Roof By Any Other Name Would Feel As Cool…
If you want to know what to call a roof that's cooler because it's lighter coloured, there are plenty of terms to choose from.  In fact, there are too many terms.  If you want, you can call it a cool roof, a reflective roof, a low solar absorptance roof, or a white roof – even sometimes if it's not white.  But me, what with my knowing so many fancy words and all, use the term high albedo roof.
Albedo is simply how much light an object reflects.  Something with high albedo reflects a lot and something with low albedo reflects very little.  The white marble of the pallid bust of Pallas above my chamber door is high albedo, while the black feathered raven perched upon it is low albedo2.
Roofs vary a lot in albedo, mostly based upon their colour.  Because I love me a good bit of Colorbond, I'm going to include this link to a page showing how reflective their roofs are.  Unfortunately, just to be difficult, they use "solar absorptance" which is the more or less the opposite of albedo.  Their roofs include the very dark "Nightsky" which reflects only 4% of sunlight energy falling on it and is very popular among serial killers and other maniacs, while their very bright "Whitehaven" reflects 77% of sunlight energy and I understand it is Pauline Hanson's favourite.
What A Light Coloured Roof Can Do For You
Compared to a dull old dark coloured roof, a nice reflective, high albedo one can reduce the cost of air conditioning by up to 15% for a single story home.  Or at least it can according to the United States government, and when have they ever lied to us?
But a 15% reduction in air conditioning costs isn't exactly fantastic.  Also, a light coloured roof can increase the need for heating in winter because the roof doesn't get so warm.  But in Australia the vast majority of homes will come out ahead by having a light coloured roof.
In warm places, such as Brisbane and Perth, light coloured roofs will save on energy costs overall and as for Darwin – does it ever get cold there?  I would expect Hell to freeze over before that place does.
Looking at aerial photos, I can see there are already plenty of light coloured roofs in Queensland and the Northern Territory.  But in Perth, while commercial and industrial roofs are bright white, most house roofs are fairly dark.  Clearly, the people of Perth are completely nuts.
The Cost Of A Reflective, Light Coloured Roof
If your home is being built or you are replacing your roof, then using light coloured roofing material is essentially free.  If you like, you can pay more for heat reflective roofing material that can be extra cool, but for the most part light coloured roofs don't cost more than dark ones.  So unless you live somewhere real cold,or you know you're not going to use much air conditioning, choosing dark roofing material is not very bright.
But if you have a dark coloured roof and you want to make it lighter, then you have to either pay for a new roof or you can take the less expensive but still pricey option of adding a coat of paint.  This could either be regular, light coloured roof paint, or it could be heat reflective paint.
Trust Dulux Paints?  Sure Couldn't!
Dulux used to claim their heat reflective InfraCOOL paint would lower indoor temperatures by 10 degrees and their Weathershield Heat Reflect paint would lower temperatures by 15 degrees.  Unfortunately, these claims were completely unsubstantiated and so Dulux was fined $400,000 for bullshitting.
Dulux no longer sells Weathershield Heat Reflect paint and they are much more cautious with what they say about InfraCOOL paint.
Heat Reflective Paints Need To Be Light Coloured
Heat reflective paint will cause more sunlight energy to bounce off than normal paint of the same colour.  But the effect is only moderate compared to painting a dark roof with non-heat reflective light coloured paint.  For example, if painting a black roof with normal white roof paint would cut air conditioner energy use by 10% then using heat reflective white paint would only cut it by roughly 12%.  Covering it with identically coloured heat reflective black paint would only reduce air conditioner energy use by roughly 3%.
Heat Reflective Paint Is Not Cheap
Neither normal roof paint or heat reflective roof paint is cheap.  I have an estimate for the cost of coating a commercial galvanized iron roof with Dulux heat reflective paint.  It comes to around $40,000 for a 3,000 square meter roof.  That's about $13 per square meter.  Coating a normal house roof is likely to have an even higher cost per square meter.
The average Australia home has around 160 square meters of roof space.  If it is assumed that heat reflective paint costs $15 per square meter then the cost of covering the roof will be $2,400.
Financial Returns From Heat Reflective Paint Are Low
In a hot location such as Townsville a household of 3 people will often use around 2,000 kilowatt-hours a year for air conditioning.  At their current cost of electricity of 27.1 cents a kilowatt-hour this comes to around $540 a year.  So if a dark roof is covered with light coloured heat reflective paint and cuts air conditioning energy use by 15% it will save around $80 a year.  If it is assumed that painting the roof costs $2,400 and it lasts forever that will give a return of around 3.3%.  For households that use twice as much electricity for air conditioning, the return would be a more respectable 6.6%.  But note it is possible to be charged a lot more than $2,400.
Most roofs in Townsville are already fairly light coloured, but there are still quite a few dark roofs.  It's not nearly as bad as Perth where they apparently love heatstroke, but it is bad enough to make me think they've gone a bit troppo up there.
As most Australian homes use far less air conditioning than those in Townsville and because they will have to pay slightly more for heating costs in winter, the average return from painting a dark roof with light coloured heat reflective paint is likely to be under 2%.  This is worse than a term deposit and so is not economically worthwhile.
The Cooling Benefits Of Rooftop Solar
Because solar panels shade the roof beneath them and only transfer a limited amount of heat to the roof, they should result in less solar energy being transferred to the roof than any type of roofing material, whether it is specially designed to reflect heat or not.  It won't be 100% effective, but it is reasonable to assume it would prevent at least 90% of the energy in sunlight being transferred to the roof as heat.
But solar panels only cover a limited amount of roof space.  A system with 5 kilowatts of solar panels will only cover around 30 square meters of roof or about 19% of a 160 square meter roof.  It is likely to be located on a north facing section of roof which is the part that receives the most sunlight energy, but even so, solar panels that cover 19% of a dark roof may may only reduce air conditioner use by one quarter as much as covering the roof with white heat reflective paint.
Just like light coloured roofs, solar panels can slightly increase the need for heating in winter, but this will normally be far outweighed by the benefits of cooling.
So even on a dark roof in a hot location such as Townsville, a 5 kilowatt solar system may only save around $20 a year in air conditioning costs.  While this is better than nothing, the amount is so small it can more or less be ignored.
What does make rooftop solar a far superior investment to heat reflective paint is the fact it generates electricity while paint just sits there looking pretty.
The Economic Return From Rooftop Solar
PVwatts says 5 kilowatts of north facing solar panels in Townsville can generate over 7,900 kilowatt-hours a year.  If a family self consumed half that electricity and sent the rest into the grid, then at the current grid electricity price of 27.1 cents per kilowatt-hour and feed-in tariff of 7.45 cents, it would reduce their electricity bills by around $1,360 a year.  If the system cost $7,000 its payback time would be around 5 years and 2 months.  If the system works perfectly for 15 years and then is scrapped the return will be about 13%.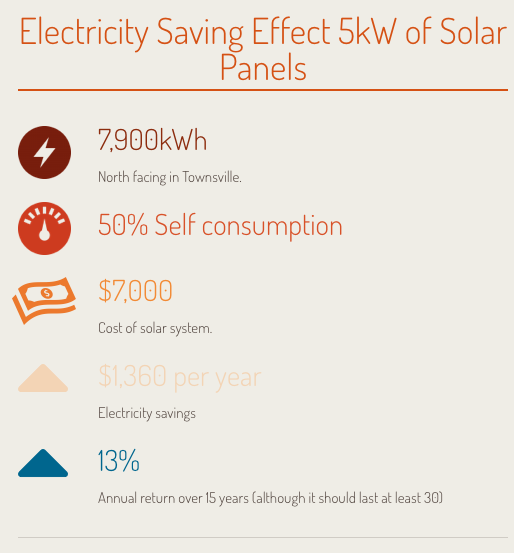 A quality rooftop solar system should not need to be scrapped after just 15 years, but even with my conservative assumptions, rooftop solar is one of the best investments that roof owning Australians can make.
Solar Air Conditioning Beats Heat Reflective Paint By Miles
The time to decide on a light coloured roof is before it is built or replaced.
While painting a dark roof with light coloured heat reflective paint can be worthwhile for buildings with very high air conditioning costs, your money will almost always be better spent on solar panels.
Even where air conditioning costs are high, rooftop solar still gives a better return, as it will cool the roof and generate electricity to power air conditioning and anything else that uses electricity during the day.
Footnotes
I'm doing this because a reader emailed me to ask if I thought he should buy heat reflective paint instead of solar panels. And I'm buggered if I'm going to spend a day researching his question and not get a blog post out of it. ↩
 And the albedo of the dark shadow from which my soul shall be lifted nevermore, is even lower. ↩