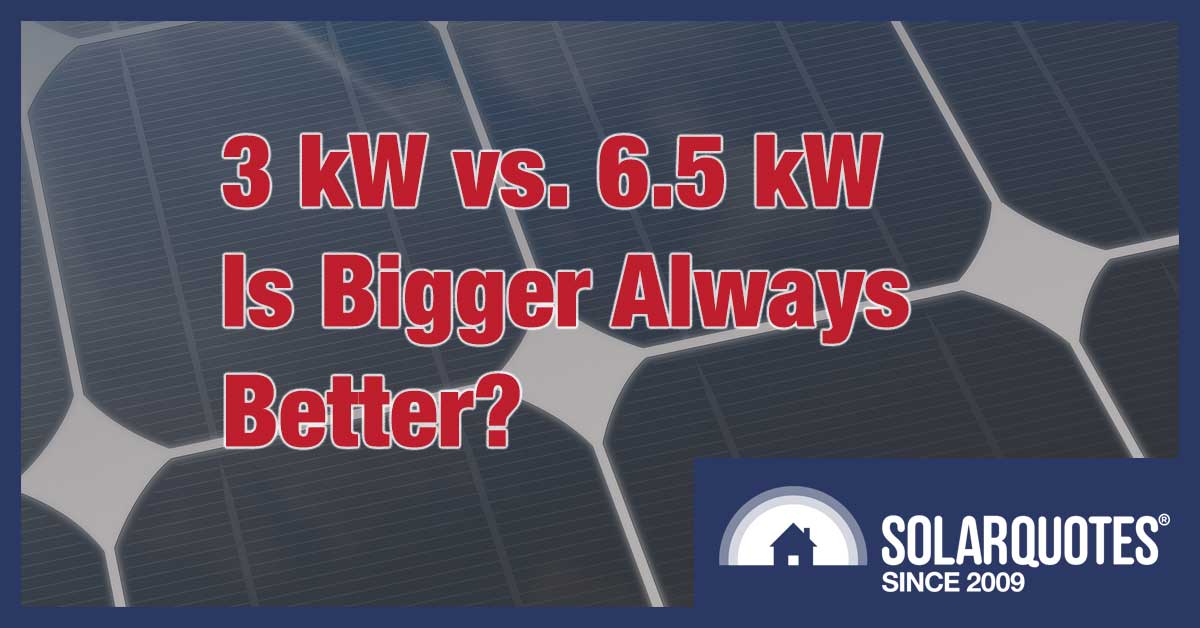 If you asked me how much solar you should put on your roof I would say, "As much as you can without doing something stupid like borrowing from the mafia or doubling up on solar panels by stacking them on top of each other."  In other words, install as much as you can without making problems for yourself. Because rooftop solar power is often the best investment households can make, I generally recommend installing as much as will easily fit on your roof or your budget allows.
The reason I can give this advice is because good quality solar power has fallen so far in cost households with unshaded roofs can usually save money with a large system regardless of how little solar electricity they may consume themselves.
In the past when solar energy was more expensive it could make sense to "right size" a system based on household electricity consumption rather than going with what easily fits on the roof, but those days are gone except for those with the tightest of budgets.
Despite the current low cost of solar there are still people — including some installers — who think it makes economic sense for people with low electricity consumption to always install small systems.  I can understand home owners thinking this, as they usually have better things to do than keep up with the economics of solar power, but by now all installers should realize the majority of people are going to be better off with more than 3 or 4 kilowatts.  Some may just be slow to update their thinking, but there may be some using it as a dodgy selling point — "Trust me!  You don't need a big system with your low electricity consumption.  Those other installers are trying to oversell you!  We'll give you a smaller one at a lower cost…"
To show, beyond a shadowy doubt, that — in most situations — everyone who doesn't owe money to the mafia will be better off with larger solar system, I will compare how much money a typical household will save over 10 years with a 6.5 kilowatt solar power system compared to a small 3 kilowatt one.
For my main example I will use a household in Sydney — Australia's largest city.  But I'll also consider what is best in Western Australia, where the solar feed-in tariff is tragically low.
A Few Provisos, Caveats, Exceptions, Etc…
Just to make things clear, I am not suggesting people with a small roof should install more solar panels than will fit.  This does not spark joy.  (But an installer who breaks the rules like that could spark a fire.)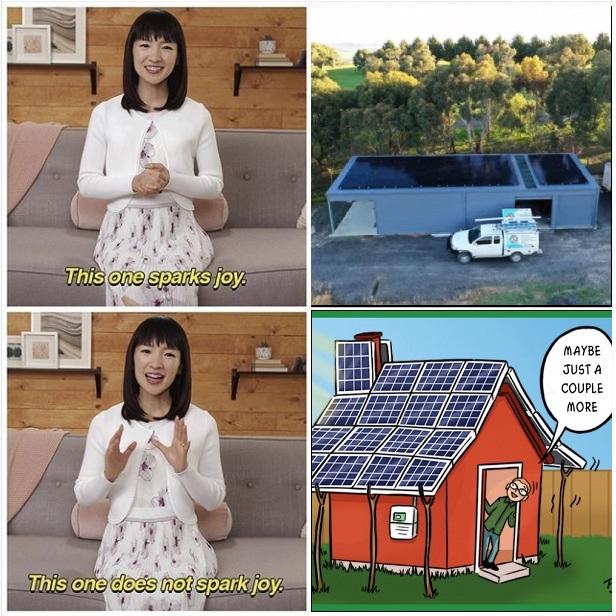 Nor should people spend more on solar than they feel comfortable with.  I'm just a guy on the internet, so don't let me convince you to do anything you think is iffy.  After all, you have no way of knowing if I'm wearing my pants on my head as I type this.  I could be a complete nutter, rather than only 97.5% nuts as I portray myself.
If you don't care about savings and just want a small system for whatever reason, that's also fine.  I don't think that makes sense, but I'm not going to try to stop someone from doing what they want to do.  Not given the amount of time I spend perusing goatsinbikinis.com.1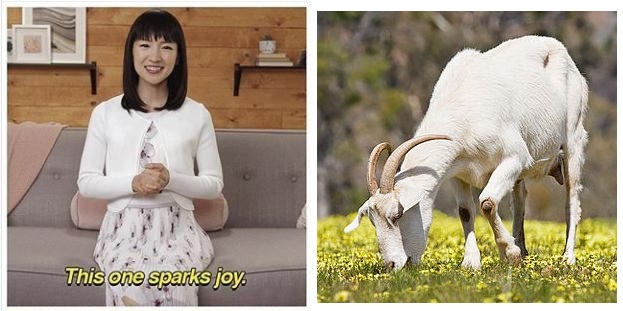 Why 3 Kilowatts Vs. 6.5 Kilowatts?
These days a 3 kilowatt solar system is puny.  Less than 3% of people using SolarQuotes want a system that size or smaller.  Clearly the word has gotten out that bigger is better.  Maybe this article will be the final word on the subject.
Around 6.5 kilowatts is actually around the most commonly installed size today.  I am using it as the example of a larger system because the majority of homes have single phase power and in most of Australia they are only allowed to install a maximum of 6.66 kilowatts without complications.2  It is also a size that fits on most roofs as these days 6.5 kilowatts can be 20 panels or less.3  But if you can install more, I say go for it.  It's still likely to pay for itself outside of Western Australia.  Although Tasmania is also a bit iffy due to low solar output.  But for now I'll just demonstrate that 6.5 kilowatts of solar is normally better than 3.
A Variety Of Factors
To compare the two different sized systems we'll need to know the following:
How much the different sized systems cost
Their annual output.
Solar electricity self consumption.
Electricity prices and feed-in tariffs.
Maintenance and repair costs.
I go into all these below.
Solar Power System Cost
I'm going to assume a 6.5 kilowatt system will cost $6,500.  That's $1,000 per kilowatt and enough to pay for a reliable inverter and solar panels from an installer who does good quality work.  It won't pay for the best hardware available, but it will be decent — provided, of course, you avoid the shoddy side of the solar energy industry.  (We can help you with that.)
A 3 kilowatt system is 46% the size of a 6.5 kilowatt system, but it's not going to cost only 46% as much.  A system that size of the same quality is likely to cost $4,000 or more.  This is because smaller inverters cost more per watt than larger ones and installing the system requires much more than 46% the amount of labour.  Also, the sales and design costs are the same.  I will assume a three kilowatt system will cost $4,000.  This is 33% more per kilowatt than the larger system.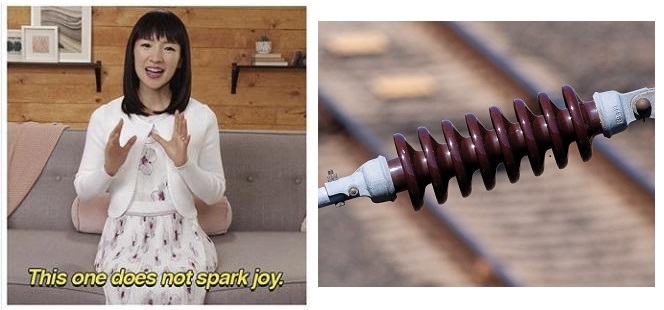 Solar Electricity Self Consumption
Solar electricity sent into the grid receives a feed-in tariff that lowers electricity bills.  But if a household uses that solar electricity themselves, it saves even more.4  The more solar electricity consumed yourself the more you save.
Because smaller solar systems produce less energy it is easier for households to use a large portion of it themselves, so they can have higher self consumption percentages than larger systems.  But — all else equal — the total number of kilowatt hours of solar electricity self consumed will be greater with a larger solar power system, even though the self consumption percentage may be considerably lower.
Solar Analytics kindly gave me some median figures on solar electricity self consumption and in NSW they are:
3 kilowatt system (2-4 kilowatts):  41%
6.5 kilowatt system (6-8 kilowatts):  34%
These figures are for the state, but as two-thirds of NSW's population lives in and around Sydney they're probably accurate for that city.  But two things to consider are people with Solar Analytics are likely to have higher self consumption than average, because the monitoring system helps them with this, and people with lower electricity consumption are more likely to install a smaller solar power system.
For these reasons I will lower the self consumption percentage for a 6.5 kilowatt system down to 30% and bump it up to 45% for the 3 kilowatt system.  I'm not using these percentages because I think they're accurate, but because I want to show a larger solar system is likely to be the best choice even if the self consumption percentage is much higher for the smaller system.
Solar Electricity Production In Sydney
The PVWatts site says 3 kilowatts of north facing solar panels in Sydney will produce 4,182 kilowatt-hours over a year.  I'll assume it will produce 95% of that for a nice round figure of 4,000 kilowatt-hours.  This allows for the minor decline in output that occurs with age and for also accounts for them often not facing directly north.
A 6.5 kilowatt system is 2.17 times larger, but I won't assume it will produce 2.17 times as much energy.  This is because the larger the system, the harder it is to face all the panels in the best available direction.  So I'll assume the larger system will only produce 95% the output of the smaller system per kilowatt of capacity.  This means it will generate 8,667 kilowatt-hours a year.

Feed-In Tariff And Grid Electricity Prices
At the moment the best electricity plan for solar households in Sydney appears to be Origin Energy's Solar Optimizer, which has a 21 cent feed-in tariff.  That's pretty good and I have double checked it's available to normal households and doesn't require you to buy a solar power system from Origin, as is the case with some of their other high feed-in tariff plans.  This plan's features are, to the nearest cent:
Daily supply charge:  86 cents
Per kilowatt-hour charge:  30 cents
Feed-in tariff:  21 cents
But I want to look at savings over at least 10 years and these figures are unlikely to stay the same.  To keep things simple I will assume the cost of grid electricity will remain the same in real terms.  This means it just keeps pace with inflation.  Electricity prices are predicted to mildly decline over the next couple of years, but I am too lazy — I mean, efficient —  to try to take that into account.
Some people are pessimistic about the future of feed-in tariffs.  I don't think they are in any danger of disappearing, but there will be downward pressure on them as overall solar energy generation increases.  To allow for this I'll assume the average feed-in tariff a household will be able to receive over the next 10 years will be 15 cents in today's money rather than the 21 cents currently available.  This may require changing electricity plans or retailers at times to get the best of what's available, but that's not particularly difficult.  So the figures I'll be using are:
Per kilowatt-hour charge:  30 cents
Feed-in tariff:  15 cents
Maintenance Costs
Because I've assumed a reliable system will be put in place by an installer who does quality work, I think it's unlikely there will be any out-of-pocket costs for the household for repairs in the first 10 years.  Panels have a product warranty of at least 10 years and inverters have a minimum warranty of 5 years, but it's not difficult to get one with a 10 year warranty these days.  So I will assume there will be no repair costs in the first 10 years.
I will assume maintenance will be performed after 5 years.  Because Sydney is an expensive place I'll assume it will cost $400.  This charge is likely to be the same whether the system is 3 kilowatts or 6.5.  Because I'm looking at savings and costs in the first decade I don't think the cost of the10 year maintenance needs to be included, but if you want to add it in yourself, please go right ahead.
6.5 Kilowatts:  Total Savings Over 10 Years
Using my assumptions, over ten years in Sydney, a 6.5 kilowatt system will give the following figures:
Total solar electricity generation: 86,670 kilowatt-hours
Total solar self consumption: 26,000 kilowatt-hours
Total solar energy exports:  60,670 kilowatt-hours
Total savings from self-consumption:  $7,800
Total savings from feed-in tariff:  $9,100
Maintenance costs:  $400
Savings in full:  $16,500
With a total savings of $16,500 the total return is more than two and a half times what was invested and the system will continue to save money for many years to come.  This is in today's money and doesn't take inflation into account, so the actual inflated figure would be higher.
If I subtract the original $6,500 cost of the solar system, the household comes out exactly $10,000 ahead.  While it's unlikely anyone looking at that nice round number will believe me, I didn't actually plan ahead to get this.
3 Kilowatts:  Total Savings Over 10 Years
For a smaller, 3 kilowatt system, over 10 years in Sydney, the figures are:
Total solar energy generation:  40,000 kilowatt-hours
Total solar electricity self consumption:  18,000 kilowatt-hours
Total solar exports:  22,000 kilowatt-hours
Total savings from self consumption:  $5,400
Total savings from feed-in tariff:  $3,000
Maintenance costs:  $400
Savings in full:  $8,000
With a total savings of $8,000 that's another nice round number, and again, I did not try to get that!  This is double the amount invested.  It's a good result, but not as good as the larger system.  If we subtract its cost from the savings and then add on the $2,500 that was saved by getting a small one, the household is $6,500 ahead.  The smaller system definitely paid for itself, but the household would be $3,500 better off if they had bought a larger solar system.
But, this isn't quite right because I've assumed the value of the $2,500 saved by getting a smaller system only kept pace with inflation.  If it was invested in something that gave a positive return, the difference between the two systems is not as great.  However, the larger one still comes out ahead.
Investment Returns
Many people who own a roof also have a home loan.  If the money saved by getting a smaller system is used to help pay it off it will have an effective real return of roughly 3%.  So after 10 years the $2,500 saved would be worth $3,370 if invested at that rate.
Another possible investment is the share market.  This gives an average real return of about 8%, but with a lot of variability.  If I assume an average of 8% then after 10 years $2,500 would be worth $5,550.
If I add the earnings from these investments and subtract the cost of the solar power system to get the net saving, then we get:
3% real return (eg. Home loan payments):  $7,370
8% real return (eg: Share market average):  $9,550
So not even getting a smaller system and investing the savings in the share market at the average return can beat getting a larger system, as it puts a Sydney family a nice round $10,000 ahead after 10 years.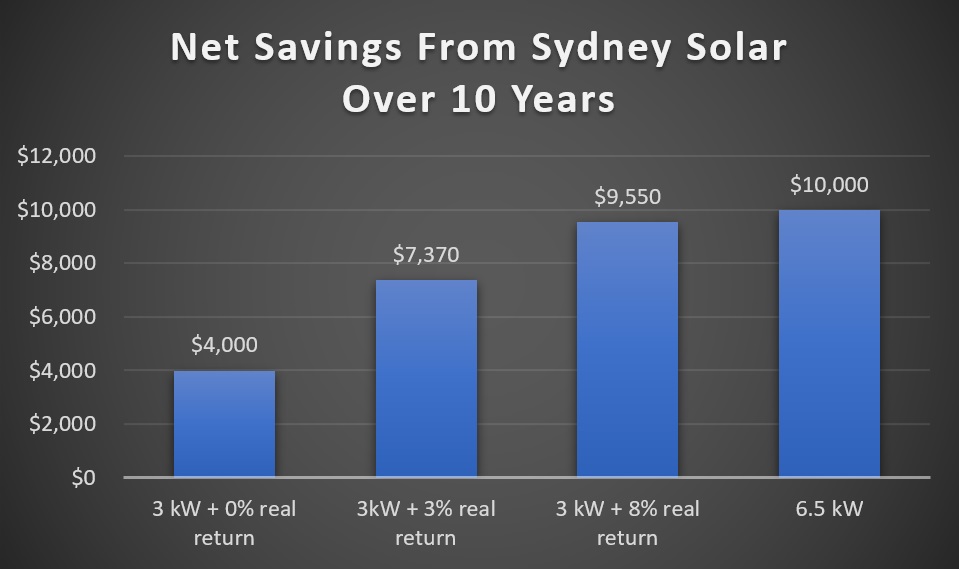 Go Bigger!  Systems Larger Than 6.5 Kilowatts
If your home has single phase power you may be able to install more than 6.66 kilowatts by export limiting your system.  This is often worthwhile and I recommend looking into it if you have the roof space for 7+ kilowatts of panels.
If you have three phase power (or are willing to spend the several thousand dollars it may cost to upgrade to it) then, depending on where you are, you may be able to install either 20 or 40 kilowatts of solar panels.  Very few home roofs will be able to fit 20 kilowatts, let alone 40, but it can definitely be worthwhile to go as large as you can because the cost of solar per watt is less for larger systems.  So even if some plans with high feed-in tariffs don't accept solar systems over 6.66 kilowatts, you are still likely to economically come out ahead with a very large solar power system.
WA: A Low Feed-In Tariff Example
I've used Sydney as an example and assumed an average feed-in tariff over 10 years of 15 cents.  But the large majority of households in Western Australia can only receive a low solar feed in tariff of 7.1 cents and there has been no hint it will be raised any time soon.  If I keep my assumptions the same but use Perth's sunnier climate for solar energy generation, I get the following net savings after 10 years using WA's current electricity price of 28.8 cents and a 7 cent feed-in tariff: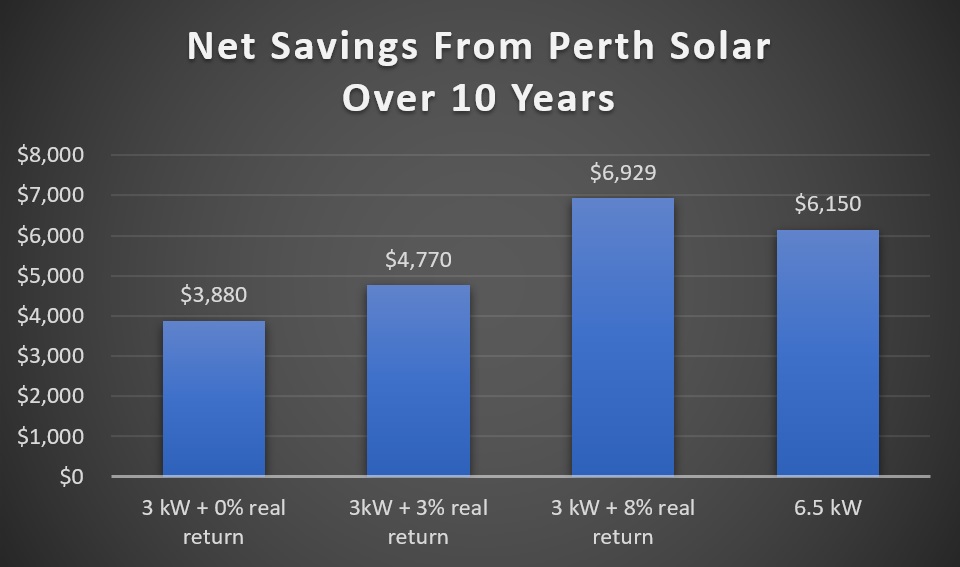 So, with the assumptions I've made, in Western Australia the feed-in tariff is so low it is possible to come out ahead by buying a smaller solar system and investing the money saved in the share market at its average return.  But if your next best option is to pay off your home loan, you'll be better off with a larger system.
I've used the same cost for solar as in my Sydney example, but Perth is the lowest cost capital for solar power, so if you do your research and get a good quality 6.5 kilowatt system installed for less than $6,500 that will improve its return.
Systems Over 6.66 Kilowatts Don't Pay In WA
Unfortunately in Western Australia, if you install more than 6.66 kilowatts you normally won't be able to receive any solar feed-in tariff at all.  The grid will still take your surplus solar electricity, but it will be stolen.  This makes it very difficult for larger systems to pay for themselves in WA.  In other states it can be possible to work around this with export limiting, but this is not permitted there.
Go Big! (Or Not So Big — It's Your Choice)
Most people don't invest their spare money in the share market.  Often it goes into things such as home loans or just having a good time.  So even in an area where only low feed-in tariffs are available, it still make sense for most people to invest in a larger solar system.  This is because it will either provide a better return than the next best investment option they're likely to use or the savings on every electricity bill will enable them to have an even better time overall for decades to come.
But even if you are living in Western Australia and are happy investing in the stock market, you may still want to invest in a larger solar power system of around 6.5 kilowatts because you can either get a good quality system for less than the figure I used or because you are happy with a return that is close to the share market average without sharing its volatility.
It depends on individual circumstances, but as a general rule of thumb, I would say if you are confident your feed-in tariff is likely to average over 7 cents for the next 10 years you should go big with solar.  Mind you, this only applies if the only thing you love is money.  If you also have some small particle of concern about the environment, the future of humanity, or even just the future of duck billed platypuses, then go big anyway.