In Queensland, the City of Gold Coast is showing off six new fully electric vehicles recently acquired for its fleet.
"Our new electric vehicles have zero petrol or diesel fuel costs, emit zero greenhouse gas emissions and require less ongoing maintenance than regular cars," said Mayor Tom Tate.
The City already had some hybrid electric vehicles (HEV), but these new additions appear to be its first fully electric cars.
The release doesn't mention the make or model, but this page on Council's web site indicated they were to be Hyundai Ioniq EVs. Judging by the available detail in this small, cropped image accompanying the news item; that's what they are. (The happy chappy in the pic is Mayor Tate).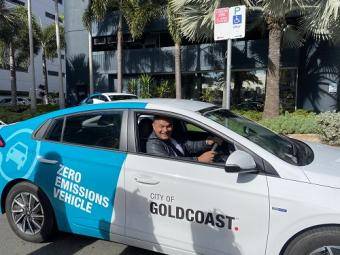 The mayor says charging stations have been installed at a number of Council's solar powered buildings and that the City is also working towards potentially trialling publicly accessible EV charging points across the Gold Coast later this year.
Solar Power And City Of Gold Coast
Mayor Tate mentions the City has solar panels installed at 47 sites across the Gold Coast that are saving Council (and ratepayers) $1 million per year in energy costs. There's been a lot of activity on this front in the past year or so and particularly in the last 6 months based on this old news item. It states in February last year solar had been installed at 20 sites, and by the end of 2019 Council expected to have over 4MW of solar and 1MW of battery storage capacity in place providing savings of over $500,000 per year.
Among the City's large installations is a 312 kilowatt system at the Gold Coast Aquatic Centre and there's more big solar to come – a major PV project on the board is for the new Pimpama Sports Hub, which is due to be completed next year. Council says the Hub will boast a 910kW solar system and 316kWh of battery storage capacity.
Given the region's sunny reputation, it will come as no surprise PV is also very popular among Gold Coast businesses and residents. Approximately 34.9% of suitable dwellings were sporting solar panels on their rooftops as at September last year (Source: APVI). All this installation activity is supporting jobs; with a bunch of good solar installers in the Gold Coast region.
Related: The Homeowner's Guide To Solar Power And Electric Cars