Update: Compare all the hot water diverters available in Australia here.
How A Diverter Can Give You Solar Hot Water And Store Energy At A Lower Cost Than Batteries
A solar hot water diverter is an electronic device that sends surplus electricity from your rooftop solar to your electric hot water cylinder.  This reduces, or even eliminates, the need to use grid electricity to heat water.  Under the right circumstances diverters can save you money and allow you to store energy at a cost lower than batteries.
Diverters work with standard electric hot water systems that consist of a storage tank with an electric heating element inside.  These are common in Australia, though Victorians and Western Australians generally use gas hot water systems.
Whether or not a diverter will pay for itself depends on a range of factors.  These include a household's hot water consumption, location, feed-in tariff, controlled load or off-peak rates, retail electricity plan, and the amount of surplus electricity produced by a home's rooftop solar system.
We have now published a SolarQuotes Diverter Comparison Table giving the details of all the diverters we have information for.  This article is about how they work in general and how much money they may save households in locations throughout Australia.
Diverters Allow Solar Energy To Be Stored As Heat
If you know what a solar hot water diverter is, there is a good chance you've heard they allow your hot water system to work as a battery.
This isn't true.
Batteries and hot water systems are completely different things.  With batteries electricity goes in and electricity comes out.  With a hot water system electricity goes in and hot water comes out.  If you put electricity into your battery system and hot water comes out, then something has gone seriously wrong.  And if electricity came out of my hot water system, I'd be shocked.
But even though they are quite different things, both batteries and hot water systems are able to store energy.  Batteries are able to output the same sort of energy that went into them while hot water systems are only able to store energy as heat.
Diverters Use Grid Power If There Isn't Enough Surplus Solar
If a solar system is large enough, or hot water use low enough, it is possible for a diverter to make a hot water system entirely solar powered.  But in winter, when solar output is low and hot water consumption is high, many households will find they won't have enough surplus solar electricity to keep their water hot during extended periods of cold and cloudy weather.  To get around this problem diverters will allow grid electricity to boost the system when required.
Diverted Surplus Solar Can Only Be Used For Electric Heating
Diverters are capable of sending even small amounts of surplus solar electricity to electric heating elements in a form they can use effectively.  But because this power isn't provided in the usual steady fashion it can't be used with anything that has pumps, motors, or electronics and it's a really bad idea to try it – just to see if I am right.
As a result, they can't be used with heat pump hot water systems, but they can be used to give a boost to solar hot water systems.
While their most common use is powering hot water system heating elements, they can also be used for home, spa, or pool heating.  Depending on the diverter, it is possible for them to send surplus solar power to more than one heating element.
If you want to see what an electric element looks like, don't open up your hot water system, just look inside your electric jug.  It's that metal coil at the bottom.  Unless yours is weird, the element will contain an alloy of nickle and chromium called nichrome that has 100 times the resistance of copper1.  The nichrome is surrounded by a ceramic insulator and the whole lot is inside a stainless steel outer layer, which is what you can see.  An interesting fact is the ceramic insulator actually breaks when they turn it into a coil, but it still does its job.  The nichrome conductor never comes into contact with the stainless steel exterior at least 9 times out of 10.
Diverters May Have Other Features
While a diverter's main function is to supply surplus solar electricity to electric hot water heaters, they many come with other features.  These can include supplying normal household current to devices that aren't heating elements once there is enough surplus solar energy to power them.  This is often called threshold power, as it is only provided once surplus solar reaches a set amount.
Electric Hot Water Systems Have Not Been Phased Out
In 2010 it was decided to phase out standard electric hot water systems because of the large amount of energy they use, but this has mostly been dropped.  Probably because someone pointed out to politicians that hot water systems are still made in Australia.  There are some building codes and incentives in place to encourage people to install something else, but it is usually still possible to install a conventional electric hot water system if that is what you want.
How Hot Water Diverters Work
The amount of electricity produced by a solar system through the day varies as the sun rises and falls and because of changes in the weather, especially cloud cover.  In addition, the amount of electricity consumed by a household can dramatically rise and fall.  This normally results in large variations in the surplus solar electricity available.  Often there won't be enough to give a hot water element the power it was designed to use.
The smallest hot water elements draw 1.8 kilowatts, but most are larger and draw 2.4, 3.6, or 4.8 kilowatts.  However, all the diverters I am aware of only work with elements that are 3.6 kilowatts or less.  As solar systems will generally deliver significantly less power than the maximum capacity of their solar panels, even on a clear day a 5 kilowatt solar system may be unable to give enough power for a 3.6 kilowatt element by itself and when it is overcast it will be impossible.
Diverters get around this problem by taking any surplus solar power that's available over about 100 watts and sending it to the hot water system in a form it can use. The standard way to do this is by chopping the AC power waveform into pieces.
So if a solar system was producing 1.2 kilowatts of surplus electricity it could give a 3.6 kilowatt element the current it is designed to use for one-third of the time. This will result in the element heating water at one-third the rate it would if it was receiving the full 3.6 kilowatts constantly.
Update 22 August: I unfortunately gave a wrong explanation of how diverters work and have removed the incorrect information to prevent it confusing people.  I apologize for getting it wrong.
Efficiency And Environmental Benefit
Diverters are not 100% efficient, but if they are properly designed they should be pretty close to it and lose a very small amount of surplus solar electricity.  Because there will be a small amount of energy loss, at the moment using a diverter is slightly worse for the environment than simply sending the surplus electricity into the grid for a feed-in tariff, but the effect won't be large and will likely change in the future as solar generation increases and we need storage to prevent clean solar energy going to waste.
Controlled Tariffs And Time-Of-Use Tariffs
To determine how much money a diverter can save a household, it is necessary to look at how much grid electricity used for heating water costs.  In Queensland, NSW, and South Australia it is common for people to use a controlled load tariff, also called an economy tariff, to power the water heater.  This will supply electricity to the hot water system at a rate that is less than the normal tariff, but is only available for a limited period each day.  Controlled load tariffs vary according to location and retailer plan, but prices of 17 cents or more per kilowatt-hour are now common.
It is possible to use a diverter and keep a hot water system on a controlled load tariff, but this will need extra hardware that will increase the cost of installation.
People who have smart meters can also use a time-of-use tariff that provides low-cost off-peak electricity from as little as 12 cents a kilowatt-hour in Sydney.  Hot water systems will generally need a timer to take proper advantage of this.  A suitable timer can cost as little as $20, but paying someone to install it can be considerably more.
Hot Water Consumption
Around one-quarter of electricity consumed by Australian households goes towards heating water if they have a standard electric hot water system.
I've looked at various figures available for hot water use in Australia and I'm afraid they just don't add up.  I can only conclude there are a significant number of people out there who don't shower every day.
The amount of hot water consumed by households will vary significantly depending upon how many people live there, location, time of year, personal habits and dedication to hygiene.  Fortunately, it is very easy for people whose hot water systems are a controlled load to find out how much electricity they use to heat water.  All they have to do is look at their electricity bills and it will be right there.
If your hot water system isn't a controlled load then working out how much electricity it uses becomes tricky.  You could install energy monitoring equipment to find out the exact amount, or if you are like me and morally opposed to things that need effort, you could just use the following rule of thumb:
2 person households use around 4 kilowatt-hours a day for heating water.
3 to 4 person households use around 5 kilowatt-hours.
5+ person households use around 6 kilowatt-hours.
Reduce by around 1 kilowatt-hour a day if you are in Brisbane or Perth and by more if you live somewhere hotter.  In summer the amount may be only half as much, while in winter it may be 50% more.
Solar System Size
If you are going to install a diverter it is a good idea to have a solar system that produces enough surplus solar electricity to power the hot water system most of the time.  The good news is, if you have a 5 kilowatt solar system and normal electricity consumption, then your solar system is likely to produce enough surplus power on average to heat your water even in the middle of winter, provided you live on the mainland.
This does not mean you will never need to use grid electricity for water heating, as there are likely to be periods of particularly bad weather and/or high hot water consumption that will make it necessary, but it does mean grid electricity usage is likely to be minimal.
In Tasmania, low solar output and high hot water use in winter are likely to require regular use of grid electricity in winter for homes with 5 kilowatt solar systems.
Savings Per Year By Location
The amount of money saved by a diverter for each kilowatt-hour of surplus solar electricity it uses to heat water equals the cost of the grid electricity that would have been used minus the feed-in tariff that would have been received.
This amount is easy to determine in rural Queensland because all the prices are fixed.  The cost of the cheapest controlled tariff is 17.4 cents per kilowatt-hour while the solar feed-in tariff is 10.1 cents a kilowatt-hour.  This means each kilowatt-hour of surplus solar electricity a diverter uses to heat water will save 7.3 cents, before accounting for efficiency losses.  If the diverter is 99% efficient then 7.2 cents would be saved.
If a rural Queensland household used 1,500 kilowatt-hours a year for heating water which was entirely provided by a diverter, they would save $110 a year, ignoring small efficiency losses.
I have estimated the annual savings from installing a diverter in Australian capitals, using the following, reasonably favorable, assumptions:
Households use 1,500 kilowatt-hours a year heating water.
Where applicable, the lowest cost electricity plan SolarQuotes electricity price comparison tool provides for a household that uses 4,500 kilowatt-hours of grid electricity and exports 5,000 kilowatt-hours of solar electricity a year is used.
Where available, controlled load rates are paid for heating water.
After a diverter is installed hot water systems are entirely powered by solar electricity — even in Hobart.
Any economic benefit that may result from other diverter features, such as threshold power, are ignored.
Diverter efficiency losses are ignored.
Under these conditions, I get the following savings on electricity bills per year:
Adelaide:  $87
Brisbane:  $116
Canberra:  -$17
Darwin:   $0
Hobart:   $255
Melbourne:  $72
Perth:  $291
Sydney:  -$21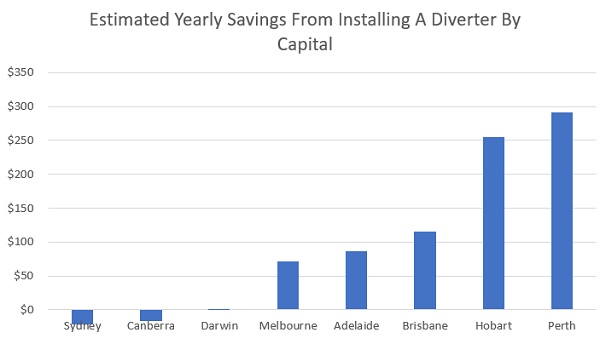 As you can see, under the conditions given, installing a diverter in Canberra or Sydney loses money, while the greatest benefit is in Perth.  However, due to their reliance on gas hot water, standard electric hot water systems in Perth are uncommon.
There are also large savings to be had in Hobart.  Unfortunately, unless a household there has an unusually large solar system, the savings are likely to be less due to using grid electricity for boosting during winter.
Diverter Price And Payback Period
Diverters vary in likely installed cost, but if I assume one can be installed in Perth for $1,500 then it would have a simple payback period of 5 years and 2 months.  This is longer than 5 years, which is the maximum warranty period for any diverters I am aware of.
But, if the diverter lasts for 3 years beyond its warranty and runs without a problem for 8 years, then in Perth it would give the same return as investing the $1,500 at 5.6% for 8 years.
What To Consider Before Getting A Diverter
The potential savings or losses that can result from installing a solar hot water diverter are greatly affected by location, judging from the results I obtained above.  But they are also very dependent upon a household's individual characteristics, which makes it very important to consider hot water consumption and surplus solar electricity generation when determining if a diverter is likely to pay for itself.
As I have previously mentioned, even with optimistic assumptions, a battery system such as a Powerwall 2 cannot pay for itself anywhere in Australia at this time.  However, a diverter in Perth, and potentially other locations under the right conditions, can give a better return that batteries right now.
But just because diverters can give a better return than batteries, it doesn't mean they are the best option available.  Before installing a diverter you should first check you wouldn't be better off spending the money on increasing the size of your solar system or investing in energy efficiency such as a heat pump hot water system, insulation, or simply replacing an ancient refrigerator.
Footnotes
This might make nichrome sound like it has a lot of resistance, but it is still a far better conductor than most non-metallic objects such as wood, cheese, your neighbor's cat, or your neighbor. ↩