In the past I've written about solar panel clamping zones which determine where, on a solar panel's edge, you can place the clamps that attach the modules to their mounting rails.  What I didn't do was go into just where on a roof solar panels can and can't be installed.
Depending on the roof mounting system used to attach the panels, there may be 'exclusion zones' where no solar panels are allowed.  These zones exist because winds are strongest around the edges of roofs. Installing away from the roof edge reduces wind loading on the panels and makes them less likely to be damaged or even torn off in a storm.
I looked at five different manufacturers of solar roof mounting systems and was able to find Australian installation guidelines for four of them.  Only two of these guidelines were available on manufacturer websites and so should be the most up to date versions available.  Of the four systems for which I had installation manuals, two do not require exclusion zones, one has a small exclusion zone of 20 centimeters from roof edges, while another has a massive exclusion zone that can be over 80% of available roof space — but I assume this information is out of date.
Installers are required to follow manufacturer recommendations in order to comply with Australian standards.  If they want to do anything that isn't recommended, first a certificate has to be obtained from a structural engineer that states the specific changes being made won't reduce the strength or safety of the installation.  Even when manufacturer guidelines don't require it, installers still need to leave enough space at the bottom edge of a roof so water flowing down solar panels doesn't overshoot the gutter.  It is also good practice to leave at least 20cm between panels and roof edges.
While I said some manufacturers don't require exclusion zones, I will mention that air is automatically an exclusion zone and if any part of a solar panel extends beyond the edge of a roof, that is not a good thing, unless it is part of a special construction that a structural engineer has signed off on — but they never are.
Roof Mounting System Basics
Australia is divided into four main wind zones ranked from A to D in order of increasing maximum expected wind speed.  D is Australia's most dangerous cyclone zone in Western Australia.  While not an official description, you may find the following makes them easy to remember:
A for All Right
B for Beware
C for Cyclones
And D for you are going to Die
The more dangerous a wind zone is, the more roof attachment points are required to securely hold a solar power system in place on a roof.  Some roof mounting systems may not be suitable for some wind zones, but all four systems for which I was able to find installation manuals are.
Installers are also need to pay attention to the surrounding terrain as maximum wind speeds will be higher if a building is surrounded by open ground and lower if it's surrounded by structures and/or trees.  Other factors that can affect the number of attachment points required are building height and roof slope.
With Roof Mounting Systems You Get What You Pay For
Tragically, it's not always true that you get what you pay for.  There are plenty of rip-off merchants in the world just waiting for their chance to overcharge you so they can make another payment on their diamond powered Lamborghinis. But for solar panel mounting, equipment price is a good indicator of quality.  This is because it is bought and installed by hands on professionals who are obligated to return and fix any problems it may cause.  This means if the components of a roof mounting system aren't top quality then their price has to be low enough to to compensate for the possibility an installer will have to return to fix problems.
All roof mounting systems have to be certified, so no matter what is used your solar power system isn't likely to blow off your roof in a storm.  But there's a big difference between getting top marks and just scraping by with a passing grade.  If you pay more for quality your roof will be less likely to suffer minor damage or leak, which can lead to major damage.  If you do have problems, the solar installer is required to fix them, but it's a lot better to not have problems in the first place.  To be clear, I am not saying you will have problems if you choose a cheap option, it will depend on what kind of roof you have and how carefully the installation is done, but the risk will be greater.
Australian Made Is Best
If you were to ask me which country makes the best roof mounting material I would say Australia.  Two Australian manufacturers, Radiant and Sunlock, make some of the best gear around.  These people know what Australian conditions and cyclones are like.  So while I normally approve of destroying Australian industry1, just this once I will make an exception and recommend these Australian products to people interested in high quality.
10 Year Warranties Are Standard
Roof mounting systems generally come with a warranty of 10 years.  Clearly this is a problem if you are expecting your system to last as long as the 25 year performance warranty most solar panels have.  This is one more reason to select a high quality system as they are likely to last longer.  All the mounting systems I discuss below have 10 year warranties with the possible exception of Radiant.  While only 10 year warranties are currently mentioned on their website, in the past they have offered 15 year warranties2.
Popular Mounting Material Manufacturers
In Australia most roof mounting systems are supplied by the following manufacturers:
Clenergy
Grace
Radiant
Schletter
Sunlock
Titan
Clenergy
Clenergy is a Chinese company that produces lower cost mounting materials.  Their PV-ezRack SolarRoof system can be used to mount solar panels on metal and tile roofs with slopes from 0 to 60 degrees.
The interesting thing about Clenergy's exclusion zones is it doesn't seem to have any.  There's no mention of them in its installation guide or this brochure.  In this picture from the brochure you can see the panels get quite close to the edge of the roof: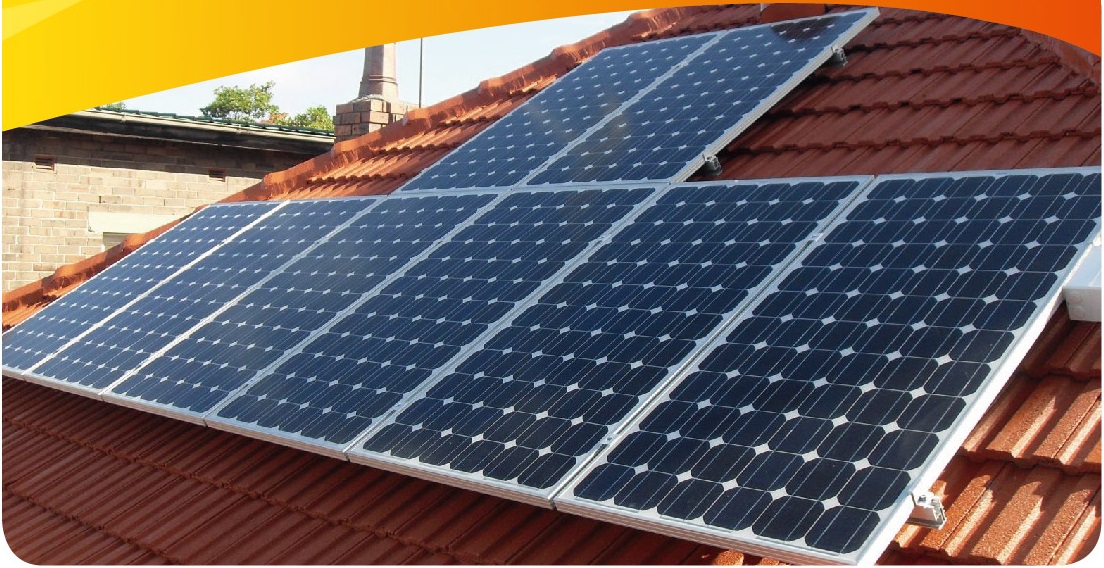 Here's another picture from the Clenergy brochure that shows the system is really edgy: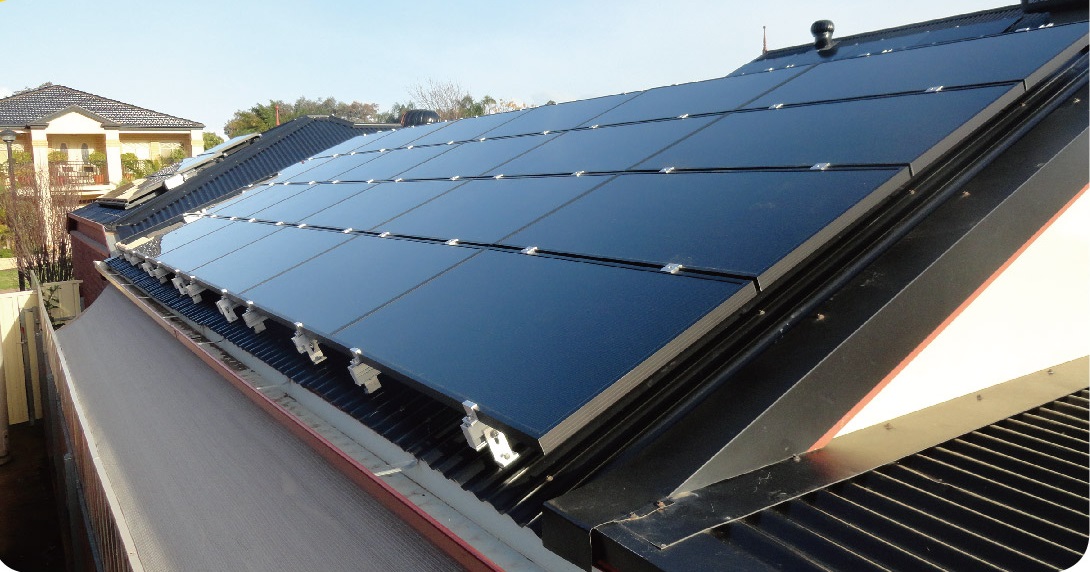 That system is close to all the roof edges.  It's so close to the bottom edge I hope during a downpour water flowing over those panels won't fly over the gutter and miss it completely.
Grace
Grace Solar, also known by the rather insulting name Grasol3, is a Chinese producer of low cost solar panel mounting gear.  On their website I couldn't find any installation instructions or information on exclusion zones.  Looking online I was able to find a PDF of their installation manual, but because it didn't come off their site I can't be certain it's up to date4.  It contained the following diagram on exclusion zones: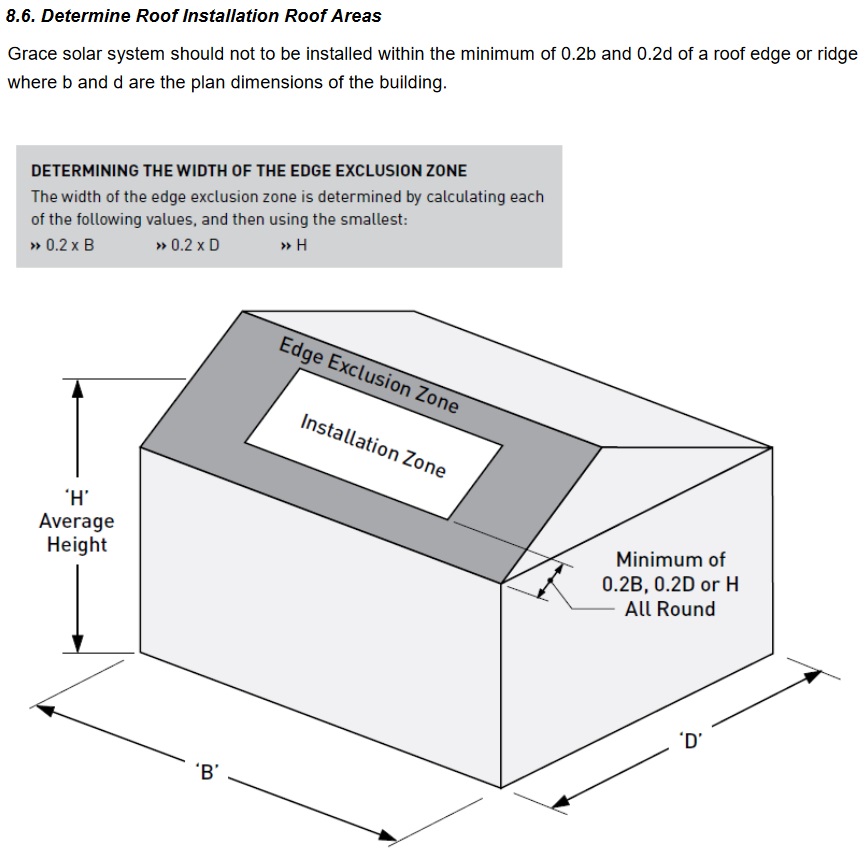 Their formula makes for very large exclusion zones.  If a house has an average height (H) of 4m, a depth (D) of 10m, and a breadth (B) of 15m and the exclusion zone around the edge of the roof is equal to "Minimum of 0.2B, 0.2D or H All Round" as the diagram says, then the smallest figure would be 0.2D for an exclusion zone of 2m.  If the roof has a 15 degree slope and consists of two identical rectangles then each would be 5.27m by 15m.  With a 2m exclusion zone the area for panels on each half of the roof would be only 1.27m by 11m, which isn't much and is less than 18% of the total roof area.  That might have been fine back in the days when the typical solar power system was only 1.5 kilowatts, but it's certainly not sufficient in these days of larger solar panel systems.  While I approve of having some kind of exclusion zone, I think this is definitely taking things too far.
But what I find really interesting about their apparently huge exclusion zone is Grace uses this illustration on their website: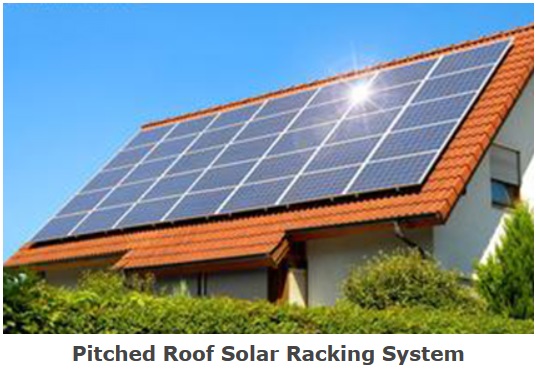 And also this one: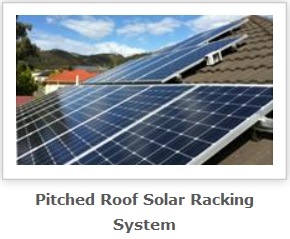 So as you can see, Grace has clearly changed their rules for exclusion zones since that diagram was published.  Either that or they just don't give much of a damn about them.
I have emailed Grace and asked them to clarify the issue5.
Radiant
Radiant is an Australian company that produces high quality roof mounting equipment6  It's located in Capalaba which is just across Tingalpa Creek from Brisbane.
Unfortunately, I couldn't find any information on exclusion zones in their brochure or website.  But I did find this installation manual online.  Note that because it's not off the company site I don't know if it's up to date.
In the manual I found an interesting diagram with the words "Edge Exclusion Zone" written on it which I will reproduce below: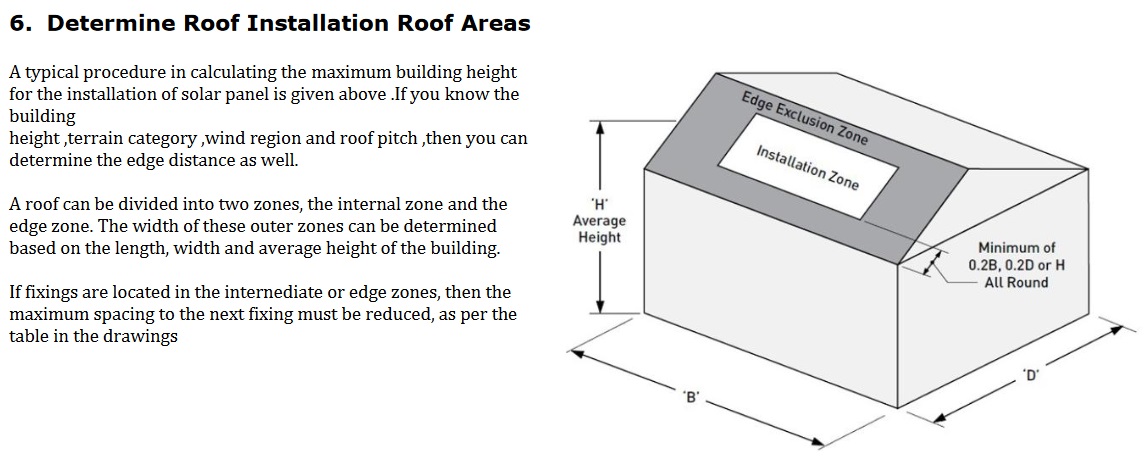 This diagram is interesting because it is exactly the same one as from the Grace manual.  But while the Grace manual states nothing should be installed within the edge exclusion zone, for Radiant it's not an exclusion zone at all.  Solar panels can still be installed in what they call the edge zone, provided the rails that panels are clamped to have around twice as many attachment points to the roof as the rails in the internal zone.  So provided rails are fastened as the installation manual recommends, panels can be installed up to the edges of roofs.
At the moment Radiant only mentions a 10 year warranty on its site, but as they used to have a 15 year warranty I am crossing my fingers they'll soon go back to that.
Schletter
Schletter is a German company that produces high quality roof mounting systems in Bavaria and freely admits to using "lasers" in the process.
Unfortunately, I was unable to find any information specific to installing them in Australia.  I searched their website for information on exclusion zones but only found the following information in a brochure on mounting systems for flat roofs:

Please don't hesitate to look into it yourself if you want to understand Schletter better.
SunLock
Sunlock is an Australian company that produces high quality roof mounting components.  Well, I say they're an Australian company, but while they manufacture in Australia, SunLock is actually owned by Flex which is an enormous US company with headquarters in Singapore.  But that's fine by me.  After all, if you can't trust a globe spanning, multi-national corporation, who can you trust?
SunLock roof mounting systems do have an exclusion zone.  It is displayed in this diagram from their installation manual which was very easy to find on their website: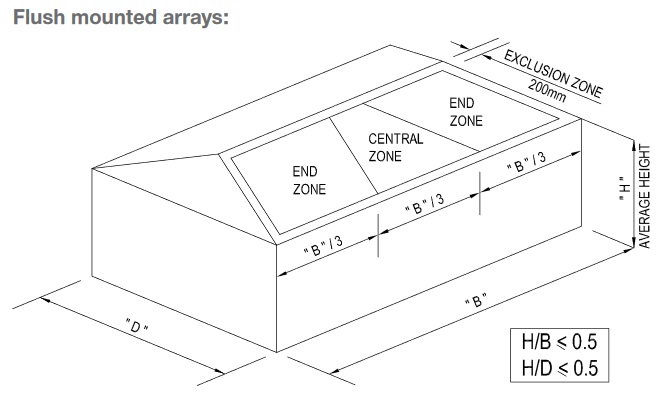 Sunlock has a central zone where the rails that solar panels are connected to require fewer attachments to the roof than those in the end zones.  These zones are surrounded by an exclusion zone where no panel can go, but rather than being potentially enormous, SunLock's is only 20cm from the edge.  That's roughly the length of my manly hand or considerably less than the length of my first wife's manly hand.  Wind strength is greatest at the edges of roofs and so 20cm is enough to take some of the bite out of it without wasting too much roof space.  As a result, this is recommended for all systems regardless of what installation manuals may say.  It's also a good idea to leave however much space is necessary at the bottom edge of a roof so rain running down solar panels doesn't fly over the gutter.
I would like to thank SunLock for making all the information I was looking for very easy to find on their website.  I'll even go as far as taking my hat off to them.  I'm not going to eat my hat, but I will nibble it a little.
Exclusion Zones And You
If an installer uses SunLock, Radiant or other high quality roof mounting systems you can be very confident they are motivated to do good quality installations.  Someone using SunLock isn't suddenly likely to get lazy and forget about its exclusion zone and someone using Radiant is likely to leave at least 20cm between panels and roof edges anyway as that is good practice.  A possible exception to this is if a less conscientious installer is only using a high quality mounting system because the customer requested it.
If you are concerned about exclusion zones then it is best to bring it up with your installer before they put a system on your roof.  You can check if an exclusion zone is required and if not, how much space from roof edges they are going to leave anyway.  Note that if you push for as much solar panel capacity on your roof as possible, you may end up with panels that are closer to roof edges than is ideal.  The customer isn't always right, but they often get what they ask for anyway.
If solar panels have already been installed on your roof then it gets a bit more complex.  If your installer violated manufacturer's instructions by placing panels in exclusion zones than you can request they remedy the situation.  Note that you are protected by Australian Consumer Guarantees regardless of what your written warranties may say or if they have expired.  Also note you may end up with a smaller system if not all the panels can be made to fit.  I lack the strength to go into detail on this at the moment, so for now I'll just leave you with a link to the Clean Energy Council's page on warranties, complaints, and disputes.