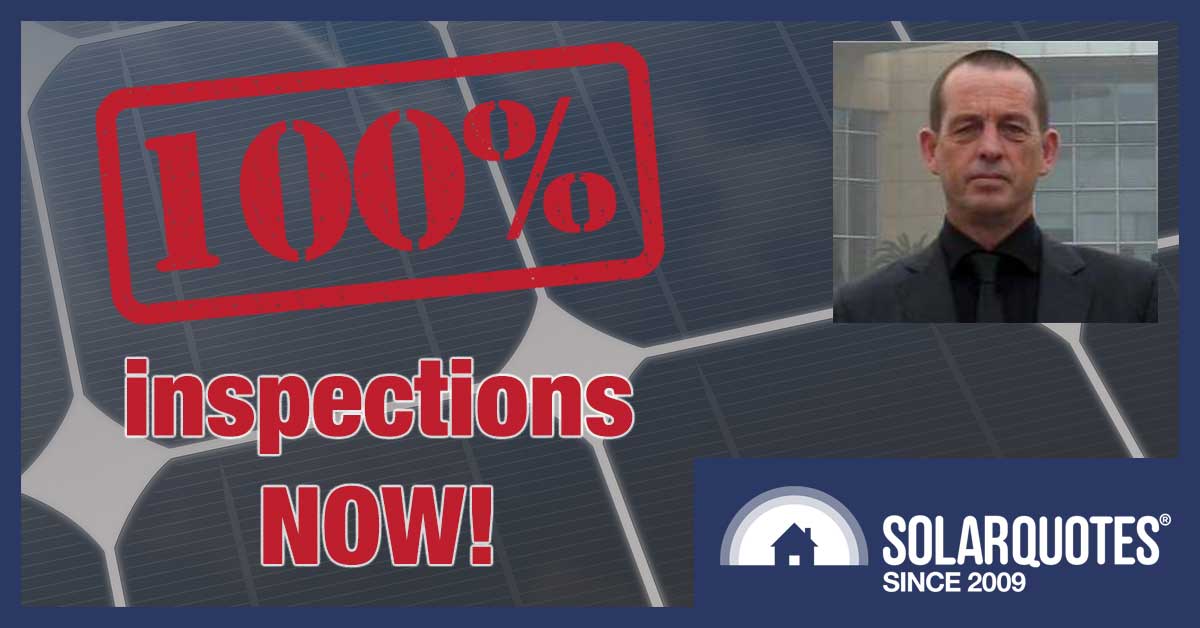 This is a guest post by John Inglis, owner of Positronic Solar. John is a veteran of the solar industry. Rumour has it that his involvement predates the invention of the sun dial. Take it away John…
We've all seen dodgy solar PV installs.
In fact, one of the longest-running threads on Whirlpool is dedicated to dodgy solar and one of the most popular solar pages on Facebook is Crap Solar.
There are many reasons for dodgy installations, including poorly trained (or untrained) installers, underpaid installers 'bashing out systems'  too quickly to do the job properly or just sheer ignorance.
The reasons don't matter, the fact is too many dodgy systems have been installed.
Despite over ten years of complaints to the Clean Energy Council, Electrical Safety Offices and an ignominious record of substandard inspection reports from the Clean Energy Regulator, not only are dodgy solar systems continuing to be installed, now we're recklessly embarking on a tsunami of battery installations. Burning isolators on the roof is a concern, exploding batteries under the house is another level.

What is the CEC's response?
The Clean Energy Council's response is to successfully lobby State Governments to require all government tenders and subsidies be available exclusively to the CEC's Approved Solar Retailers. Not only is this a restrictive trade practice, not only does it cut out hundreds of installers and companies that have been doing quality work for longer than the CEC has been around – the biggest failing is that this response does not add any oversight to the quality of the design and installation of solar and battery systems.
How did we get to this point?
The rot started back in 1985 in Queensland, when Joh sacked 1,000 South East Queensland Electricity Board employees including most of the electrical inspectors, resulting in the end of mandatory inspections of all electrical work. 
Other states, under the influence of Hilmer's National Competition Policy, followed suit. Dumbing down of trade training didn't improve the situation. Solar installation used to require a two year course. When the Business Council for Sustainable Energy (now the CEC) was set up by John Howard, this was reduced to a one week course. Battery qualifications are another one week course. 
How do we improve the quality of solar and battery installations?
We have a comprehensive library of standards, regulations and laws relating to the safety of electrical installations. Unfortunately they're not being enforced.
Tasmania has mandated 100% inspections of all solar and battery installations by independent, properly trained inspectors under the supervision of Tasmania's Department of Justice. Performing sub-standard work has real financial consequences, including fines and loss of licenses.
As Tasmania's manager of Electrical Standards and Safety says,
"I am really pleased that our stats constantly show a downward trend in serious defects, consumer complaints and importantly incidents of failure, fire and shock. I know that we have a long road ahead, but do believe we are well progressed in our endeavours."
The solution is clear. We need 100% solar and battery installation inspections by the relevant State or Territory electrical regulator.
But doesn't Victoria already have 100% inspections?
Victorian inspectors are employed and paid for by the contractor, so there's a clear conflict of interest. It is depressingly easy to get a non-compliant installation passed in Victoria. Inspectors have to be employed by the state regulator.
Who pays for all this?
My discussions with other installers show there is a consensus around a fee for service, maybe $250 per inspection. Frequency is another consideration with some installers and regulators preferring 100% inspections until the particular installer proves to be quality and inspections reducing in frequency as a consequence. 
These details can be thrashed out once we have inspections on the table.
There is overwhelming agreement that inspections need to be carried out by state administered, full time, properly trained inspectors.
What can I do about it?
If you agree that…
'summink must be done!'
…please sign the petition for 100% solar and battery installation inspections:

Thank you.
John Inglis
Owner, Positronic Solar
07 3103 6018