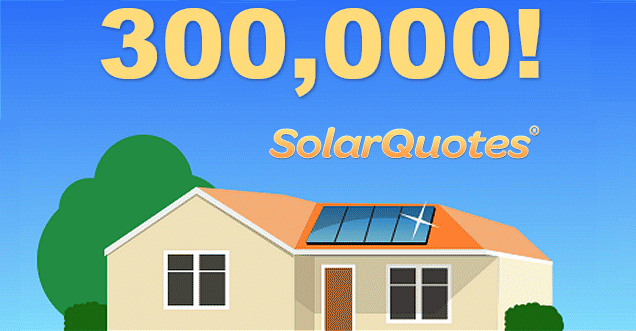 May 9, 2017 – Adelaide, Australia. On Saturday evening, the quote counter on popular Australian solar power resources site SolarQuotes ticked over to reach 300,000.
Since the site was launched in 2009, more than 300,000 Australians from 2,649 postcodes across the nation have registered with the free service to receive quotes for solar power and/or battery systems from Australia's best providers.
The 300,000 figure represents approximately one in thirty Australian households.
The site lists nearly 1,400 installation companies and provides more than 21,000 uncensored reviews of Australian solar installers . Only a small percentage of firms listed that have also been vetted by the service are able to provide solar power system quotes to visitors.
Prospective solar buyers are matched with up to three carefully pre-screened providers who meet the person's requirements and service their area. Those providers then have the opportunity to communicate directly with the buyer to supply detailed quotes.
A Simple, Ethical And Effective Approach
The site's founder, Finn Peacock, attributes the success of his service to a very simple philosophy.
"If I would not recommend a company to my grandmother, I will not recommend them through SolarQuotes – the trust we've built over the years with Australians is paramount," he said.
"Our focus is on benefiting the consumer and helping them to save on electricity costs. We encourage solar companies who feel their ethics match ours to partner with us in our mission to see Australian solar buyers get the very best."
Finn says the arrangement is a win-win situation for all – consumers avoid the industry's cowboys and solar companies benefit from a reliable and very cost-effective lead generation source.
Humble Beginnings
Solar Quotes has come a long way since very humble beginnings in 2009.
Finn was previously an electrical engineer working with CSIRO's renewable energy division after having left the mining industry; a sector he became uncomfortable working in.
Passionate about PV, Finn realised there was a lack of quality, independent and easy to understand information in Australia regarding choosing solar panels, rebates and other aspects. He then began working to address the divide.
"At the time, I had no office, apart from a windowless walk-in wardrobe in a rented house, so I was literally working out of Brighton Public Library in Adelaide," he says.
Things took off quite quickly and Finn left the CSIRO, the walk-in wardrobe and the free wi-fi connection at the library to better focus on the increasingly busy site and quoting service.
Much More Than Just Solar Quotes
Fast forward to 2017 and SolarQuotes is now powered by an enthusiastic and knowledgeable team of 7 – and welcomes hundreds of thousands of visitors a month.
While from all over the world, traffic to the site is predominantly visitors from Australia eager to learn more about the benefits of solar energy and how to make the most of the electricity bill busting technology – and importantly, how to avoid potential pitfalls facing prospective buyers.
Some of the other many useful guides and tools available on the site include:
Powering Up For An Energy Storage Future
After 8 years of success, what does the future hold for SolarQuotes?
"We'll continue building the service and operating under the same principles as we always have," says Finn. "We're keeping a particularly close eye on and providing up-to-date resources relating to the emerging and exciting energy storage sector. We expect this will become an increasingly popular aspect of our service as prices of solar batteries drop – just as they did with solar panels."