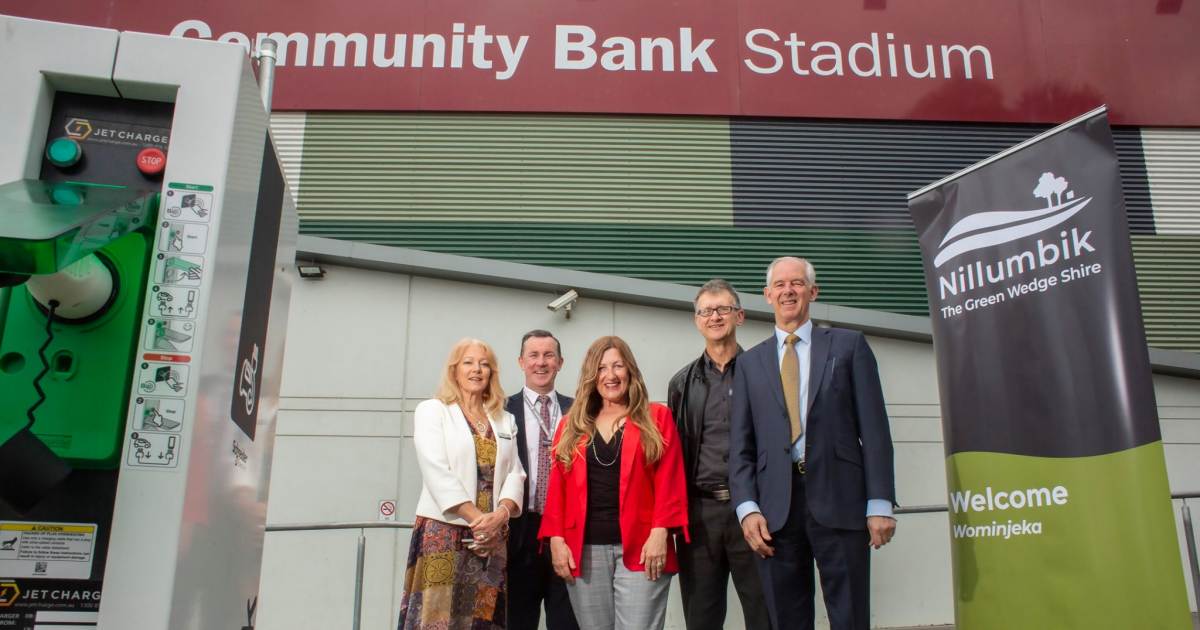 A new solar + battery system along with an electric car charging station at Community Bank Stadium in Diamond Creek, Victoria were officially launched yesterday.
Diamond Creek is a is a suburb of Melbourne approximately 23 km north-east of Melbourne's CBD and is part of the Shire of Nillumbik.
Community Bank Stadium, owned by Nillumbik Shire and managed by YMCA Victoria, boasts among its features three indoor sports courts with retractable seating for 900 people, a performing arts space, community meeting space and cafe. The stadium also acts as an emergency relief centre in times of disaster, so it was important it had an energy supply that can be independent of the grid.
The solar energy aspect of the recently installed system is 99.96kW1 capacity and is expected to generate around 131,000 kilowatt-hours of electricity a year.
Battery System
Little detail has been provided about the battery system, but according to the Community Bank Stadium web site, it's 100kWh capacity. Here's a photo of it – no sleek lines of the Tesla Powerwall 2 or other new generation batteries to be seen here: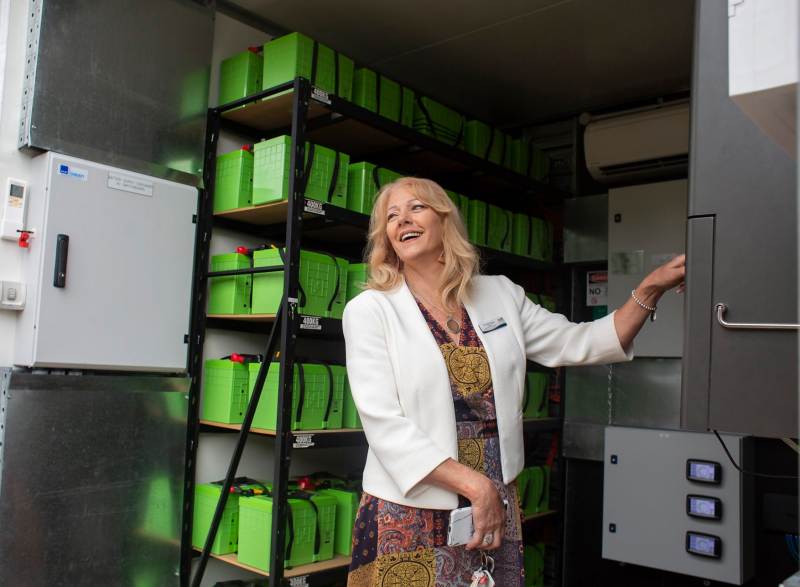 Council says there's enough storage capacity to allow the stadium to continue operating independently off the grid during power outages for up to eight hours.
"This solar system will enable us to reduce our greenhouse gas emissions, lower the running cost of our facility and enable us to support our community during emergency events such as bushfires," said Nillumbik Mayor Karen Egan. "Outages from extreme weather events can now be prepared for with this stand-alone power system ready for the coming fire danger period."
Free EV Charging
The public electric car charging station incorporated as part of the project is the first in the Shire of Nillumbik. Again, not much in the way of specifications in the announcement, but according to a now-deleted post on the Community Bank Stadium web site, it can "charge a standard electric vehicle approximately 50km drive capacity in 30 minutes".
The full solar power + energy storage + charger project cost around $452,000 (not including time from Council staff) and was supported with $252,000 from the Victorian Government's New Energy Jobs Fund. Council says the system will reduce the stadium's grid electricity demand by about 49 per cent and provide electricity bill savings of approximately $640,000 over its service life.
The system will also assist Council in its efforts to reduce carbon emissions. According to its Climate Change Action Plan 2016-2020, Nillumbik Shire Council has set a goal of reducing greenhouse gas emissions produced from Council operations by 17 per cent and from community activities by six per cent from 2012 levels by 2020.
Footnotes
99.96kW may seem like a weird size – but it probably has to do with the fact that systems over 100kW aren't eligible for the "solar rebate", but can claim Large-scale Generation Certificates LGC's – which are more fiddly. ↩