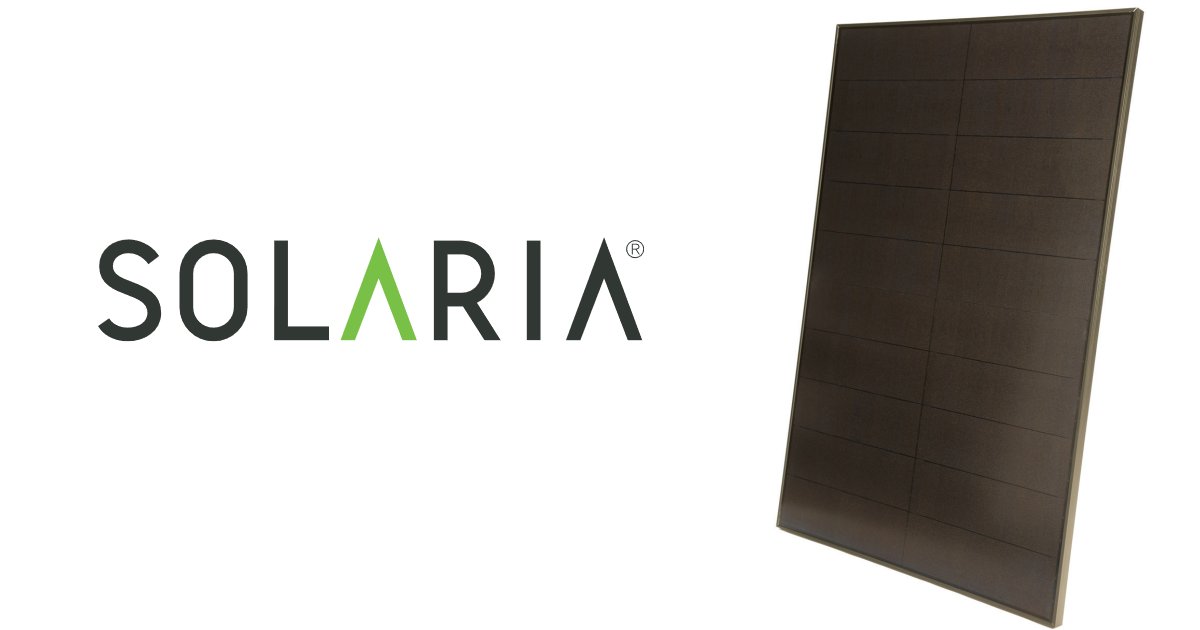 Solaria's "Pure Black" solar panels are now available in Australia – here's a look at this new entrant competing for Aussie rooftop space.
Who Is Solaria?
The company was founded in 2000 in New Mexico, but these days it's headquartered in California. Solaria's first solar panel production line began cranking in 2006, producing modules for the utility scale market. Solaria made a start on developing solar panels for residential and commercial applications in 2014 and these became available in 2016. In between all this, the company also developed the NEXTracker tracking system for utility-scale solar applications, which Flextronics subsequently acquired.
Solaria has production facilities in the USA and South Korea – and the latter is where solar panels for residential rooftops are manufactured. So, which Solaria panels are now available in Australia?
Solaria

PowerXT DC

The Solaria PowerXT DC 365W module (365R-PD) is considered by the company to be a premium solar panel and has been available here since around November last year. It's an "all-black" panel offering a conversion efficiency of 20.2%; so that's quite impressive. This particular panel has a temperature co-efficient of -0.39%/°C, meaning for every degree the ambient (not panel) temperature is above 25°C it will lose 0.39% of its efficiency. This stacks up pretty well against other brands.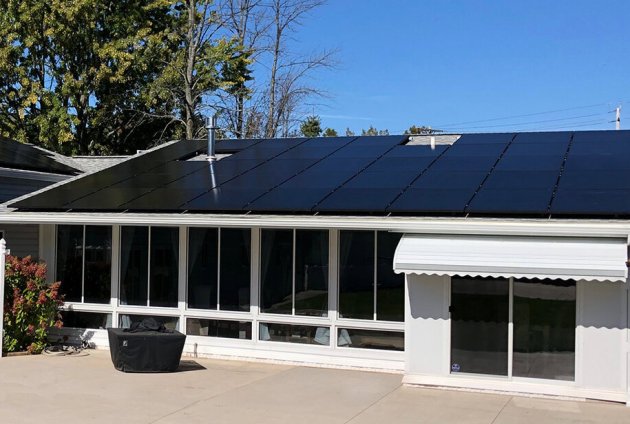 Among the PowerXT's claims to fame are zero busbars and ribbon interconnections, which the company says are common failure points. Solaria states its solar panels have good shade tolerance attributes through the use of wiring called parallel substrings. This, it says, means the loss of power directly correlates to the surface area that is shaded instead of the higher impact associated with series wiring.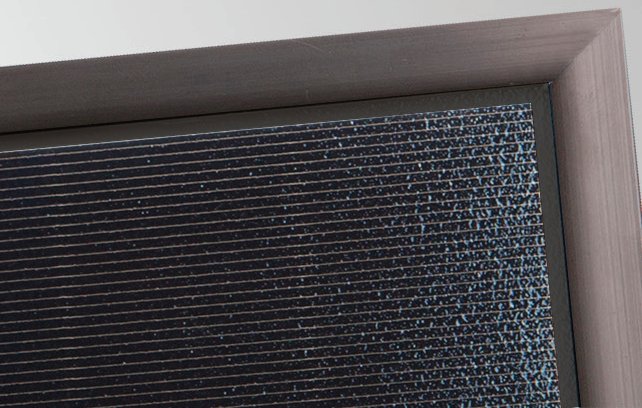 As for the cost – and bear in mind this is just an estimate, we figure the retail price including GST will be around $1.17 a watt – so ~ $427 for the 365W module. It's certainly not the cheapest solar panel around, but neither is it the most expensive and its high efficiency needs to be taken into account. You can see how the Solaria PowerXT compares across various specifications and details on SQ's solar panel comparison table.
Coming Soon To Australia – PowerXT AC
Something that was of particular interest to me is an AC version of the PowerXT DC. In case you haven't heard of these beasties, an AC solar panel is a module that has a microinverter embedded on the back – and as the "AC" suggests, it produces Alternating Current instead of Direct Current (DC). To find out more about the pros and cons of AC modules, check out our page on microinverters and AC panels.
In the case of the PowerXT AC, the microinverter used is the Enphase IQ7+  – so it's good quality gear. Solaria's Business Development Manager for Australia, Bob Blakiston, told me the paperwork for PowerXT AC is currently with the Clean Energy Council for review and he expects it will likely be available here in the second half of this year. Solaria has two AC models – a 355W (355R-AC) and 365W (365R-AC). As they aren't available in Australia now, we haven't included the AC variant on our comparison table, but specifications can be found here.
AC solar panels are a rare critter in Australia – I'm not sure if any are available here yet, so availability of Solaria's module should stir up a bit of interest.
Solaria Warranty
Solaria offers a 25 year product/performance warranty, so perhaps SQ's Ronald will accept the company into his elite Premium Panel Club.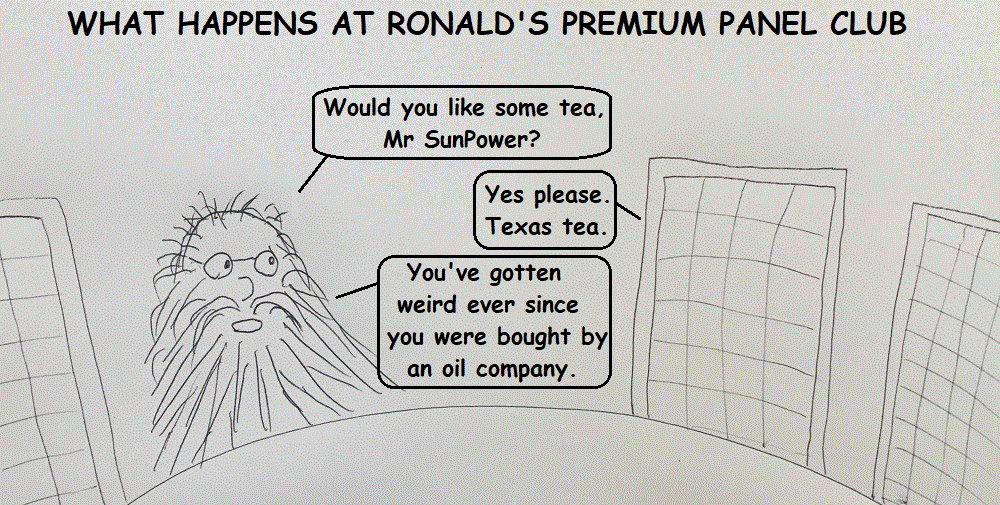 But solar panel manufacturers are notorious for adding iffy conditions into their warranties – and Solaria is no exception. I found several statements in the warranty to be a little troubling. For example, with regard to customers being responsible for any ancillary costs associated with a claim, there's this:
a) any travel outside of the area normally serviced by Solaria or any associated repair agent authorised by Solaria;

(b) all costs related to gaining access to unsafe (e.g. high) or restricted locations
So a) could be something to be concerned about if you live beyond the black stump (or perhaps even before it) and b) may come into play if you intend having the panels installed on a high place; let's say – a rooftop. A bit more clarification is needed on these points.
If you wind up with a poorly performing panel or one that becomes so, Solaria says it can choose to either replace the panel/parts or:
"issue a credit to Customer equal to the depreciated value of the Product (using 25-year life) attributable to the deficient power output."
Huh? Fear not, as Australian Consumer Law trumps anything a manufacturer puts into  a warranty.
As for labor costs involved with removing and replacing a defective panel, Solaria says it "may reimburse all or a portion of the service cost".
Just another note on warranty given Solaria is the new kid on the Australian block – what happens if the company decides it doesn't like Australia, packs up and then gets all funny about honouring warranty? I'm not suggesting this will happen nor is there anything to indicate it will, but in these cases the importer then wears the warranty obligation.
Given Solaria is also the importer, the solar business that installed the panels will be on the hook for warranty. If that installer isn't around anymore, it could be a problem.
Solaria's Australian Office
It doesn't appear to have a physical office as such – the company notes Solaria's registered office in Australia is care of a law firm in Sydney.
The Power XT is an interesting panel. Given how new Solaria is to Australia, there's not a lot more to say at this point, but in addition to adding the PowerXT to our comparison table we've also kicked off a page for Solaria solar panel reviews.