In this week's post, we're hoping we can help resolve a problem for a customer named Margie, who found herself falling between the cracks after installing new solar panels in Tasmania.
It started with a phone call to ABC's Nightlife, where Finn was doing a spot with Philip Clark (you can listen here, with Margie's call starting at 39:23).
It's a cautionary tale about how decades-old decisions made by a previous owner of a home (and the electricity authorities of long ago) can come back to spoil things for a later buyer of a property. There's also a warning for front-line solar installers, because they're always going to be the face of the project, even if it's not always fair.
The decision in question is easily seen in the photo below.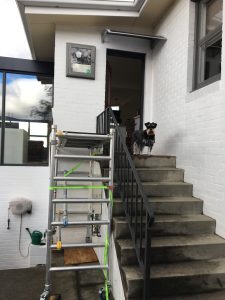 Who … I have to restrain myself from worse language here … the hell decided to put the meter there? Or, alternatively, when a previous owner had to replace a staircase, did they ever imagine that halving the width of the staircase would cause as much trouble as it eventually did?
Because you can easily see from the meter's location the problem that was going to sting Maggie: nobody's OH&S rules – nor their insurance, I'd guess – would okay replacing an electricity meter where that one's located.
The rules governing electricity meter location (provided by TasNetworks and linked at the end of this post) are so clear about what's acceptable, it's hard to see why nobody complained before:
"The metering position is the location provided for the installation of metering equipment. Meters shall be located in a position with unhindered access for installing, reading, testing, adjustment and removal, without difficulty or hazard."
And:
"Access to meter locations via platforms, walkways, stairways or ladders shall comply with Australian Standard (AS 1657). If there is any dispute about the suitability of the structure, the Metering Provider may request a certificate of compliance from a building surveyor."
And it's not just the meter's location that stalled the project. As Margie told us in an e-mail:
"Metering Dynamics, the sole contractor for Aurora Energy for meters, attended 12 July, took one look and left, indicating issues with asbestos and location of meter, and referring us to contact Aurora."
Again, fair enough: asbestos is a no-go area for good reason, and it must be handled by experts.
However, what happened next was Margie found herself being redirected from company to company: the installer (I Want Energy) wasn't responsible for the meter, nor was TasNetworks who pointed to Aurora, Aurora pointed to Metering Dynamics, and Metering Dynamics appeared unhelpful (we also tried to contact Aurora and Metering Dynamics, without success).
Eventually – we're into August now – I Want Energy put Margie in touch with another electrician who was able to replace the asbestos panel and lodge the necessary paperwork.
However, with the meter still in that bonkers location, Metering Dynamics still wasn't interested. Their next visit was September, when:
"They say they have to be able to stand in front of the switchboard with both feet on the ground. I note that rules do say switchboards should be between 120-180cm above the ground … but we never put it where it is! They wouldn't contemplate using either this scaffold or a more substantial one with railings," Margie wrote to us.
We can't fault Metering Dynamics adhering to safety rules, but we agree with Margie that it took her too long to get to this point.
Who's To Blame? Probably Everyone
To us, it looks like there's a little bit of fault for everyone to dine on: because of the thousands of dollars moving the electricity meter, the customer is hoping to leave it where it is; the installer should probably be aware of meter location rules; and Metering Dynamics was unresponsive.
I Want Energy comes off the best: the solar retailer has agreed to split the cost of relocating the meter with Maggie, but she's still worried about the delay. Getting the project wrapped up will need a third request for metering works to be lodged with (and okayed by) Aurora; and the electrician, TasNetworks and Metering Dynamics need to be teed up to attend the job at the same time, which will probably take weeks.
It could well be October before things are cleared up, which means a wait of four months from panel installation to switch-on.
Props to I Want Energy for concluding it would split the cost of the metering move with Margie – that decision will eat substantially into its margin for the project.
Here at SolarQuotes, we're hoping two things: first, that relating the story will prod the arm's-length participants (TasNetworks, Aurora and Metering Dynamics) into more energetic movement; and second, as a bit of an object lesson to solar installers about paying attention to details; especially in older buildings.
TasNetworks yesterday responded to our query about electricity meter location rules, pointing us to this PDF document – which should be useful to other customers and solar installers in Tasmania.