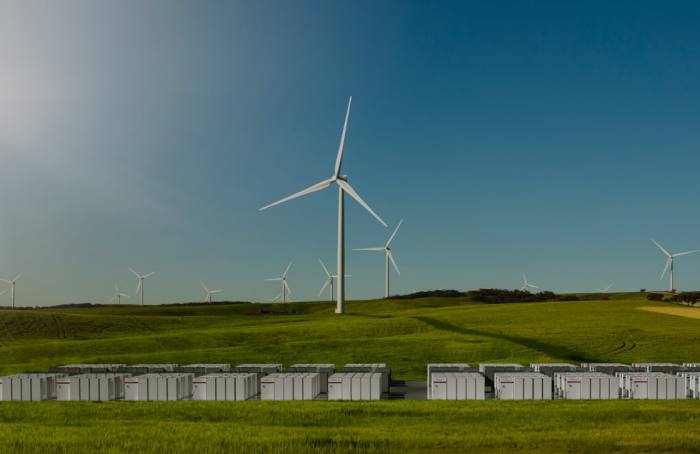 All Tesla Powerpack units for the world's largest lithium-ion battery project in South Australia's Mid-North have been fully installed says the Weatherill Government.
The 100MW/129MWh installation, connected to the Hornsdale wind farm, will undergo a testing phase after being energised in the coming days.
The testing phase will ensure the battery is optimised and meets Australian Energy Market Operator (AEMO) and South Australian Government requirements. During this period, the battery will be providing "system security services" to the state.
South Australian Premier Jay Wetherill says the project sends the "clearest message" that SA will be a leader in renewable energy with battery storage.
"While others are just talking, we are delivering our energy plan, making South Australia more self-sufficient, and providing back up power and more affordable energy for South Australians this summer," stated Premier Weatherill. "An enormous amount of work has gone in to delivering this project in such a short time, and I look forward to visiting Jamestown next week to personally thank those who have worked on this project."
The battery system covers around a hectare of land at the Hornsdale Wind Farm site, which is located approximately 15 kilometres north of Jamestown.
There's been a great deal of interest in the project and many questions about the capabilities of the "big battery". In July this year,  RenewEconomy's Giles Parkinson published a useful explainer on what it will and won't do.
Significant progress was made on the facility in just the last few weeks. In a letter to shareholders early this month, Tesla CEO Elon Musk said at that point, more than 80% of the Powerpacks were in place.
The Hornsdale Power Reserve battery project will be officially opened next week in an event that will be attended by the Premier and representatives from Neoen, Tesla and Consolidated Power Projects.
Tesla had and will continue to have a lot riding on this project being successful – and not just the "100-days-or-its-free" commitment.
"Energy storage enables a more efficient, cost-effective and sustainable way to build and manage utility grid scale applications, and we expect this project to lay the groundwork for many similar projects, but at an even larger scale, in the years ahead," said Mr. Musk.
It's certainly turning out to be yet another busy month for Tesla's CEO (and no doubt, everyone who works at the company). Late last week, Elon Musk unveiled Tesla's electric truck.