So AGL have thrown their hat into the solar battery storage ring with the AUO PowerLegato manufactured by Taiwanese Solar and Electronic conglomerate, AU Optronics.
So how do they compare on specs?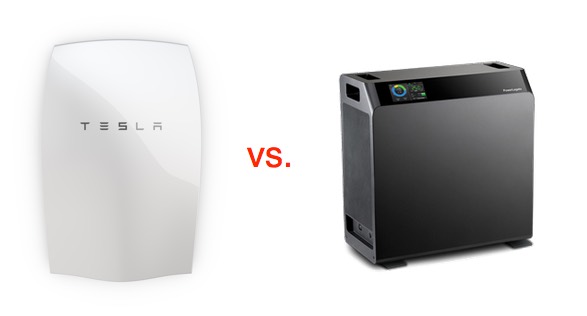 Tesla Powerwall Daily Cycle Model
AU$3,800 (wholesale price, not installed)
7kWh
3.3 kW
single or 3 phase
no inverter included
no UPS features included
10 year Warranty
92% round-trip DC efficiency
350 – 450 volts
Operating Temp: -20°C to 43°C
100kg
1300 x 860 x 180mm
AGL/AUO PowerLegato
AU$9,990 fully installed on an existing DC solar system (updated 8 July)
7.2kWh
3kW continuous, 4.5kW peak
single phase only
4.5kW PV Inverter included
UPS feature built in
unknown warranty
unknown round-trip DC efficiency
48 volts
Operating Temp: -20°C to 40°C
138kg
672x688x384mm
The key differences to note are that:
a) the powerlegato comes with a built in 4.5kW solar inverter – so you can plug your panels direct into the unit (although there is only 1 MPPT which will limit panel install options)
b) the powerlegato offers a UPS (Uninterruptable Power Supply) feature. Which should provide blackout protection, while the battery still has charge.
The upshot is that with all the extra hardware needed to achieve these 2 features, the AGL unit is likely to be expensive compared to a bare bones Powerwall installation.
AGL are banking on Aussies paying more for those features.
The magic price point in the solar market in Australia has always been about $7,000. If you can add a good brand of storage for around $7k, the units should fly off the shelves. AGL's offering is likely to be closer to double this.
Also – please be aware that the AUO PowerLegato is not exclusive to AGL. Most solar installers can buy one from an Australian wholesaler and install it in your home. So it is worth getting multiple quotes if you really like the look of it.
UPDATE 8 July 2015: AGL have announced that they are selling the 7.2kWh Power Legato, fully installed into your existing solar system for $10,000. That's a bloody good price for 7.2kWh with backup.