At this moment it is 1:15 on an Adelaide Friday afternoon and I am in the SolarQuotes office waiting for the Tesla Model Y car reveal to begin. 
I haven't been keeping up the latest news from Tesla, so all I know is it's supposed to be a smaller and cheaper version of the Tesla Model X electric SUV.  I have ridden inside a Model X so I understand there is definitely room to make it smaller, but I really don't understand how they could make that interior cheaper.  Not unless they are going to do it all in cardboard.
But the Tesla Model X did go very fast and provided the Model Y does the same that will appeal to some people.  Also, they don't use petrol or diesel which is a good thing because the world is now consuming 100 million barrels of oil a day.  Clearly the sooner we cut our consumption of Texas tea and Venezuelan asphalt the better.
For this reason I am very grateful to Elon Musk for getting American mass production of electric cars underway.  If it hadn't have been him, it would have been someone else, but we can't know how much further away we'd be from getting off oil without him, so good work, Elon.
Sort Of Live Blogging
I decided to live blog the Model Y reveal.  But I decided to do it in a way that meant people wouldn't actually see every stupid thought that crossed my mind.  I also wanted to edit it so people would only see my good stupid thoughts.  In other words it would be mostly dead blogging.  But mostly dead is better than completely dead, so here it is:
TIME:  1:31 pm  NOTHING IS HAPPENING.  WE ARE STARING AT A SCREEN MADE OUT OF BOREDOM

FINN:  I should have brought popcorn.  (Long Shatner like pause.)  Is this announcement brave because some people will cancel their model 3 reservations?

RONALD:  Yeah, but just as many people will buy both because they're nuts.  They'll yoke them together and use the two Teslas to tow a chariot through the streets while lashing them most cruelly with a whip.  Sure, they'll keep pulling in the direction of which ever has the most horsepower, but that can be fixed with the lash.  Everything can be fixed with the lash.  Or at least that's what Cardinal Hornblower taught me.

FINN:  They don't mind keeping people waiting.

RONALD:  Like Hitler.  He was always late.  For rallies and things.  To build up the tension.  He wasn't late invading Russia though.  That's a myth.  This is because the correct time to invade Russia is never.  If you ever find yourself invading it at all, it's too early.

FINN:  (From other side of room where he is working.) Ten minutes late!

RONALD:  Elon Musk has to waste our time.  He's under contract with Zuckerberg and required to waste as much time as we gained when facebook went down.  They have to bring this month's economic productivity figures down otherwise whole nations will be banning facebook.

I wonder if Elon realizes the longer this goes on the more stupid crap we're going to come up with?  Oh wait, there's some action!  Oh my god!  There's a loading circle!  This is so exciting!

A STAY TUNED SIGN APPEARS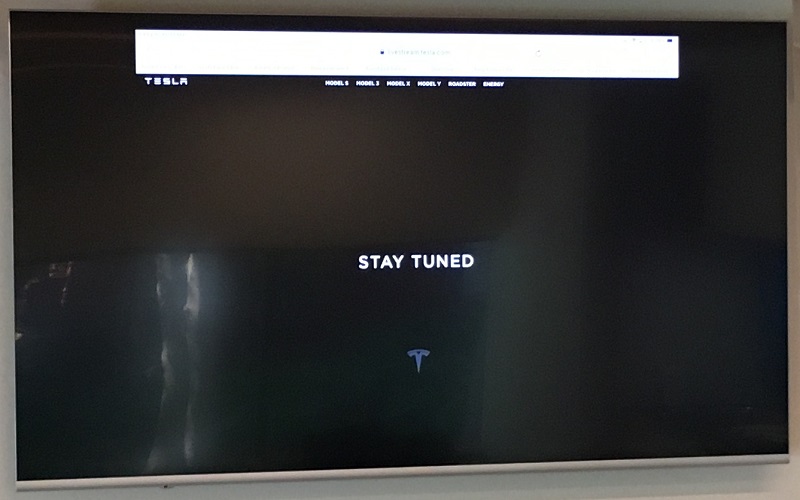 RONALD:  Stay tuned?  What?  Now he has an opinion on our musical instruments?  Or is this a message directed to me personally?  Did he hear my singing on the last vodcast?

MORE TIME PASSES

RONALD:  I can actually feel myself becoming less and less tuned the longer I stare at the "stay tuned" message.  Wait!  It's starting!  Wow!  Only 20 minutes late!  It's a factory… people are doing stuff… electric cars… solar panels…  Where's their solar tiles?  Did they forget about them?  Are they Star Trek people?  Why would Star Trek people need cars?  They can just beam everywhere.
SCREEN SUDDENLY GOES BLACK

RONALD:  Oh good, I needed a break.

ELON MUSK WALKS ONTO A STAGE AND KICKS THE AIR.

RONALD:  Elon's kung-fu is weak!  No wonder his ninjas are crap.
Now that I've gotten to where the presentation actually starts I've realized you can just watch it if you want.  The video starts from just after Elon is done kicking the CO2 out of the air and I've included some highlights from it below:
…RONALD:  It would be funny if that Tesla roadster drove off the stage.  Tragic, but still funny.  I'm disappointed there isn't a robot driving it.  Or is that guy a robot?  No wait, I see the human expression!  It lives!  It lives I tell you!

…ELON MUSK:  The Model X is like, as a car it's like,…  It's like a Faberge Egg meets a spaceship.

RONALD:  Maybe a Faberge Egg met a spaceship, but they had a baby with a really cheap interior.

…ELON MUSK:  It took tens of thousands of people to produce this factory and today it produces more lithium ion than the rest of the world combined.

FINN:  That's not right!

RONALD:  It can't be right.  I mean, I don't know how much China produces, but it's got to be a lot more than that…

FUTURE RONALD:  Hi!  I'm Ronald from the future!  I looked it up and it turns out that the world may have produced over 200 gigawatt-hours of lithium battery capacity in 2018 with around 60% made in China.

RONALD:  Thanks.

FUTURE RONALD:  So… is it okay if I hang out with you guys?

RONALD:  Go away, Future Ronald.  Nobody likes you.

…ELON:  This is going to be the year of the solar roof and Powerwall.  Because of the extreme challenges with the Model 3 production we had to basically allocate all resources to Model 3 production because otherwise we were going to die…  Part of the reason we couldn't also make Powerwalls is I couldn't make enough cells.  So we had to allocate cells to either the car or the Powerwall.  It was like, we've gotta make the cars, so then the Powerwall got cell starved basically.

FINN:  How could they not predict that?

RONALD:  They were incredibly behind on Model 3 production so they should have had plenty of spare cell capacity.

FUTURE RONALD:  Here's a graph from Bloomberg showing how far Model 3 production fell behind Tesla's predictions: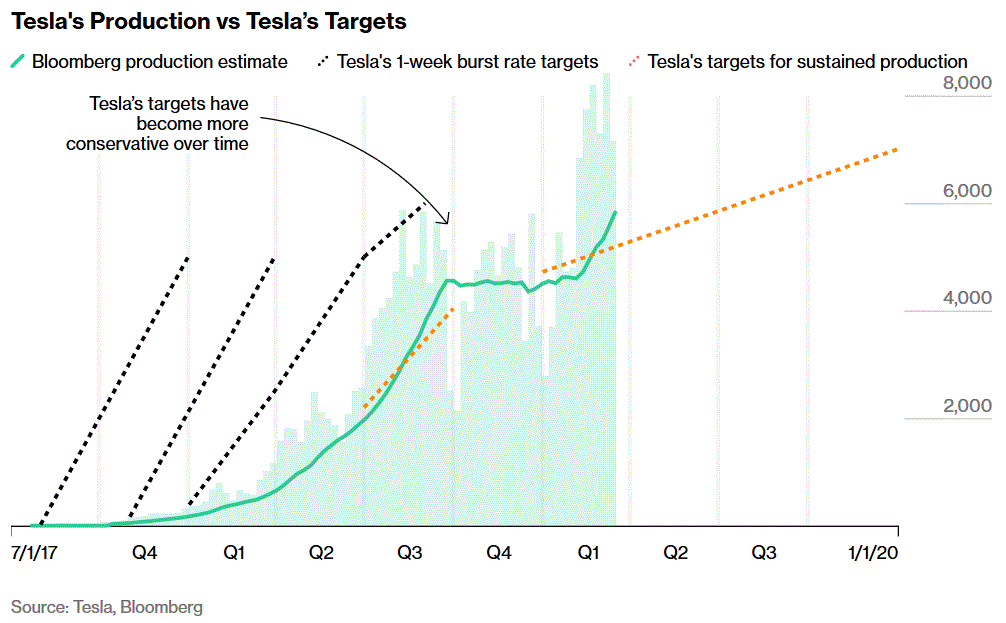 RONALD:  If he's telling the truth about not having enough battery cells and they'd hit their original production target they would have ended up with about 100,000 Model 3s sitting around without batteries in them.  To me it seems obvious they were in such dire straits they put everything on hold that wasn't immediately making them money.  This this included the Powerwall 2 and producing any more battery cells than what were required for the cars they were able to make.  This is why the Powerwall 2 has only — sort of — resurfaced now after multiple price increases and after the point where Elon said their cells would be below $100 US per kilowatt-hour.

…ELON MUSK:  We have a version 3 of the supercharger that we just unveiled.

RONALD:  Their supercharger network is really impressive.  Did you hear that?  They're up to 250 kilowatts of supercharger power.

FUTURE RONALD:  Maybe if you bothered to write it down people would be able to hear it.

…ELON:  So if you've got a long range model 3 it's capable of charging at about a 1,000 miles per hour or 1,600 kilometers an hour.

RONALD:  That's misleading.  It could charge at 1,000 miles an hour for the first few minutes if the battery is completely flat.  Then it will fall off.  The charging rate, that is.  Not the battery.

…ELON:  Twelve months from now we will have made around one million vehicles.

FINN:  So 450,000 in one year.

FUTURE RONALD:  Their Model 3 is now one of the United State's best selling medium cars and their production is approaching 6,000 a week.  With Model S production at perhaps 1,000 a week if they can average over 7,000 a week in Model 3 production then they could have one million cars by then.

RONALD:  He's actually setting a target he can hit on time?  I am flabbergasted!  My flabber has never been more gasted!

…ELON:  Where will Tesla be in 10 years?

FINN:  On Mars.

RONALD:  In prison.

FUTURE RONALD:  In prison on Mars.  You can trust me on this.  I'm from the future.

RONALD:  Okay, that was funny.

FUTURE RONALD:  Is it okay if I sit down here with you?

RONALD:  Yeah, all right.

FUTURE RONALD:  So…  Do you want to make out?

RONALD:  Goddammit, Future Ronald!  This is why nobody likes you!
And that was basically the end of the presentation.  Except for the bit where they wheeled out the Model Y and six clowns — I mean passengers — got out.  This particular version had 7 seats, although that's not standard.  It's an optional extra.  Elon said the Model Y would have a real world range of 480 kilometers.  He spoke a bit about cargo capacity and autopilot and then Elvis — I mean Elon — left the stage.
I was kind of underwhelmed.  There may not have been room on the stage for the Model Y to drop donuts, but I was expecting them to show it on the big screen driving around under it's own power.  For all we know at the moment, the reason it had six people in it was because they had to pedal it onto the stage.  The reveal was weirdly lacking in showmanship.  Also, there wasn't much showpersonship either.
I started to feel bad for Elon.  Was he depressed?  He hadn't even promised to shoot a Model Y into space, so I figured there must be something wrong.  But then I thought maybe it's just that Elon is leaning not to over hype things and make promises he can't deliver on.  Usually his ego has a habit of writing checks the linear progression of time can't cash, so this surprisingly dull final reveal could actually be a good sign.  He kept himself under control and walked away from the mic before he promised that in 12 months they'd be producing 10,000 a week and that their odometers would run backwards repairing any damage they'd suffered and causing drivers to age in reverse.
Technical Specifications
Fortunately, some specifications of the model Y are now available on the US Tesla website.  Unfortunately, you have to fib a little and pretend you want to order one to have a gander at it.  I felt dirty at the fact they forced to me lie in order to get this information.  Now that my morality has been compromised by this experience I'll probably end up stealing the first Tesla I can get my hands on.1
Anyway, here is a screen shot of the long range Model Y with translations into sensible units done by yours truly: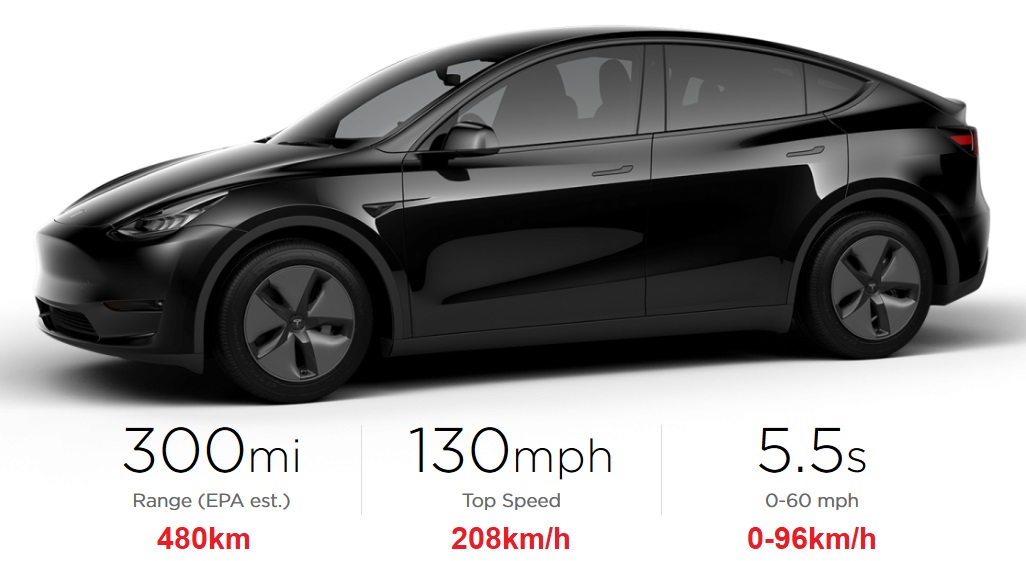 The estimated cost given by Tesla is $47,000 US.  This is the cheapest option available.  At the current exchange rate and with GST that would come to $73,000 Australian.  Tesla says production of this vehicle is expected to begin late in 2020.

Here is the result of me picking the most expensive option for everything: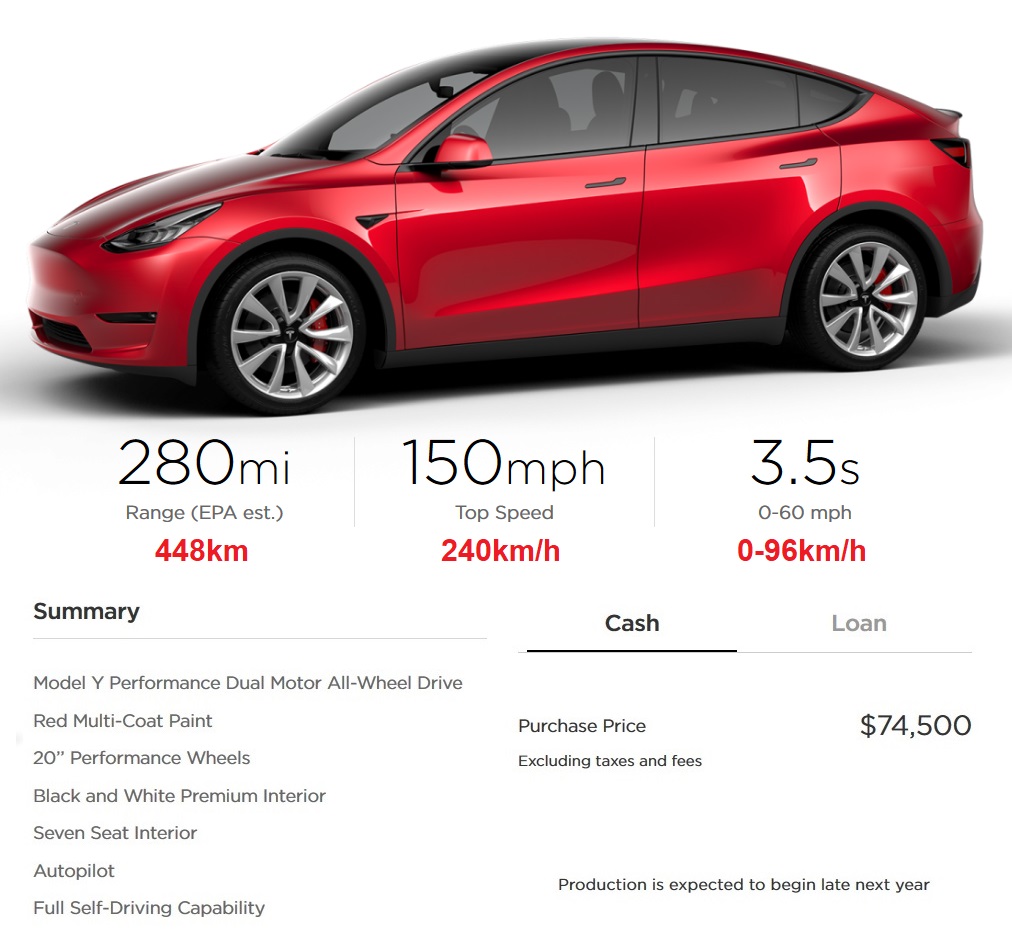 This comes to $74,500 US.  With GST and Luxury Car Tax2 it comes to $129,000 Australian.  So you'd be paying about 75% more than the basic version for a car with shorter range and the ability to go at an even faster speed that you're not allowed to drive at.  I don't see the attraction of paying more for this souped up version, but clearly I am happy with life in the slow lane since I'm walking home tonight.  I'm hoofing it because Finn got environmentally disgusted with me for not riding my horse to work.3
While they claim production is expected to begin "late next year" when I told the Tesla site I wanted the 7 seat version I was informed it would be available in 2021 which is so late next year it has smashed through the calendar and escaped into the year after.
I was surprised by the relatively small number of customization options for the Model Y.  I guess they may have learned from the Model 3 that too much customization adds too much complexity.
You Have Got To Be Shitting Me
I'd like to show you what happens to the price of the Model Y as I change just one thing — its colour:

The figure in red is how much extra you have to pay for each paint job compared to black.  It's a straight conversion of American dollars at the current exchange rate of 71 US cents to the dollarydoo and doesn't include GST or anything else.
So if you'd rather have a red car than a black one you'll have to pay around $3,500 extra.  That's a lot of money.  Especially considering that red costs nothing extra for a new Toyota Yaris and the most expensive colours are only $450 dollars more.  Tesla really should send some spies to Tokyo to find out how the Japanese do it so cheap.  Also, my friend Pigdog says he can give your car a new paint job for around $1,000.4
We Will Probably Have To Wait
At best Americans will have to wait until around the end of next year before they can begin to get their hands on Model Ys, so it may be a few years before they arrive here.  But I imagine Tesla will work hard to not repeat the problems they had with Model 3 production so it's possible the Model Y will be available when they say it will and they'll have effective quality control in place.  I would ask Future Ronald what's going to happen, but he's putting on lipstick and I'd rather not go near him at the moment.