Adelaide company CCT Energy Storage yesterday took the wraps off its thermal battery, a device it says has unique capabilities.
CCT's Thermal Energy Device (TED) can accept any form of electrical input – including from wind and solar power – and convert and store this energy as heat using molten silicon as the storage medium. This heat can then be utilised or turned back into electricity when required.
" TED's ability to manage input variations, produce base load output, take shallow cycle input and charge and discharge simultaneously … meaning the applications are extensive," states the company.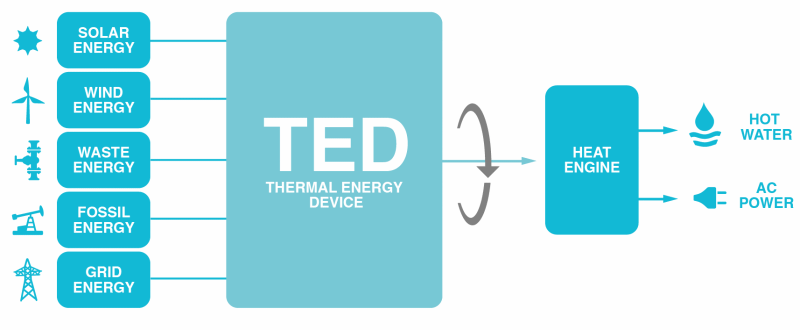 As to the specifications of the battery in the photo above, there didn't appear to be any information publicly available at the time of writing. It's been claimed TED can store energy at 12 times the density of lead-acid batteries and approximately five times the density of lithium-ion technologies.
According to an article on BusinessDailyMedia, TED can be scaled up from 5kW applications to large scale applications of hundreds of megawatts.
"Readily scalable, TED will be used to power remote communities, commercial businesses telecommunications networks and transport systems – with 10 TED units to be supplied to commercial customers this year and production expected to increase by more than 200 units by 2020," says CCT.
While CCT Energy Storage will be producing TED units commercially itself locally, last month it signed a manufacturing agreement with MIBA Group in Europe, which will exclusively manufacture and distribute TED to Denmark, Sweden and the Netherlands.
The launch event yesterday was attended by South Australian Energy Minister Dan van Holst Pellekaan1, who seemed pretty excited about the tech.
CCT Energy Storage was established in 2011 and its first working scale prototype was produced in 2012. The company's operations are based at Lonsdale, where prototype design, construction and assembly and testing are carried out.
Not The Only Thermal Battery Show In Town
CCT isn't the only company in Adelaide developing thermal batteries based on molten silicon that can work with renewables such as wind and solar power. 1414 Degrees2 is currently finishing up on installing its biogas version – GAS-TESS  – at SA Water's Glenelg Wastewater Treatment plant. SA Water is trialing the system to help it meet a target of zero net cost energy from 2020.
1414 Degrees is also working on its 200MWh+ TESS-GRID, which is designed to provide energy security in electricity markets with substantial renewables-based generation.
It appears there's been some legal wrangling between CCT Energy Storage and 1414 Degrees in the past over intellectual property related issues.