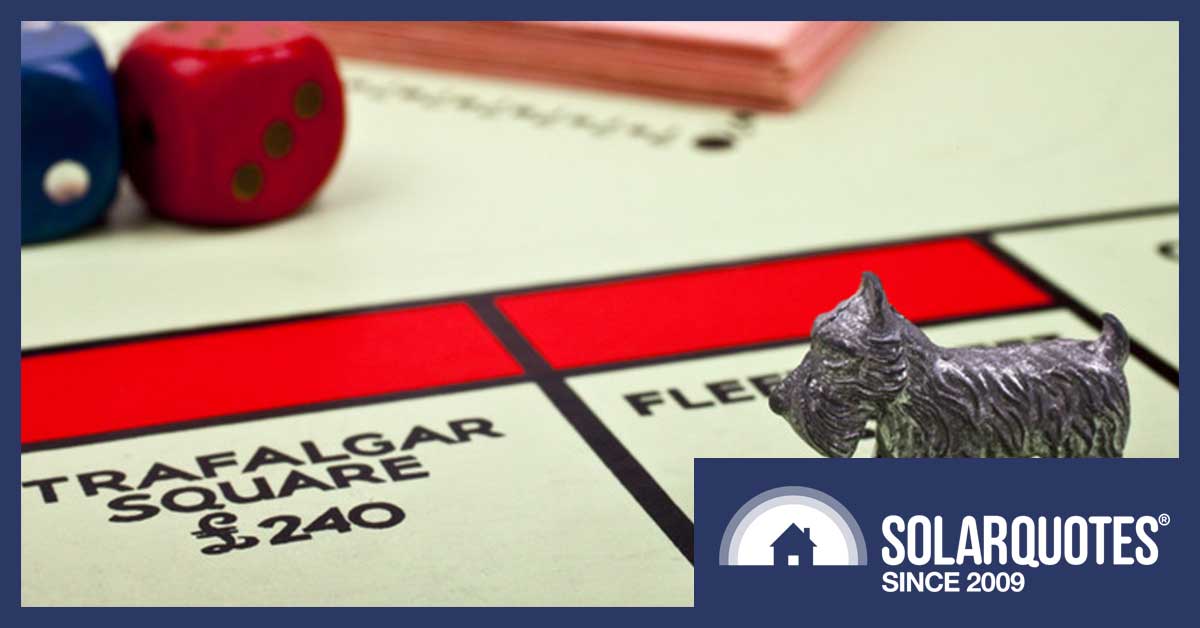 Last week the Clean Energy Council announced their formerly voluntary Approved Solar Retailer Scheme would be — with the smallest of fig leafs — made mandatory for all companies installing residential rooftop solar power systems in Victoria. This means installers are faced with joining the scheme — if they can — or going out of business or moving out of state.
Large installers with a presence in multiple states may be able to survive without Victorian sales, but many small local installers are likely to see their businesses destroyed if they are one of the 40% of companies knocked back from joining the scheme1.
Making the Approved Retailer status effectively mandatory is a betrayal of trust by the Approved Retailer Scheme (and also the Clean Energy Council as a whole, because mud sticks).  It is a terrible thing to do because:
It is unfair as solar installers who have done nothing wrong are in danger of losing their livelihoods.  Especially small local installers.
It is anti-market because it reduces competition and consumer freedom of choice, and introduces barriers to entry in the residential solar installation market.
It creates unnecessary risk for the solar industry in Victoria by giving too much power to the Approved Solar Retailer Scheme.  For example, a large installer was recently kicked out over a minor breach of the code of conduct2 that had nothing to do with the quality of their installations.
It is anti-consumer as it will increase the cost of solar power for Victorians and increase wait times.
It is anti-environmental as increased prices will result in less solar in total being installed, causing higher pollution and greenhouse gas emissions than would otherwise occur.
It sets a bad example for Australia.  Other trade groups may now lobby to force you to buy air conditioners, stoves, cars, laptops and carrots from approved retailers.
It appears to be pro-entrenched interests.
Finn wrote about the possibility of this happening two weeks ago and I'm writing about it now because it's important.  When an obvious communist like me, who is clearly a clone of Karl Marx, starts worrying that something is anti-market and anti-business you know things are serious.
What Is A CEC Approved Retailer?
All solar installers are CEC Accredited, which means they are qualified to safely install solar.  This is not voluntary as an installer has to be CEC Accredited to install solar power systems that are permitted to be connected to the grid.
A CEC Approved Solar Retailer is different from being CEC Accredited.  It is — or was — voluntary and you can read about the difference between the two here.  If a company decided to join, and the CEC Approved Retailer Scheme accepted their application, they would have to:
Sign a code of conduct.
Adhere to the code of conduct.
Pay fees based on the size of the company.
Do the paperwork required to show compliance with required procedures and policies.
Stick to industry best practice and not screw up.
This is not easy to do, but companies that became CEC Approved Solar Retailers could present their status as evidence they do quality work and homeowners were free to decide whether or not to buy from them as they saw fit.
Being an approved retailer allowed installers to charge a premium over the competition.  This was important because otherwise there wouldn't be much point in going through all that effort from a business point of view.  But this advantage will disappear if everyone in the state is forced to become an Approved Retailer, as there will be no competition from installers who aren't in the scheme.  Making it compulsory will destroy the value of the scheme to installers.
What Is Happening In Victoria?
From the 1st of November this year all installers must be CEC Approved Solar Retailers for their systems to receive the up to $2,2253 Victorian Solar Homes Package rebate and large installers will have to be members by the 1st of July.
It Is Effectively Mandatory
I want to make it clear being an Approved Retailer will effectively become mandatory in Victoria.  There is no way it can honestly be described as voluntary.  If someone claims it is they are either a liar or don't understand how business works.  Either way, they don't deserve your attention.  Stating that being an Approved Solar Retailer is voluntary because installers can "voluntarily" decide to go out of business by not joining is absurd.4
If you had a choice between two products that were — as far as you could tell — identical and around the same price, which would you choose?  The one that would give you no rebate or the one that would give you a $2,225 dollar rebate?  Obviously, you'd have to have a hole in your head large enough to put your hand in to search for your missing brain if you decided to go with the no rebate option.  This is the situation residential solar installers that aren't Approved Solar Retailers will be in before the year is out in Victoria.
At the moment it is possible to have a decent quality solar power system installed for around $1,000 per kilowatt.  In Victoria the most commonly installed solar systems are 5-6 kilowatts in size.  So for a 5 kilowatt system the rebate will almost halve the cost to a household: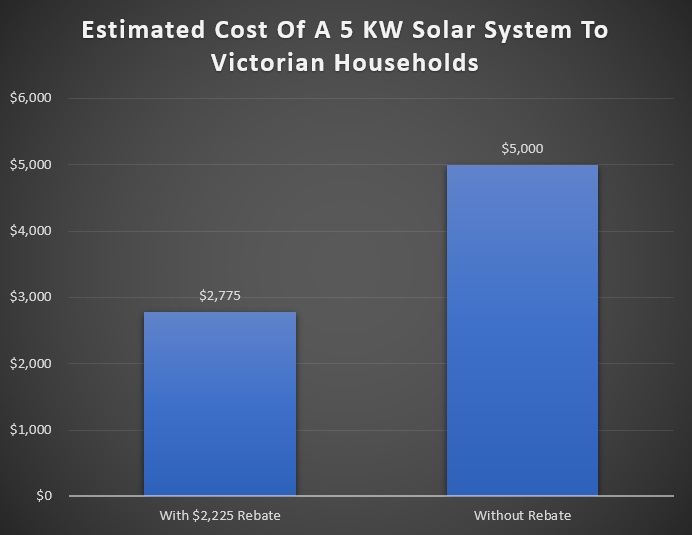 Obviously, no one is going to choose an installer whose system will end up costing them around 40% more. I would say that anyone who thinks becoming an Approved Solar Retailer in Victoria is voluntary is nuttier than a chipmunk's cheek pouches in a pecan packing plant, but that would be funny and this isn't funny.  People's livelihoods are at risk because through no fault of their own.
An Unknown Number Of Installers Will Lose Their Businesses
Victorian installers that aren't currently Approved Solar Retailers will have no choice other than apply to become one if they wish to continue to do businesses in the state.  Assuming they attempt to join rather than leave the business or leave the state, it's not possible to know how many applicants will be successful.  The Approved Retailer Scheme says they reject 40% of first time applicants who voluntarily decide to join.  With everyone who wants to install residential systems in the state having to apply, I don't know how many will be knocked back.  Unless the Approved Solar Retailer Scheme lowers its standards it's possible half the installers in the state who aren't currently members of the scheme will be rejected and driven out of business.  And if standards are lowered the scheme becomes pointless.
The solar installers most likely to be driven out are those who hate paperwork and have a low tolerance for bullshit.  This probably includes those annoying "salt-of-the-earth" types who would much prefer to spend their time up on a roof installing panels rather than crouched behind a desk daintily trying to tap away at keys with fingers the size of sausages.  I expect rural areas, where it can already be hard to find installers, will be hit hardest.
One Mistake Can Cost Approved Retailers Their Business
Making membership effectively mandatory gives too much power to the Approved Solar Retailer Scheme because they can kick out members for making a single mistake.  A large installation company who received high customer satisfaction ratings was recently kicked out for failing to give a customer all the paperwork the Approved Solar Retailer code of conduct required.  I'm not going to comment on whether this was fair or not, but when the scheme was voluntary getting kicked out wouldn't completely destroy a local business or cripple an interstate one.
While it is possible to be kicked out for making one mistake there are also Approved Solar Retailers who have broken their code of conduct on multiple occasions while remaining in the scheme.  This may be due to incompetence on the part of the Approved Retailer Scheme rather than maleficence, but this is not a good sign that the scheme can be trusted with more power.
Making The Scheme Mandatory Creates Consumer Risk
One of the benefits of buying from an Approved Solar Retailer was a homeowner could be more confident the installer would not go bust and leave them without support.  But by creating a situation where an installer will be unable to remain in business if they lose their Approved Retailer status, then the Scheme has just added a new level of consumer risk to buying solar power systems.
It Will Increase The Cost Of Solar Power For Victorians
There is currently a huge demand for solar power in Victoria because their rebate makes it such a great deal.  If the supply of installers is decreased, the price will inevitably go up.  That's called supply and demand.  It's possible you don't think it's all it's cracked up to be, but the Victorian Government believes in it and has provided funding to train more solar installers to help meet demand.  This means they're helping increase supply with one hand, but by insisting only installations by Approved Solar Retailers are eligible for the rebate they are reducing supply with the other.
Restricting supply by reducing the number of retailers will also reduce competition.  This is something that is also not supposed to be good for prices.
There are costs to becoming an Approved Solar Retailer that will be passed on.  There's a $200 fee just to apply and yearly dues from $600 to $6,000 depending on the size of the company.  But the largest cost is probably the additional paperwork and manpower required to comply with the code of conduct and keep the Approved Retailer Scheme happy.  Time is money and these costs will be passed on to customers.  When it was a voluntary scheme, homeowners could decide for themselves if it was worth paying a premium for an Approved Solar Retailer but soon this will no longer be an option in Victoria.
Because the Approved Solar Retailer Scheme can kick members out and destroy their ability to operate in an entire state, that's an extra risk that will have to be priced in and will raise costs.  If I ran a financial institution I would now be more cautious about lending money to a solar company.  This would apply to all of Australia because of the risk of Approved Solar Retailer status being made mandatory in other states.
It Is Bad For The Environment
In addition to having to pay more, the reduced supply of installers means Victorians will have to wait longer to get their systems installed.  This will result in them losing money from the delay before getting the benefit of reduced electricity bills.  The higher cost will also result in less solar power being installed in total.  So between the decreased capacity and delays in installation, fossil fuel pollution and greenhouse gas emissions will be greater than they would be otherwise.
It Is Unjustified
The justification given for making the Approved Solar Retailer Scheme mandatory in Victoria is consumers will benefit.  At the moment I think there is benefit in buying from an Approved Retailer — although this has been eroded over time as examples of the scheme doing nothing about Approved Retailers who break the scheme's code of conduct have multiplied.  Despite this, being an approved retailer is still a probable indicator of quality.  But the benefit that remains is not by itself sufficient justification to make the scheme effectively mandatory.  For it to be worthwhile the benefits to Victoria would have to be greater than:
The costs of solar companies driven out of business.
The costs to home owners from the reduced supply of installers.
The costs to home owners from reduced competition.
The costs passed on to home owners from complying with the Approved Solar Retailer Scheme.
The costs from increased risk to the solar industry.
The cost of the new consumer risk from installers going bust when kicked out of the scheme.
The costs of delays in installation.
The costs to the environment from reduced solar installation.
Perhaps the Approved Solar Retailer Scheme can produce a reasonable estimate of these costs and a reasonable estimate of how much Victorians will benefit from making the scheme mandatory and make a good argument the benefits outweigh the costs, but I'm sure it will be impossible for them to do that.  The fact they haven't even tried is a bit of a give away.
But even if — according to their own calculations — they can show there is a net benefit to Victorians, this is not enough.  They would also have to show this benefit couldn't be obtained at lower cost by other means.  Victorians already have multiple levels of protection that include:
Australian Consumer Law.
Random inspections of solar systems at the national level.
Compulsory inspections of every solar power system installed in Victoria.
I won't go into how these protect Australians or how very basic changes could improve them, as I want to finish this article before lunch because I have cows to shear and sheep to punch.  But anyone who claims the choice is between making the Approved Solar Retailer Scheme compulsory or inadequate consumer protection is presenting a false choice that does not reflect reality.
It's A Bad Example For The Country
If it actually is a good idea to force Victorians to only buy solar power systems from Approved Retailers then why on earth should we stop there?  If it's good for solar then wouldn't it also be a good idea to force everyone to buy air conditioners, stoves, laptops, cars, and carrots from Approved Retailers?
The reason we don't do this is because we know from experience that once trade bodies go beyond tasks such as setting reasonable standards and get their hands on too much power, they tend to jack up prices at the expense of consumers for the benefit of their members.  They don't even need to have this as their explicit intention.  It's just human nature to lean towards the direction that gives your group an advantage.  As my arch-nemesis, the clean shaven Adam Smith once said:
"People of the same trade seldom meet together, even for merriment and diversion, but the conversation ends in a conspiracy against the public, or in some contrivance to raise prices."
And if you don't believe him, I'm sure my uncle will be more than happy to tell you all about his past experiences with building tribunals.5
Now the CEC Approved Solar Retailer Scheme is becoming effectively mandatory in Victoria, we can expect other trade bodies to lobby for similar protection.  After all, it's for your own good.  If you don't buy your kid's birthday presents from a toy Approved Retailer you clearly don't care about their mental development.
We Should Be All In This Together
There are two basic approaches to organizing society.  The first is the inclusive approach where rules and regulations are made from the point of view that we're all in this together.  We're all Australians and rules are designed to provide the maximum possible benefit to the country as a whole.
Then there is the exclusive approach.  This is where there is an in group and an out group.  An "us" and a "them".  And when the in group has power they set themselves up to extract resources from the out group.
Up until last Thursday I thought the Clean Energy Council was with us.  I thought they were with Australians as a whole and wanted what was best for the nation.  Sure, I might have wondered about a particular decision they made — or didn't make — but I figured they were doing the best they could under the circumstances.  This is no longer the case.  By allowing the Approved Solar Retailer Scheme to become effectively mandatory in Victoria they have changed from the inclusive approach to the exclusive.
They are set on a course where they will destroy businesses that have done nothing wrong, go against consumer interests, and — by reducing the amount of solar capacity installed — they will even harm the environment.  All apparently because they want to make their scheme larger.
At the moment they are:
Adding a compulsory but unnecessary layer of bureaucracy.
Increasing complexity.
Acting against the consumer interest.
Scavenging power ceded by politicians.
They seem determined to repeat the worst mistakes of the electricity sector.
It's Not Too Late
Fortunately, it's not too late for the CEC to fix this.  The reasonable members of the Clean Energy Council — which is the majority of them — can make it clear it is unacceptable for their organization to lie about their Approved Solar Retailer scheme being voluntary in nature and that the CEC should not act against the consumer interest or take actions that will destroy the livelihood of people who have done nothing wrong.
And if making their position clear is not enough they should take more direct action.