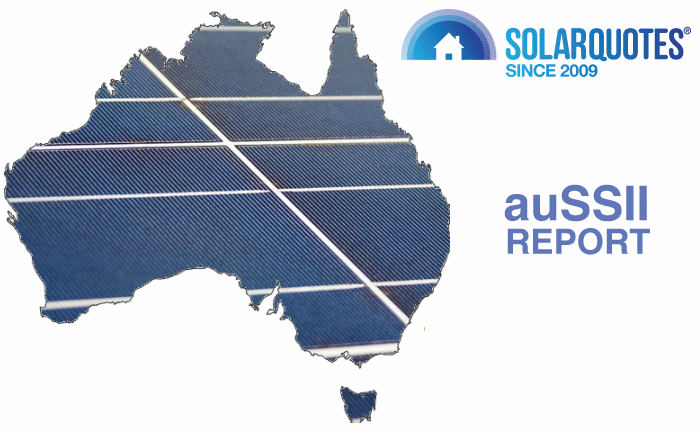 Temperatures climbed in January and so too did interest in installing solar panels – 2019 is gearing up to be another big year for small scale solar power in Australia.
Here's what Australians using the SolarQuotes service last month were looking for in a system.
Solar Power System Sizing
The proportion of Australians wanting a 6kW solar system or larger capacity stayed stable in January, at a whisker over 58% where a capacity was noted.  There was also higher percentage of submitters who wanted advice on choosing a solar power system size – close to 33% compared to 31% in December .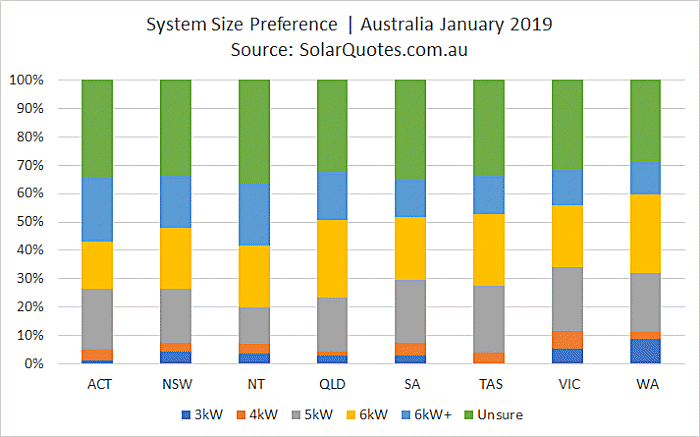 Solar Power Installation Timeframe
Interest in having a solar power installed immediately dropped off substantially in January to 21% (December was 26%  and November 24%). But the vast majority of quote-seekers still wanted panels installed within 3 months – 84% vs. 86% in December and November.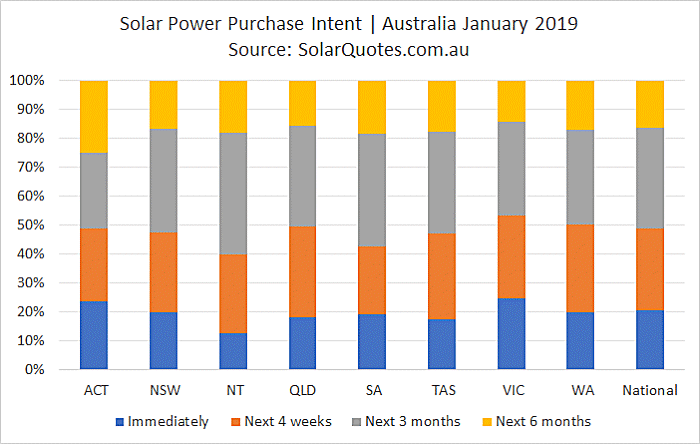 Price And Quality Preference
Xmas and school holidays may have put a drain on finances, but Australians still weren't compromising on solar quality. Approximately 80% were interested in a system that was "a good mix of quality and price" (79% in December). Around 12% were wanting a top quality (most expensive) system and 7% a quote on a "good budget system".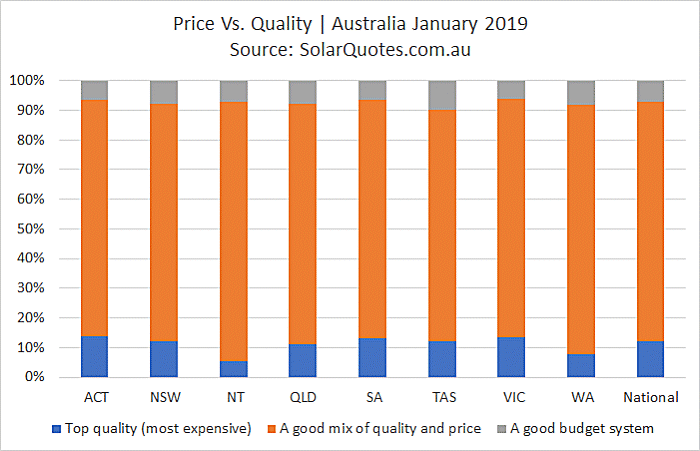 Battery Ready Systems
January saw a small drop in the proportion of those wanting a battery-ready system – from 30% in December to around 29% in January.  While most solar power systems  are "battery-ready", we ask this question on our quoting form to help inform  system design.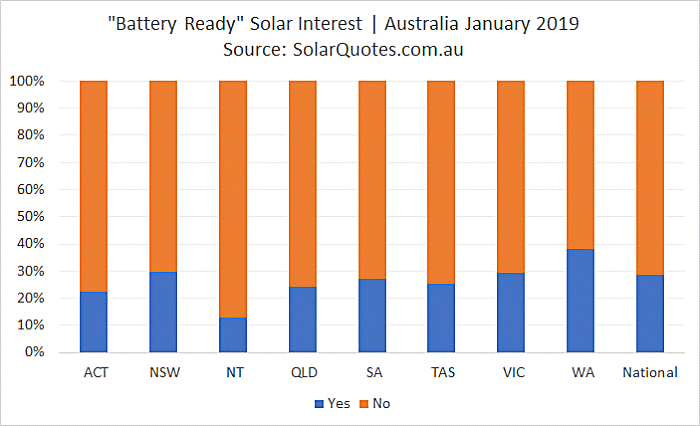 Concurrent Installation Of Solar + Storage
A bit over 8% said they wanted battery storage installed along with their solar panels, down on December's 9%. Although battery prices are dropping, installing one still an expensive proposition and much better bang for buck can be gained through spending more on a larger PV system.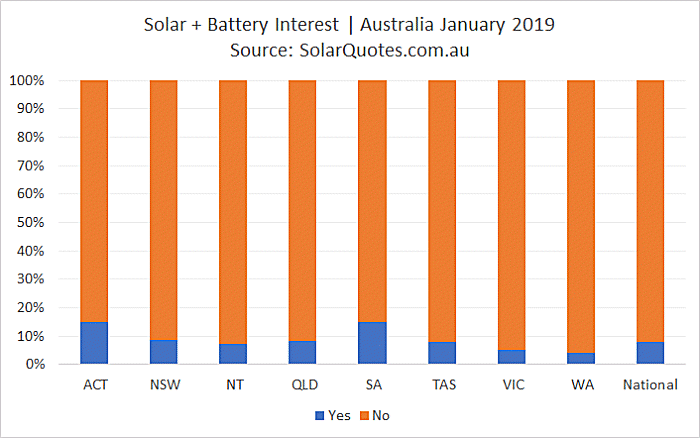 Battery Capacity Choice
For those who wanted a concurrent battery installation and had a capacity in mind, approximately 16% expressed an interest in a 1-5kWh capacity device, 48% wanted a 5-10kWh battery and 36% a 10kWh+ system. 50% wanted advice on battery sizing, down on December's 53% and November/October's 55%.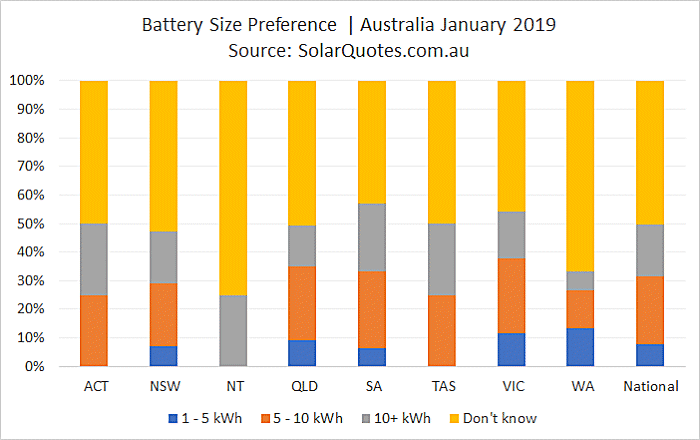 Intended Battery Application
A touch over 3% were wanting a solar battery primarily for backup purposes (~4% in December), while a little under 50% wanted it for minimising grid electricity consumption – same as December. 47% wanted a battery for both applications (46% in December).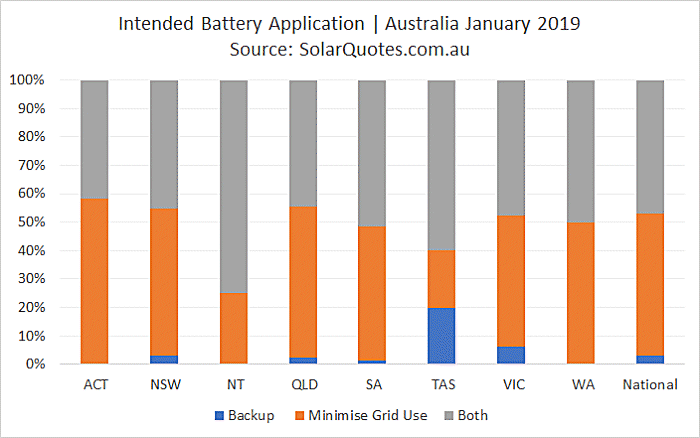 Pre-Solar Electricity Bills
Where average quarterly electricity bill amounts were known, 49% of submitters reported $500 – $1,000; quite a jump on December's 45% and back at November levels. Again in January, 11% reported quarterly electricity bills of $1,000 or more. With their energy costs so high, it's little wonder these folks were seriously considering solar energy as a way of reining in their power bills.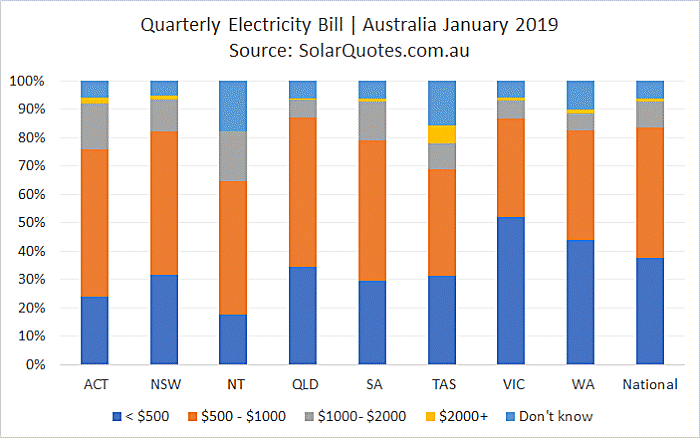 About The auSSII
The auSSII report is based on details submitted by thousands of Australians who utilise our obligation-free solar quoting service every month to gain pricing and advice from SQ's network of carefully screened installers.
Quality Solar Sales Leads Since 2009
SolarQuotes is always eager to hear from installers who offer quality solar at reasonable prices and are interested in receiving qualified leads from our service. Learn more about our solar sales lead services.
Reproducing auSSII Report Content
If you would like to reproduce content from any auSSII report, please ensure the page you have reproduced content from is acknowledged in your article/post/report.