I've covered a lot of ground in various articles I've written for the SolarQuotes blog.  But one thing I've never delved deeply into is the fundamental nature of the human soul.  Perhaps because at some level we fear the stark dichotomy that dwells inside us.  Within every human being there is a fundamental struggle between the desire to spend big and buy nice things and the desire to cheap out and save a few bucks.
It's no different when it comes to buying solar power.  Spending too little risks disaster, but buying only the best components available can really bump up the price and may mean you'll have to pass on that Faberge egg you covet1. But while there will always be some additional risk from not using the highest quality hardware available, this risk can be kept to a reasonable minimum by using decent quality components while avoiding crap that could end up costing you dearly in the long run.  This article if for you if you're interested in saving money while still getting a system that is good value.  The following suggestions will help you get a lower cost solar power system that will last a long time, although probably not a lifetime.
If you want a high quality system, please don't let me talk you out of it.  If everybody bought high quality solar power systems my life would be a lot easier.  Far fewer people would be asking me what the error codes on their inverters mean or why their solar panels look like snails have been crawling under the glass2.  But I appreciate not everyone has money to spare and this article is for them.  It's also for people with plenty of money who are just stingy bastards.
Your Choices Will Be Limited
If you're looking to save money, what you won't be able to do is select whatever components you think is best for your budget.  A system custom designed to your specifications costs extra.  A lot extra.
If you want to buy inexpensive PV system you're pretty much limited to what installers have on offer.  If you request lower cost components an installer is not likely to be able to order them in and pass on the savings to you.  There are several reasons why:
Installers may order their solar panels, inverters, and other hardware in bulk to get a better price.  This won't be possible if they are buying just for you.
It takes time to work out how to install unfamiliar hardware and they'll need to pass on the extra labour cost if you order something they have no experience with.
It's easier to provide after sales service and support for items they are used to, so if you want something unusual what they charge will have to allow for that.
But the most important reason you can't mix and match system components is:
Installers have reputations to uphold and an installer who takes pride in their work — and trust me you'll want one of these — won't want to use components they suspect won't be reliable or are simply unsure of.
It's pointless to try to convince a good installer to use low cost hardware they're not happy about.  If they care about the quality of their work you won't get anywhere.  It's not an unusual reaction.  My father was a chef and if someone told him that instead of using succulent, tender beef he should just cook up a piece of old horse he wouldn't have been very impressed.  Old horse is only for special family occasions.
Stay Away From Systems That Are Too Cheap
You don't want to go too cheap.  Thanks to the falling cost of solar it's not expensive to get a decent quality system installed by people who take pride in their work and offer good after sales service.  But I can guarantee you aren't going to get that if you buy the cheapest system you see advertised in the newspaper.
A person asked me if buying a 6.6 kilowatt solar system for only $2,499 was a good idea.  I said it had an excellent chance of being a spectacularly bad idea.  Even if the solar panels and inverter were of acceptable quality, which is unlikely, the $2,499 has to pay for:
Sales costs
Solar panels
Solar inverter
Racks, clamps, and other mounting hardware
Cables, fuses, DC isolators, clips, conduits, and other items
Labour, other operating costs, and capital costs
After sales service including repairs and replacements during warranty periods and potentially beyond3
I don't see how an installer can provide all this for a 6.6 kilowatt system at such a low price without cutting corners.  To install it at this price and make a profit they will be focused on getting the system on your roof as cheaply as possible.  This means:
They may convince you to purchase a system that is cheap and easy for them to install rather than what's best for you.
They may not inform you of shading or other issues that can reduce system output.
The panels may be cheap and fail to last 5 years without major deterioration.
The solar inverter and other hardware may be of low quality and soon fail.
A rushed job with low quality mounting equipment may result in damage to your roof and possibly cause leaks.
Mistakes or neglect with wiring and weather sealing can create electrical and fire hazards.
Incorrect clamping can cause solar panel deterioration and if not properly secured to the roof a bad storm can make a whole system fly off to Oz.
After sales service can be abysmal.  If you have a problem you may be ignored or given the run around.
When a problem arises you may find the company has disappeared.  If they were the importer of the panels, inverter, or other items the manufacturer warranties may have disappeared with them.
Labour quality is very important.  Even if all the components are top notch, if the installer does a half arsed job there will be problems down the line.  Or quite possibly from day one.  Those selling the lowest cost solar systems will pay the absolute minimum required to get the job done and, as the old saying goes, if you pay peanuts you get monkeys4.
I've seen what can happen when people spend too little on a solar power system.  Spending as little as possible leads to the dark side and if you are lucky you will travel there in a single step and not pass through a bright, well lit, fiery phase first — like this DC isolator used in a sloppy installation did:
Check The Cost Per Watt
A simple but useful way to compare the cost of solar systems is to look at the cost per watt.  If there are two systems you are trying to choose between:
5.4 kilowatts for $6,540
6.1 kilowatts for $7,260
..divide the price by the number of watts.  There are 1,000 watts in a kilowatt so the price per watt will be:
5.4 kilowatts for $6,540= $1.21 per watt
6.1 kilowatts for $7,260 = $1.19 per watt
While there's not much difference, after crunching the numbers it's easy to see the larger system is slightly cheaper per watt.
Max Out Your Solar Panel Capacity
One thing that can help keep down the cost per watt of your system is to have the solar panel capacity as close as possible to the maximum your inverter capacity allows.  This is a smart move because the Small-scale Renewable Energy Scheme, which is often called the "solar rebate", gives Small-scale Technology Certificates, or STCs, that lower the cost of solar power based on the capacity of the solar panels and not the inverter.  Solar panel capacity can be up to one-third higher than inverter capacity and this has almost no effect on its overall output.  So going by inverter size:
2 kilowatt inverter =  Maximum of 2.66 kilowatts of panels
3 kilowatt inverter = Maximum of 4 kilowatts of panels
4 kilowatt inverter = Maximum of 5.33 kilowatts of panels
5 kilowatt inverter = Maximum of 6.66 kilowatts of panels
At the moment the typical Australian household will receive just under 18 Small-scale Technology Certificates (STCs) per kilowatt of solar panels installed5.  The value of these STCs can fluctuate, but at their usual price and after administration costs they are likely to lower the cost of solar power by around $36 each.  This means for every kilowatt of solar panels STCs will lower the cost of your system by $650.  So if you were going to install a 5 kilowatt solar inverter with 5 kilowatts of panels then increasing the panel capacity to 6.5 kilowatts will give you almost an extra $1,000 in STCs.  This isn't enough to entirely pay for the cost of the extra panels, roof racking and mounting hardware, and labour; but it goes a long way.  (If it does pay the full cost then your panels are probably too cheap and may be crap.)
You can calculate the exact rebate amount in your area with our whizz-bang solar rebate / STC calculator.
Most homes have single phase power and they are often limited to a maximum inverter capacity of 5 kilowatts, which allows for a maximum panel capacity of 6.66 kilowatts.  It can be possible to install more solar panels if the system is export limited so it will never send more than 5 kilowatts of power into the grid, but this adds to the cost and so is not likely to be done by someone looking to keep costs low.
Ask For A Quote With Close To The Maximum Panel Capacity
When you get a quote for a solar system it's probably best to specify a panel capacity close to maximum for the inverter size you are considering.  If you get a quote for a 5.4 kilowatt system with a 5 kilowatt inverter and then ask the company quoting to bump up the panel size by 20% to around 6.6 kilowatts, they may simply raise the quoted price by 20%.  Installers are often busy people and so may resort to using simple rules of thumb like this.  But by specifying the right solar panel capacity you can make sure they keep their thumb out of it.
Lower Cost Panels From Tier One And Good Reputation Manufacturers Are Acceptable
If you want panels you can be confident will last for decades you can buy LG Solar or SunPower or Tindo that have 25 year product warranties.  If you can find them in Australia you could also get Solarwatt, which have a product warranty of 30 years.  But these are high quality premium products you'll have to pay a pretty penny for.  Or a whole heap of ugly ones.  However, if you are willing to accept they may not last the 46 years some panels have you can save a considerable amount of money by getting tier one solar panels that have a product warranty of only 10 or 12 years.
It's The Product Warranty That Counts — Not The Performance Warranty
Solar panels come with two warranties.  A product warranty and a performance warranty.  All panels, regardless of quality, come with a 25 or 30 year performance warranty, so that's not useful for distinguishing quality.  It's the product warranty that indicates how much confidence companies have in their product.  If you want a low cost panel then you are limited to getting one with a product warranty of 10 or 12 years.  Unfortunately, there are still plenty of panels out there with 10 year product warranties that are absolute crap.  But you can protect yourself by making sure your panel with a 10 or 12 year product warranty is tier one or from a manufacturer with a good reputation for quality.
Only Use Tier One Or High Reputation Solar Panels
If a panel is tier one it means financial organizations regard them as reliable enough to lend money to large scale solar energy projects that use the modules.  It's not a direct measure of quality, but if a company produces crap panels they are not going to get tier one status.  So I recommend only getting either tier one solar panels or panels from a manufacturer with a good reputation for quality.
This graphic is from our Solar 101 Guide.  The panel manufacturers shown are significant suppliers to the Australian market and we consider them reliable.  They are in approximate order of cost from the cheapest on the left to the most expensive on the right: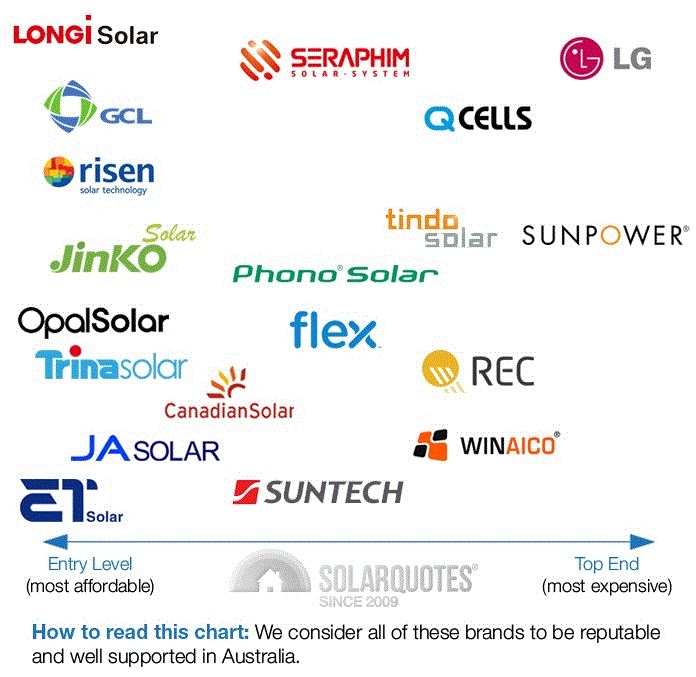 The nine panels on the left should all be good value for money and have product warranties of 10 or 12 years.  While 12 years is obviously better than 10 don't be too concerned if your panels only have a 10 year warranty if they are one of the nine.
If you are considering a solar panel that's not on the graphic you can leave a comment asking me about what I think about it.  Be warned most of the time I will simply say I have no solid information and suggest you choose one of the panels in the graphic as they are a known quality.  But every now and then I'll try to think of a polite way to tell you I consider the particular panel you are inquiring about is crap.
A 10 Or 12 Year Product Warranty Is Sufficient For Tier One Panels
The quality of tier one panels has steadily improved over time and if you buy 25 tier one panels with a 10 year product warranty the chances are high they will all still be working acceptably in 10 years time.   This is because solar panels that fail under warranty cost the manufacturer money, so they work hard to keep the number low.
What you won't get with a low cost panel is one that has no chance of failing within 10 years.  If a manufacturer had such a panel they would put a 25 or 30 year product warranty on it and charge a hell of a lot more.  But some extra risk is unavoidable if you're not going to spend a few thousand dollars more for high quality solar panels for typical sized system.
The good news is,  because solar panels are very simple electronic devices and they have no moving parts, if a panel has a 99% chance of surviving 10 years in good condition there is an excellent chance it will last another 10 years or more.  So a tier one panel that is almost certain to last 10 years is one that is likely to last another 10.
Solar Inverter Warranties
Here's a graphic of inverters from our Solar 101 Guide showing the relative prices of a range of brands: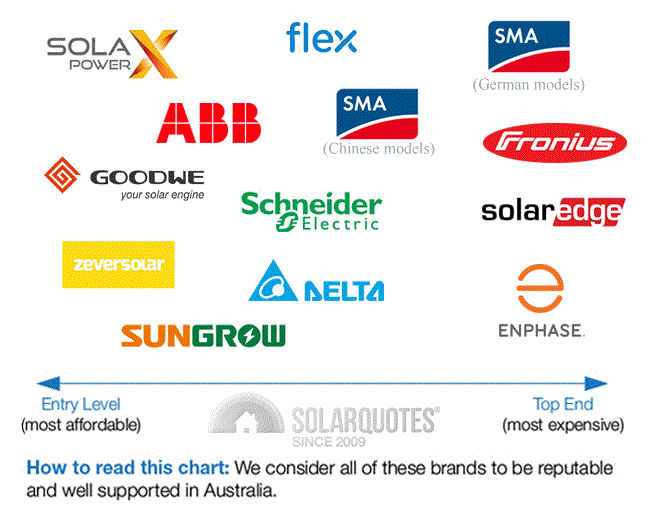 The inverters on the graphic with the longest warranties are:
SolarEdge 12 years
Enphase 10 years
Flex 10 years
Fronius 5 years + 5 year partial warranty where they will provide a replacement solar inverter but not pay for installation
As far as I know all the others have 5 year warranties. But inverter price seems to be a fairly good indicator of quality and SMA inverters are considered more reliable than ones on the left side of the graphic despite only having a 5 year warranty.
The warranties of some inverters can be extended for a price.  So you may be offered an inverter from the left side of the graphic with a 10 year warranty.  The cost of extended warranties indicates there is a good chance the lower priced ones on the graphic above will last for 10 years.
A Lower Cost Inverter Can Make Financial Sense
Not including installation, a lower cost 5 kilowatt inverter from the left side of the graphic might cost a household around $1,100 retail while one from the from the right side might cost $2,000.  Under the right circumstances buying a cheaper solar inverter can make financial sense if the money saved is invested at a high enough rate of return.
If I following simplistic assumptions:
The cheaper inverter will have a lifespan of 10 years.
The more expensive inverter will have a lifespan of 20 years.
I can invest money at a real return of 8%6.
Then if I invest the $800 I would save by getting the cheaper inverter, in 10 years time when it would need replacing the savings would be worth around $1,730 in today's money.  If I assume solar inverters will be 20% cheaper in 10 years and its installation will be $400, then it will cost me $1,280 to replace it with another low cost inverter.  This will leave me $450 ahead.
Alternatively, if I invest my money at 5% real return, then with the same assumptions I will be around $20 ahead.
The situation in which saving money by getting a lower cost inverter is likely to provide the greatest return is if it allows a household to install a larger solar power system than they would otherwise.  Rooftop solar energy often provides a real return of 10% or more and under the right circumstances it can be over 20%.  So purchasing a system with lower cost components in order to install a larger system overall will often make good financial sense.
Racks And Mounting Equipment
Here a graph showing the relative cost of different brands of racking and mounting equipment used to attach solar panels to roofs: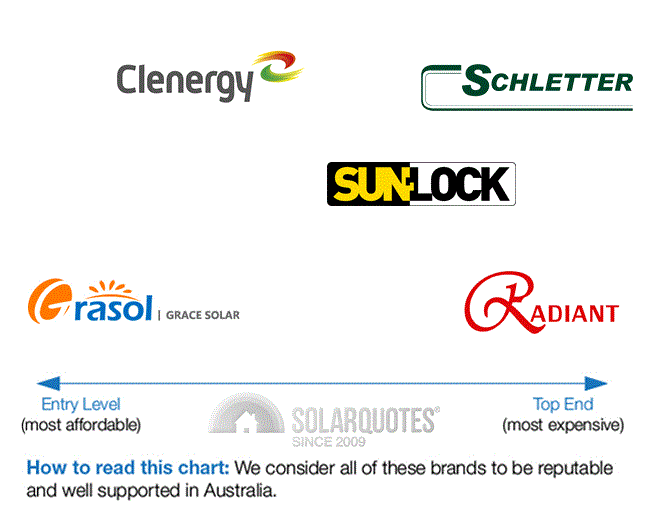 When it comes to racking and mounting gear, as is generally the case with solar hardware, the more expensive brands are clearly superior.  They can reduce the amount of labour required to install a system, decrease the chance of damaging the roof, and have longer lifespans.  Many installers use the more expensive brands because they see them as saving money in the long run.  If you convince a good installer to use low cost solar panels the worst thing that will generally happen is the panels may need to be replaced sooner than you'd like.  If you convince a good installer to use a low cost inverter then the worst thing that's likely to happen is it will fail the day after its warranty finishes.  But the consequences of using low cost racking and mounting gear can extend beyond the system and be very expensive.  A damaged roof may need costly repairs years down the line and roof leaks are very good at washing money away.  So my advice is don't try to convince an installer to use lower cost racking and mounting equipment they're not happy about, as neither party may be happy with the results.
Savings From Lower Cost Solar May Be Less Than You Think
Money can be saved by using lower cost solar hardware if is competently installed.  But there are some reasons why the savings may not be as great as you expect.  They are:
Lost Production:  With lower cost systems output is more likely to decline or stop completely and the loss of electricity production may not be noticed for some time.  If your 6.5 kilowatt system fails and you don't notice for one month this could easily add over $100 to your electricity bill.
Lost Time:  When you install a solar power system on your first home you may be young and energetic.  But when it starts to fail you may be older, fatter, and lazier and wish you had spent the extra money to get a more reliable system so you wouldn't have to waste your valuable time getting it fixed.
Mad Max Fury Road:  After the collapse of civilization you may wind up wishing you had invested in longer lasting solar panels to power your wicked speaker stack.