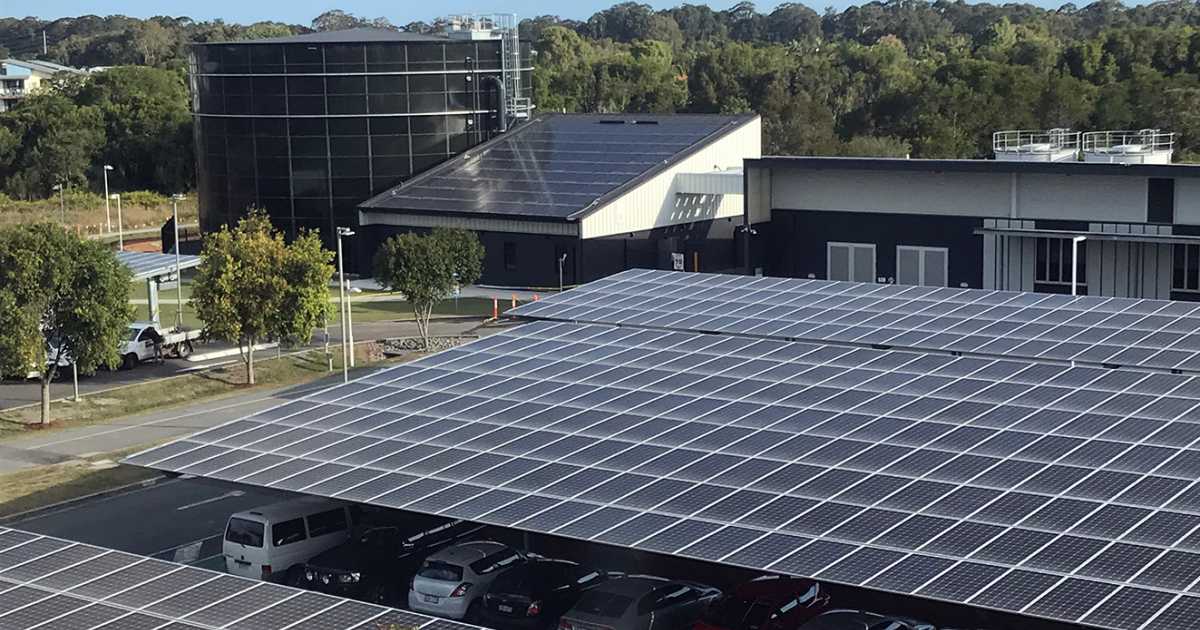 Queensland Energy Minister Dr Anthony Lynham "flicked the switch" on the University of the Sunshine Coast's major solar and energy storage rollout yesterday – a project set to save USC a big bundle of bucks.
6,000 solar panels have been installed across the USC campus at Sippy Downs, with a collective capacity of 2.1 megawatts. As for the "battery", it's very old-school in a way.
The solar panels will generate energy needed to chill water in a 3-storey-high "water battery" we mentioned last year – a 4.5 megalitre (4,500,000 litres) water tank (pictured above in the background) effectively acting as a 7MW battery. This chilled water will be used for air-conditioning applications.
"USC has calculated that this system will reduce their electricity use by 40 per cent and save the campus $100 million over 25 years," said Dr. Lynham.
The cost of the overall project was $12 million.
USC says the system will avoid more than 92,000 tonnes of CO2 emissions over 25 years (so, around 3,680 tonnes a year) and play an important role in USC achieving carbon neutrality by 2025.
"Air conditioning accounts for 40 percent of our daily energy usage, so by eliminating this we are taking a major step towards our carbon neutral goal," stated USC Vice-Chancellor Professor Greg Hill.
Professor Hill says the technology used at Sippy Downs has the potential to change the way energy is stored at scale – and he is encouraging other organisations to copy what the University has achieved.
The project was implemented by Veolia Australia and created 80 local construction jobs.
Queensland's Impressive Rooftop PV Tally
On a related note, Dr. Lynham commented USC's venture adds to the 42,000 rooftop solar systems on the Sunshine Coast, and the 520,000 residential solar installations across Queensland.
But according to the Clean Energy Regulator, the number of solar power systems installed in Queensland below 100kW capacity is now north of 635,000. Queensland is well ahead of next in line New South Wales, which has more than 494,480 systems installed.
Queensland leads the states in terms of the estimated percentage of dwellings with rooftop solar according to APVI, at 34.8% – but not far behind is South Australia with 34.2%.
APVI puts the total capacity of PV installations above 100kW in Queensland at 1,917 MW, compared to NSW's (second in this regard also) total of 805 MW.