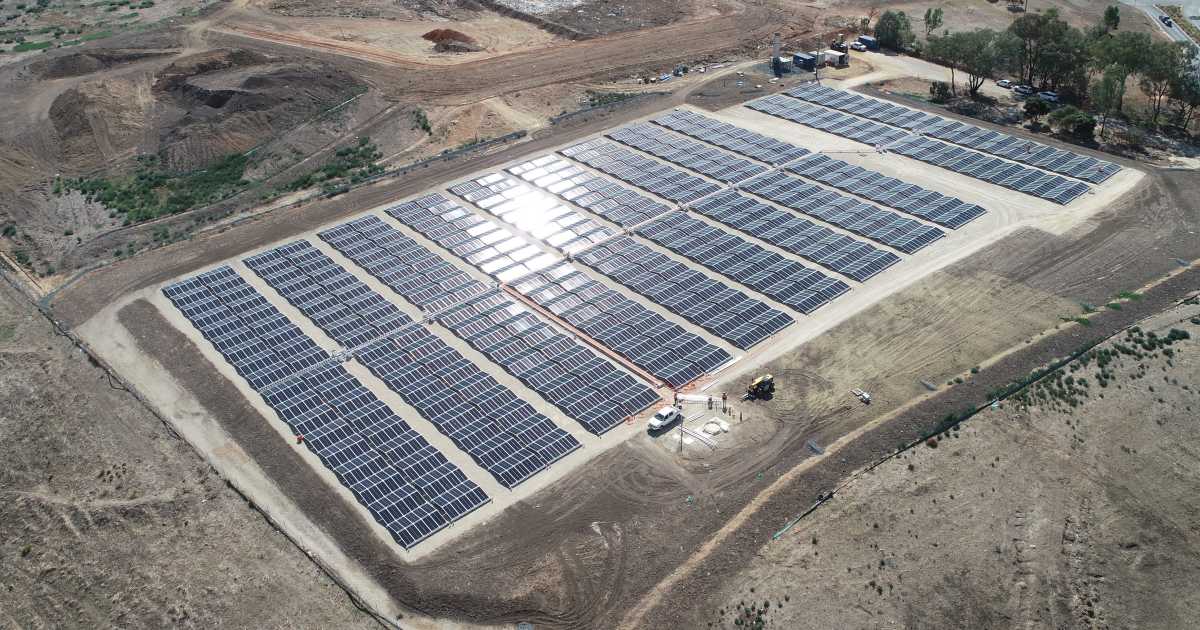 What's claimed to be Australia's first solar farm built on a capped landfill site has been commissioned in Albury, New South Wales.
Situated at Albury Waste Management Centre, the facility is a 1.1MW (AC) PV power station consisting of 4,000 solar panels. The project was developed as a partnership between AlburyCity, LMS Energy and Joule Energy; with LMS owning and operating the system.
Decommissioned landfill sites can be an excellent platform for generating solar energy as often they can't be used for other developments due to contamination issues. Solar farm projects in the pipeline to be situated on old landfill sites elsewhere in Australia include a 4.9MW facility in South Fremantle (Western Australia) and a proposed project for Springvale South (Victoria).
The Albury system is part of the Albury Renewable Energy Hub, which also hosts a landfill gas-to-energy facility. Commissioned in December 2013, the 1.1MW plant is capable of generating approximately 9,000 megawatt-hours of electricity annually.
Combined, the two plants will generate an estimated 11,200 MWh of electricity each year; enough to supply the electricity needs of the equivalent of more than 1,900 homes. Greenhouse gas abatement is pegged at 54,000 tonnes (CO2 equivalent) annually.
"As a community, we're leading the way in Albury towards a more sustainable future so embracing alternative energy is obviously a fantastic way of growing our clean energy generation for the decades ahead," said AlburyCity Councillor Henk van de Ven.
Another new addition for the Waste Management Centre is a directly-connected electric vehicle fast charger available for use by all; but I don't have any specifications on the charger or the costs involved with using it.
AlburyCity's Other Solar PV Systems
Solar power systems installed at other Albury council facilities include:
Banjora Children's Center – 4kW
Mirambeena Community Center – 10kW
Albury Airport – 46kW
Waterview Laboratory – 12kW
LibraryMuseum – 42kW
Albury Entertainment Centre/Convention Centre – 18kW
Council Administration Building – 51kW
Lauren Jackson Sports Stadium – 22kW
Council controlled sites that may have solar panels installed in the future include Wonga Wetlands and Albury's crematorium.
AlburyCity was one of the first councils in Australia to sign up to the Climate Council's Cities Power Partnership, which launched in July 2017.
Small-scale solar power in Albury is also popular among the city's residents, with more than 3,716 systems boasting a collective capacity of 17,956 kW installed in the 2640 postcode as at the end of July.