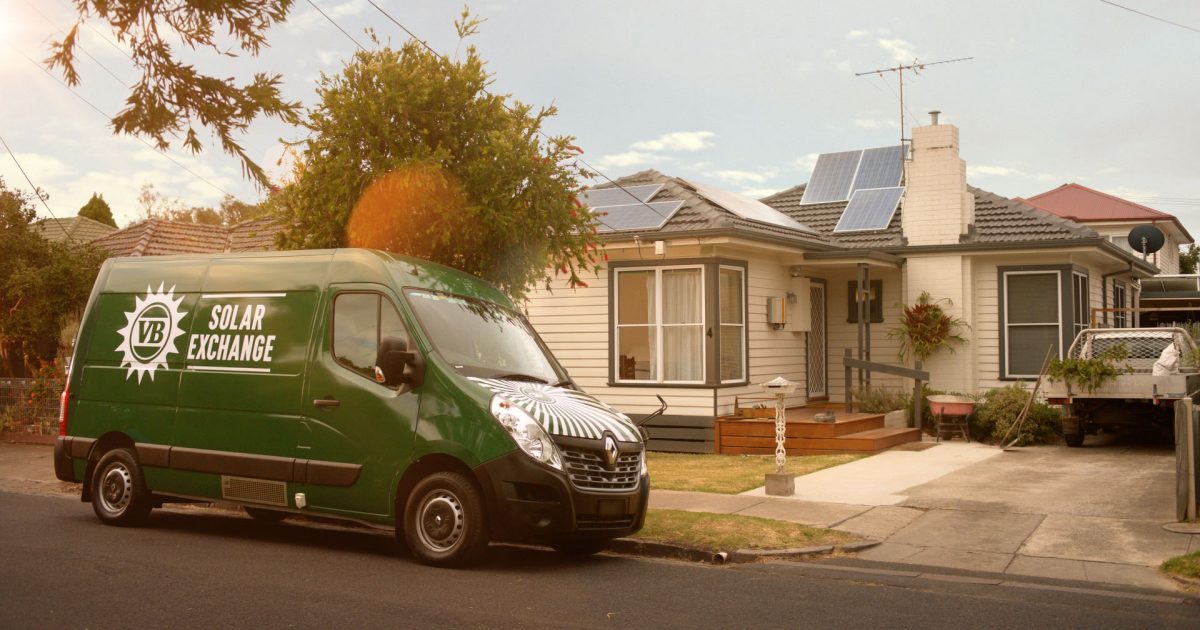 The curiosity of solar power system owners partial to Victoria Bitter beer may be piqued by a new promotion launched by the brewer.
Carlton United Breweries' Victoria Bitter production has been 100% offset by solar electricity since last year. More broadly for the parent company, CUB is being supplied with 74,000 MWh of electricity annually from Karadoc Solar Farm under a 12-year PPA announced back in 2018.
Victoria Bitter is on a winner with solar power, not just for slashing its energy costs and emissions, but also for generating publicity.
The brewer launched VB Solar Exchange yesterday – enabling beer lovers, specifically Victoria Bitter lovers, to trade their surplus solar energy for slabs of VB.
The first thing to stand out in the ad was what looks to be a dodgy PV installation. I initially thought this to be a premature April Fools' day joke – like Volkswagen's "Voltswagen" stunt that really upset some journalists – but it's the real deal.
How VB Solar Exchange Works
In a nutshell, every $1.25 worth of exported solar electricity (based on a feed-in tariff of 10.2c per kilowatt hour) earns a can/stubby of Victoria Bitter. This is not a bonus, but a swap.
Earn 24 VB cans/stubbies and a slab will be delivered to your door by Fulfilio. The Victoria Bitter slabs will be delivered quarterly (assuming you've paid your electricity bill) and a maximum of 30 slabs of beer will be delivered over the duration of the promotion. For any feed-in credits not exchanged for brewskis, you'll be sent a debit card loaded with that amount.
Some Of The Fine Print
Offer is available in NSW, VIC, SA and QLD (QLD – Energex only).
There are only 500 spots available.
Participants must have a retailer only feed-in tariff.
Maximum solar power system capacity is 6kW.
Bi-directional interval meter required
A smart meter is required if participants want to keep tabs on their progress.
You'll need to switch electricity retailers – to Diamond Energy.
This is not beer for life – the offer only runs until the end of March next year.
Probably goes without saying, but you need to be over 18 – particularly disappointing for all those 17-year-old solar system owners out there.
There was no mention of any counselling thrown in with the deal that may be required as a result of potential binge drinking every quarter.
Further details here, protected by one of those age verification systems that surely no-one under the age of 18 is able to figure out how to get around.
Is VB Solar Exchange Worth It?
As a comparison, in my neck of the woods 24 stubbies of VB cost $48.95 and 24 cans $55.99 delivered from Dan Murphy's. A 30-can block costs $52.99 pick-up. So, you'll get around fifty bucks worth of beer delivered to your door for thirty dollars worth of solar at the 10.2c feed-in tariff rate. It probably works out to be less than $50 worth if multiple slabs are involved unless Dan is whacking on extra delivery charges for additional slabs.
It sounds like a good deal. Even if you wind up with too much beer, you could always trade it for weed, ice, illicit tobacco or another drug of choice. Or perhaps something else given beer is a widely accepted form of currency in Australia. Or you could always opt for the debit card instead.
But the thing to bear in mind is you have to switch to Diamond Energy, and whether that is a good move may depend on your circumstances. Power Ledger is also involved the program, to keep participants who have a smart meter installed informed of their progress.
SolarQuotes has a handy electricity plan comparison tool designed for solar owners that enables them to see the electricity retailers that would likely provide the cheapest bills over 12 months. The best electricity plan for solar owners has a balance of high feed-in-tariffs, low usage tariffs and low daily charges.
Try taking the comparison tool for a spin and crunch the numbers before diving in to Victoria Bitter's offer.