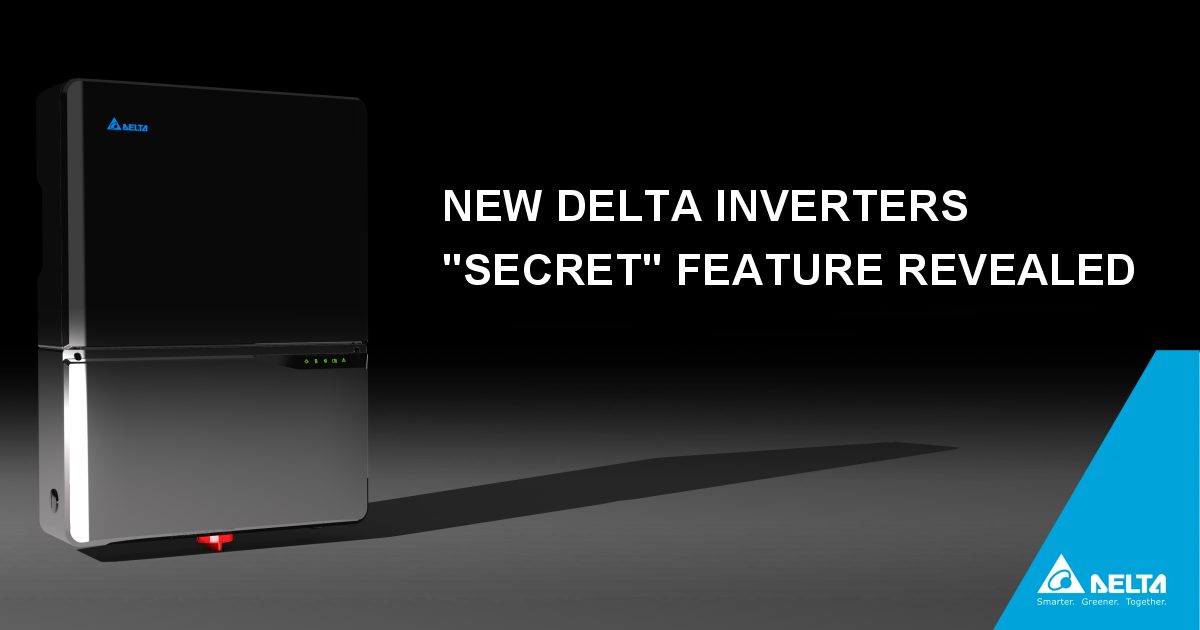 When Delta Electronics told us about their new H8E and H10E single-phase solar inverters late last year, they didn't mention a "secret" feature. The company has revealed it to SolarQuotes, along with details of a new Delta battery and other bits.
In December last year we mentioned some of the interesting features of the new Delta H8E/H10E inverters, one standout being it has 4 Maximum Power Point Trackers (MPPTs). What wasn't mentioned is the H8E and H10E are hybrid inverters, meaning they can manage solar panel output and battery system charging while also operating with mains grid supply.
The cost of hybrid inverters is usually significantly more than a standard inverter. But Delta says it has priced these units as standard solar inverters, and without an extra "unlocking" payment required to access the hybrid features. The ballpark recommended retail price of the H8E is $2,400 and for the H10E, $2,539. Looking at the last pricing we had on Delta's standard 10kW RPI inverter for comparison and the smaller Hybrid E5, that claim stacks up.
Delta BX 6.3_DD battery
A new product revealed was the DC-coupled Delta BX 6.3_DD battery, designed to work "plug and play" with the H8E and H10E. The Delta BX 6.3_DD offers 6.3kWh of storage capacity and 3kW maximum charging/discharging power. This can be extended with the same AC-coupled BX 6.3_EX we mentioned in December to provide 12kWh of DC-coupled storage and 6kW of charging/discharging power. As with the BX6.3 AC, the BX 6.3_DD uses Samsung's 41J module that incorporates 2170 format cells .
Yet-To-Be-Named ATS Box
Another new product to further extend the H8E and H10E's capabilities is the ATS box (aka a "back-up box") enabling critical loads to be powered by solar panels in a grid outage, without requiring a battery. This will be offered as a fully assembled box or parts that can be installed in the main distribution board should there be room.
One of Delta's existing hybrid inverters has this backup functionality built-in – the E5.
Capabilities
So, the H8E and H10E can work as a normal inverter, but addition of the other components provides increasing levels of capability:
1. H8E or H10E inverter + back-up box – use solar to power critical loads (8kw/10kW maximum) during a blackout; assuming there are solar resources available of course.

2. H8E or H10E inverter + "plug and play" DC-coupled Delta BX 6.3_DD battery – store and consume self-generated solar energy.

3. H8E or H10E inverter + Delta BX 6.3_DD battery + ATS box – during blackouts, provide backup power to critical loads (5kW maximum) and charge the battery.

To get a clearer idea of the level of flexibility available, I asked Delta Electronics about the potential for using the H8E and H10E with AC-coupled batteries if that should be desired for whatever reason. The company said the hybrid inverters will be compatible with Delta's AC-coupled battery and the inverter is AS4777 compliant, which is what most AC coupled batteries will require so they can understand the voltage and frequency ramping characteristics to work with.
Delta said there are advantages of using the Delta AC-coupled batteries over other brands as the battery can communicate with the inverter to take on loads faster, as opposed to letting the battery deal with heavy loads while the inverter ramps up.
What wasn't clear (Delta is checking) is the backup situation if the ATS box is installed with a non-Delta AC coupled battery.
Something that needs to be kept in mind also with regard to the use of AC-coupled batteries (and inverters generally) is Distributed Network Service Provider (DNSP) inverter limits, as an AC-coupled battery's inverter may count towards the limit.
Availability
According to Delta, at this point:
The Delta H8E and H10E inverters are still scheduled to be available in Australia during the second quarter of 2021, potentially around the end of May.
The BX6.3 DD and BX6.3 EX batteries will be available in the final quarter of 2021 (pricing unknown at this point).
ETA on the ATS box is the final quarter of this year, or the first quarter of 2022 (pricing unknown at this point).
SQ founder Finn is a fan of Delta after a stint (many moons ago) working as a control systems engineer in a nuclear power plant in the UK that used Delta Electronics components.
Delta inverter reviews and ratings from Australian customers who have the company's products installed have generally been favourable and Delta is currently included on SQ's trusted solar inverter brands chart.