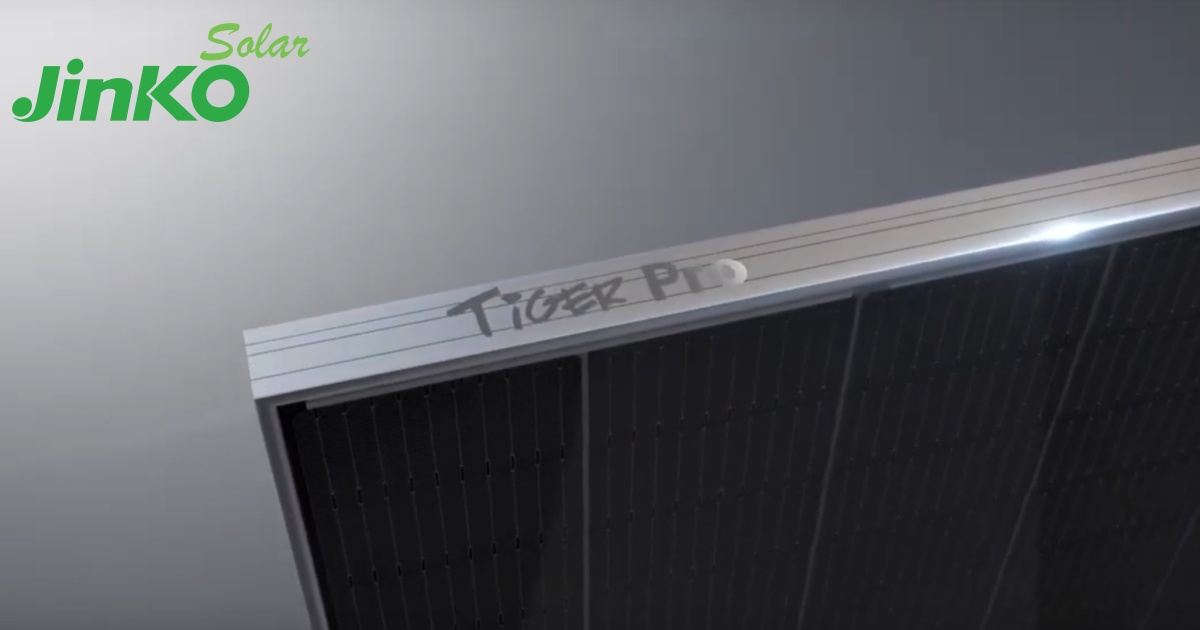 JinkoSolar is launching a new line of Tiger Pro solar panels it says are suitable for use on residential, commercial and industrial rooftops.
The wraps were taken off the original Tiger Pro series in May last year, featuring panels up to 585 watts capacity – although that monster module doesn't appear to be available yet.
But even at the lower capacity end of the range these were also big panels in terms of dimensions; 1.9m by 1.1 metres and more than 24 kilograms in the case of the 440W Tiger Pro. The 550W panel is around 2.3 x 1.1 metres and weighs in at a whopping 28.9kg. These panels were developed for use in utility-scale solar farms.
Yesterday, Jinko unveiled smaller and lighter solar panels based on the Tiger Pro 182mm, 54-cell design (but half-cut solar cells) that deliver a maximum power of 415W.
There doesn't appear to be any datasheets available yet for the new additions to the Tiger Pro range, but the basic specifications provided indicate:
"about" 1.7 meters in length and 1.1 meters in width
23 kg
conversion efficiency of 21.3%
15-year product warranty and 25-year performance warranty
maximum degradation of 2% in the first year and 0.55% from the second year to the 25th year.
In true solar panel manufacturer press release fashion, other important details were left out of the announcement; such as when and where these panels will be available.
Comparing the new Tiger Pro to another 415 watt solar panel that became recently available in Australia – the SunPower Maxeon 5 AC – it appears Jinko's are slightly shorter but wider, a couple of kilos heavier and less efficient. But it's really an apples to oranges comparison for a number of reasons including the Maxeon is an AC solar panel, meaning it has a factory-integrated microinverter on the back.
Other features of JinkoSolar Tiger Pro panels include Tiling Ribbon Technology (TRT) that eliminates inter-cell gaps and the use of circular ribbon to boost light absorption and increase energy generation.
2020 Results Next Week
In other news from JinkoSolar, the company said it plans to release its unaudited financial results for the fourth quarter and full year ended December 31, 2020 before the open of U.S. markets next Friday local time.
In its report covering Q3 2020, the company mentioned it expected total solar module shipments to be in the range of 5.5 GW to 6.0 GW for Q4 and 18.5 GW to 19 GW for the full year of 2020. This would be another a big jump on 2019 when Jinko shipped 14.3 GW, which put it at no.1 in the top 10 solar panel manufacturers rankings for shipments that year.
As at the end of September last year, JinkoSolar had production capacities of 20 GW for mono wafers, 11 GW for solar cells and 25 GW for solar modules.
The company's PV products have been available in Australia since 2012 and Jinko solar panel reviews here on SolarQuotes from Australian customers who have the modules installed have generally been positive. The company is currently listed on SQ's trusted solar brands chart as offering good panels towards the budget end of the spectrum.