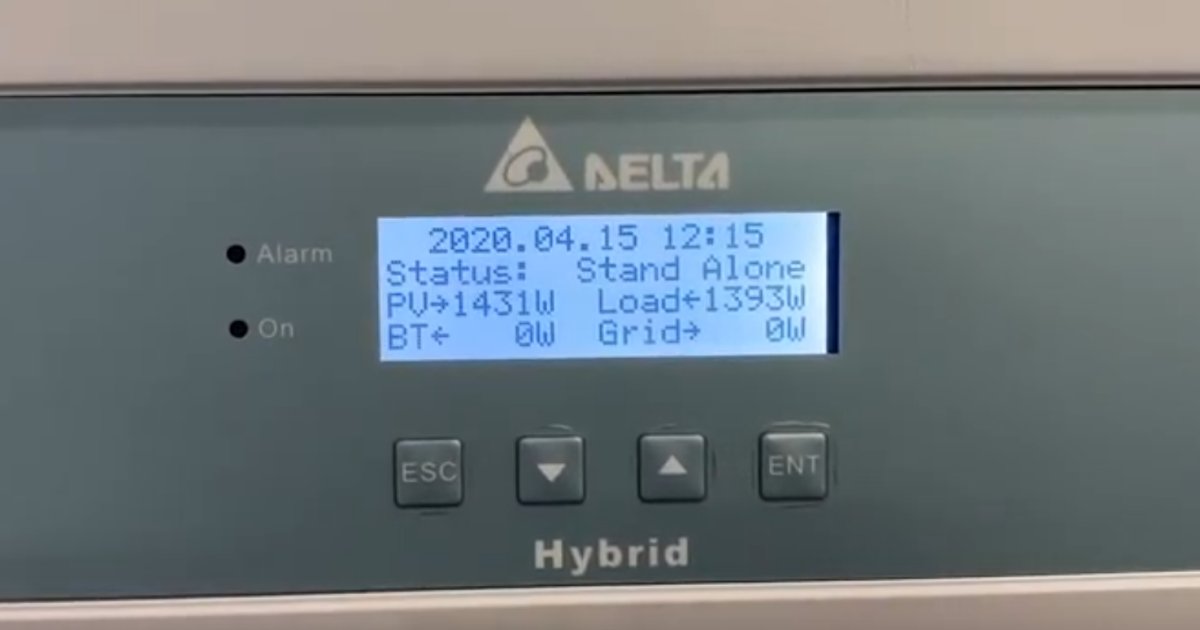 You can partially power your home with a grid-connected solar panel system during a blackout without a battery. Here's how it can be done.
One of the important safety features of a grid-connected PV system is when the grid is down, the system's solar inverter will shut down too. If systems continued to export electricity to the mains grid during a blackout, this poses a major risk to workers attempting to fix the grid and could damage grid hardware. This safety feature is called anti-islanding.
To have access to electricity generated by your solar panels during a blackout, usually what's required is an energy storage system. However, this isn't always the case – for example, if you have a Delta E5 inverter.
Who Is Delta?
Founded in the 1970's, Delta is a Taiwanese electronics manufacturing company. It's probably best known in terms of solar manufacturing for its inverter products, but it has also moved into battery storage. SolarQuotes' founder Finn is a fan of Delta, mainly due to his experiences with Delta hardware when he worked as a control systems engineer in a nuclear power plant in the UK many years ago.
"We used Delta power supplies from Delta Electronics," says Finn. "I've always been very confident Delta as a company can make reliable electronics. What they're not very good at is consumer-level marketing."
Let's call Delta a quiet achiever – and one of those achievements is built into its E5 inverter (5kW)1, which is listed on SQ's hybrid inverter comparison table.
Delta E5 "Stand Alone" Mode
When the Delta E5 hybrid inverter loses grid connection, it goes into "Stand Alone" mode. The ATS (Automatic Transfer Switch) inside the inverter cuts any energy exports to the grid and only supplies the critical load circuit. Once a load is applied, the CT (Current Transformer) inside the inverter recognises the load requirements, converts the DC from the solar panels to AC and supplies exactly what is needed to the appliance/s. The E5 has a built-in CT clamp measuring the loads as they rise and fall.
Here's a video showing the E5 it in action. It's impressive stuff.
The feature won't be much use to you at night or during extended periods of heavy cloud, but for those wanting to avoid plonking down a big wad of cash on a solar battery system and still have some blackout capabilities, the Delta E5 could be a good option. For example, a fridge/freezer could be run through the day to get through the night and the same goes for recharging battery powered lights, laptops and handheld devices. You'd just need to be careful in what loads were applied and keep an eye on the weather.
Being a hybrid inverter, the Delta E5 is ready for a battery should you choose to add one in the future. The cost of the E5 is around the $3,000 mark.
Also on the horizon is the Enphase IQ8 microinverter that will have stand-alone functionality. Enphase isn't as modest as Delta, so we should be hearing plenty more about that soon.