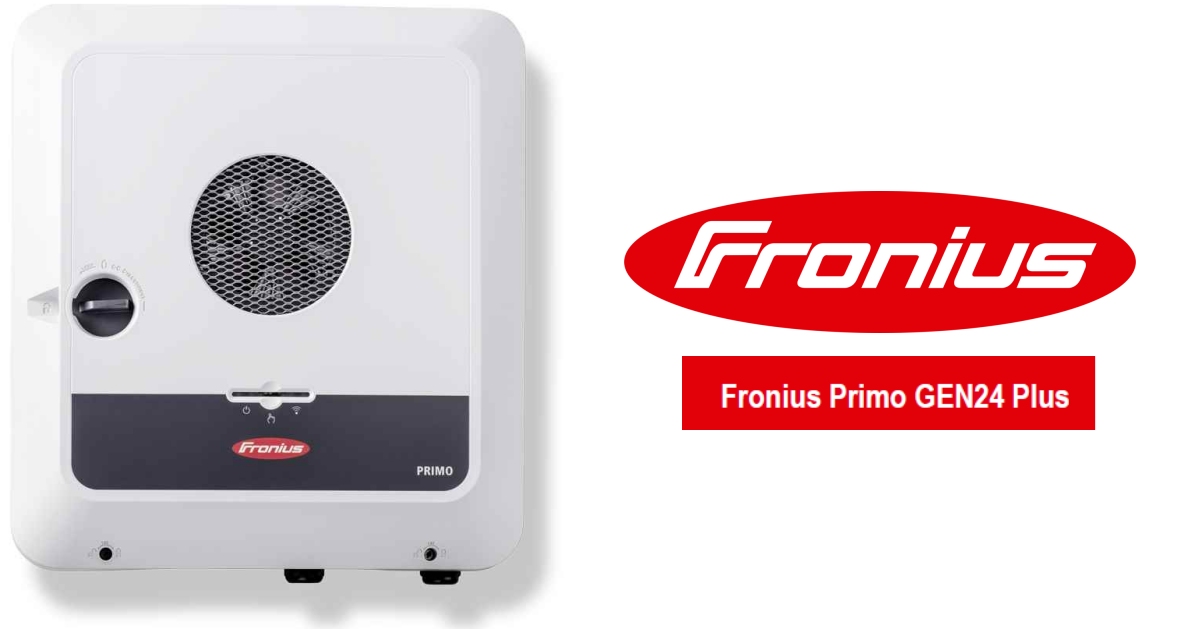 Fronius has announced its GEN24 Plus hybrid inverter is now available in a Primo single-phase variant – and it can supply backup power without a battery.
A hybrid inverter has the ability to manage the electricity output of solar panels and charging a battery system while also operating with mains grid supply.
The Primo GEN24 Plus is Fronius's first single-phase hybrid inverter, following in the footsteps of the 3-phase Symo Hybrid and more recently the Symo GEN24 Plus.
"The Primo has countless open interfaces for linking together the energy, storage, mobility, heating and cooling sectors," said Martin Hackl, Global Director of the Business Unit Solar Energy at Fronius International. "We've packed it full of future-proof technology to make it possible to get the most out of the photovoltaic system over the decades."
Primo GEN24 Plus Basic Specifications
Capacities available: 3 – 6kW
MPP Trackers (MPPT): 2
Efficiency: 97.6%
Weight: 15.4 / 19 kg
Dimensions: 530 x 474 x 165 mm
Noise: < 42 dB (A)
You can find other specifications of the Fronius Primo GEN24 Plus and see it how it compares against other inverters on the SolarQuotes hybrid inverter comparison table.
Backup Without A Battery – PV Point
One of the very interesting features of the Primo GEN24 Plus is its ability to continue supplying electricity to a home in the event of a mains grid disruption, and without a battery.
The PV Point feature, which involves installing a dedicated power point beside the inverter or within the home, can provide a maximum of 3,000W during a blackout situation.
While it means plugging in loads in such a situation and will only be useful when the sun is shining – and there is a 60-90 second changeover time – it makes the Primo GEN24 Plus an even more compelling option for solar power systems buyers and owners wanting a backup solution but who aren't ready to purchase a home battery.
Full Backup, But..
Where a battery is present, the GEN24 Plus Primo enables power currently being generated to be consumed and for surplus energy to be stored in the battery – but it will need to be a BYD B-Box battery.
Active Cooling
Most solar inverters these days – hybrid or otherwise – use passive (aka "natural" or convection) cooling, but Fronius uses active cooling; meaning a large fan. While providing superior cooling performance that helps to extend the working life of an inverter, it also creates more noise.
At < 42 dB (A), the Primo GEN24 Plus would be louder than a Delta E5 , which also offers backup power functionality without a battery. But louder doesn't mean really loud. 42 dB is a bit more than the level of a computer fan, but it may still be a consideration in terms of inverter placement.
Fronius has been producing inverters since the 1990's and its solar products are considered among the best in the world. Fronius solar inverter reviews here on SolarQuotes have generally been very positive and there has been a lot of them; more than 4,800 ratings and reviews at the time of publishing.
On a related note, Fronius says the three-phase Symo GEN24 Plus will be also be available in the smaller 3, 4 and 5 kW power categories next month.