If someone casually asks me how much solar they should install, I may simply tell them they should fill their roof with as much capacity as they reasonably can.  But after learning the details, I often recommend installing as close to 6.66 kilowatts as possible.
The reason why is fairly straightforward.  Most homes have single phase power and their Distributed Network Service Provider (DNSP) normally only allows these homes to install a maximum inverter capacity of 5 kilowatts.  Because solar panel capacity can be up to one-third larger than the inverter capacity1 the maximum solar power system size that can be installed is 6.66 kilowatts2.
Going Over 6.66 Kilowatts
There are ways around the 6.66 kilowatt limit for homes with single phase power, but they are not always permitted or practical:
Some DNSPs allow more inverter capacity or you can apply for special permission for a larger system.
Inverters can be export limited so they won't send more than 5 kilowatts of power into the grid.  Not all DNSPs will allow this, but if export limiting is an option I suggest looking into it if you have enough roof space for a large solar system.
Install a solar power system that doesn't export to the grid.  As it doesn't send power into the grid you don't need your DNSP's permission to install it.  The drawback is you won't receive a feed-in tariff for any surplus energy produced
Have your home upgraded to 3 phrase power.  This may only cost around $2,000 but often costs more than twice that.
Close To 6.66 Kilowatts Is Often Practical
Given the number of solar panels that can easily be installed on a typical roof and also taking into account people's budgets and what they expect from their solar systems, installing close to 6.66 kilowatts of panels is often the most practical option.  But while I have often recommended this, I've never clearly explained just how many solar panels will be required and how close to the limit you can get.
To remedy this I've created a table that gives:
Solar panel capacity in watts.
The maximum number of panels of that wattage that can be installed while remaining within the 6.66 kilowatt limit.
The total capacity of that system.
Here it is: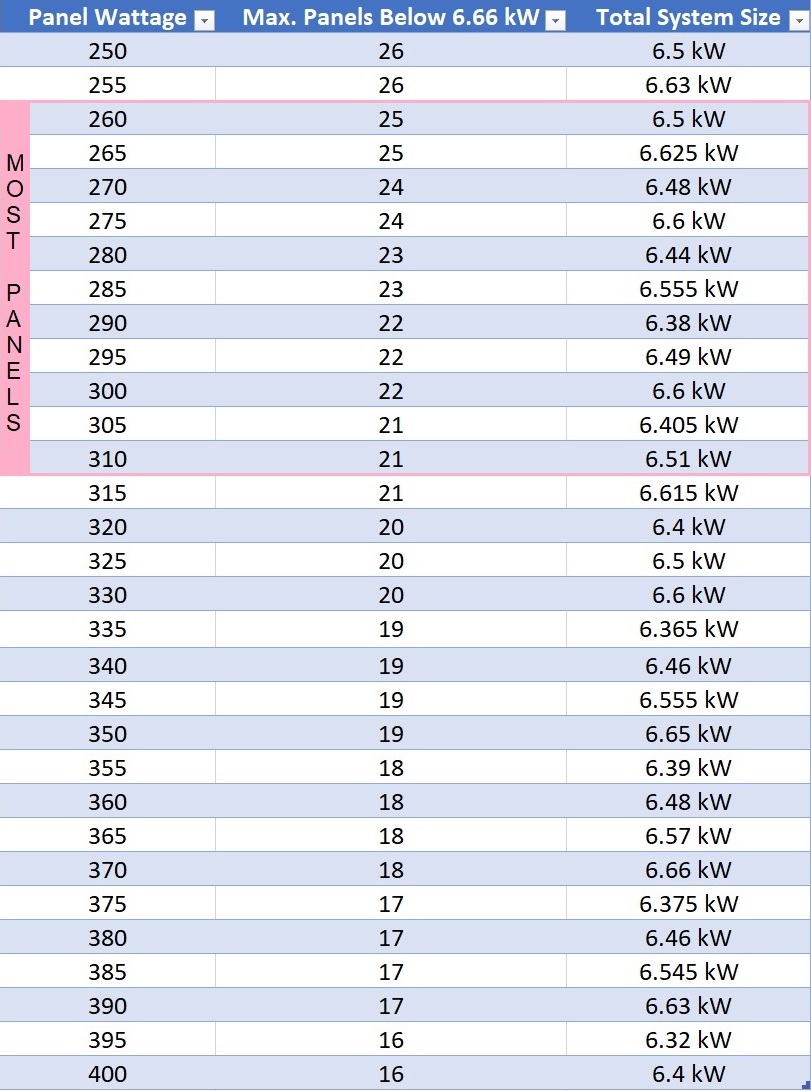 Solar Panels From 250 to 400 Watts
The table covers panels from 250 to 400 watts.  You are very unlikely to have a solar system installed these days with 250 watt panels.  The lowest capacity on our solar panel comparison table at the moment is 255 watts.  But 250 watts seems like a good place to start.
The largest panel capacity on the table is 400 watts.  There is only one solar panel I know of larger than this and that's a big, 72 solar cell, commercial panel from LG Solar.  You're not likely to install these on your roof, but if you do you can work out the maths yourself.  Or you could get LG Solar to do it.  Ask Marcus from LG Solar to work it out and tell him I told you he had to do it personally.  He'll love that.
Most panels installed these days are from 260 to 310 watts and I've outlined those in a pink box.  Those with higher capacity are often larger 72 cell panels that are rarely used on residential roofs.  But if you are willing to pay for a premium solar panel you can get high capacity 60 cell ones such as SunPower's X-22, which is 360 watts.
There are bifacial solar panels that have high wattages, but they're not suitable for normal rooftops as they perform best when they can make use of light that comes from beneath and most roofs don't glow.  (But they can be useful as roofing for patios, carports, and sun rooms.3)
How To Use The Table
Let's say your favorite country without kangaroos is Taiwan so you want to install Taiwanese made Winaico solar panels.  You are thinking of using their 285 watt panels and want to get as close to 6.66 kilowatts as possible.  So you check the table and:
Look up 285 watts in the left hand column.
Look to the right to see that the maximum number of solar panels you can install is 23.
Look to the right of that and see the total capacity of the system will be 6.555 kilowatts.
Best Solar Panel Wattage For Maximum System Capacity
Looking at solar panels from 260 to 310 watts, the three best wattages for getting as close to the 6.66 kilowatt maximum are:
265 watts — Maximum capacity 6.625 kilowatts
275 watts — Maximum capacity 6.6 kilowatts
300 watts — Maximum capacity 6.6 kilowatts
The average maximum capacity for solar panels in that range comes to 6.51 kilowatts.  So if you randomly pick from the most common capacity panels you can expect to get a system size of around 6.5 kilowatts.
If you want to be spot-on 6.66 kilowatts you'll need 370 watt panels, as 18 of them will give you that amount exactly.
Don't Stress Out Over A Couple Hundred Watts
While it often makes sense to get as close to 6.66 kilowatts as possible, don't panic if you are a couple hundred watts short.  Paying a few percent more for a system with a few percent more capacity is worthwhile, but your installer may not be able to easily acquire optimal wattage solar panels for you and it doesn't make much sense to pay a heap more for them.  You may be able to use that money to make greater energy savings elsewhere, such as buying a more energy efficient appliance or buying — and using — a bicycle.4