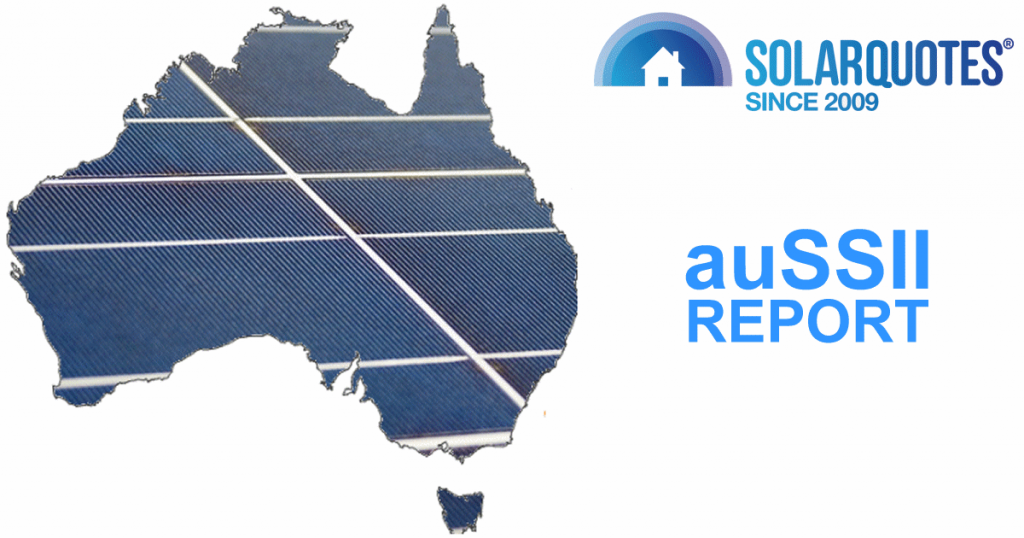 Did the high level of interest in advanced solar power system monitoring we saw in April continue in May? Find out in our latest Australian Solar Systems Interest Index (auSSII) report.
System Capacity Preferences
Interest in 6kW and larger solar power systems continued to build during May; accounting for nearly 68% of preferences among those who had a system size in mind (April – 66%, March – 63%, February ~60%, January – 58%). Around 33% of all submissions indicated advice on system sizing was needed, up on April (31%).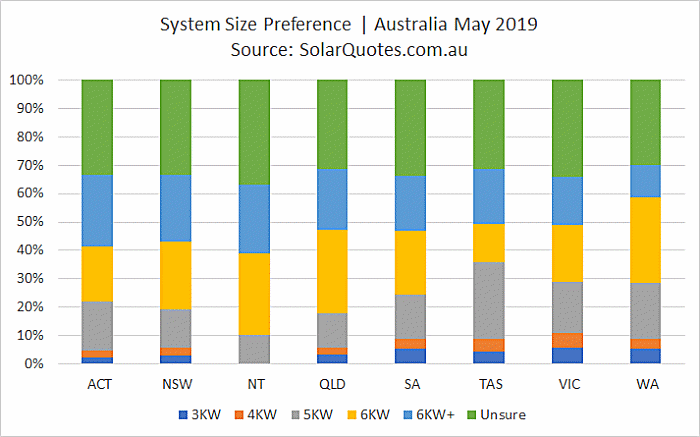 Readiness To Install
The proportion of those ready to purchase a solar power system immediately was around the 16% mark in May, down from 18% in April. Those wanting to buy a system from right now to within 3 months also dropped back a little; from 81% in April to a whisker over 80% in May.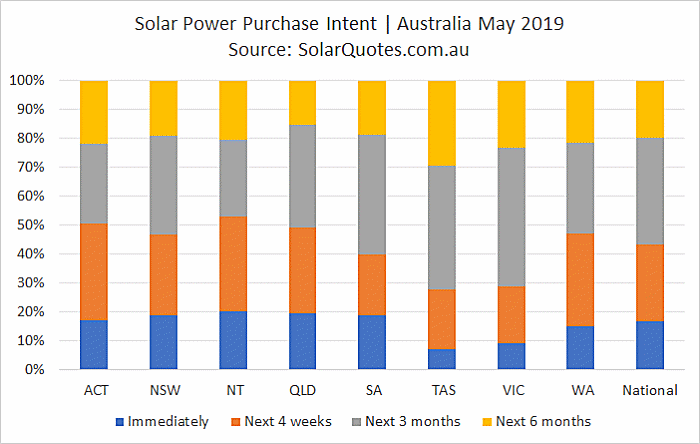 Price Vs. Quality
Preference for a top quality (most expensive) system stayed around the same as in April (13%), as did quote submissions requesting a system offering a balance of quality and price – just under 80% (also similar to March and February). Those wanting "good budget solar package" was again around the 7% mark.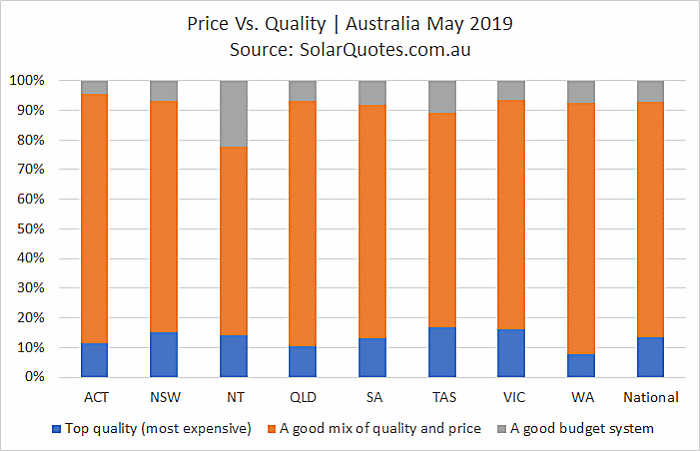 Solar Power System Monitoring
As mentioned in the last auSSII, April was the first full month when SQ's quoting form asked the question – "Would you like consumption monitoring?".
In April 65% selected "yes" and in May, this climbed higher to reach 67%. As regular visitors to this site would know, SQ founder Finn is a big fan of solar power system monitoring.  Discover why he believes a solar monitoring system is a wise choice here.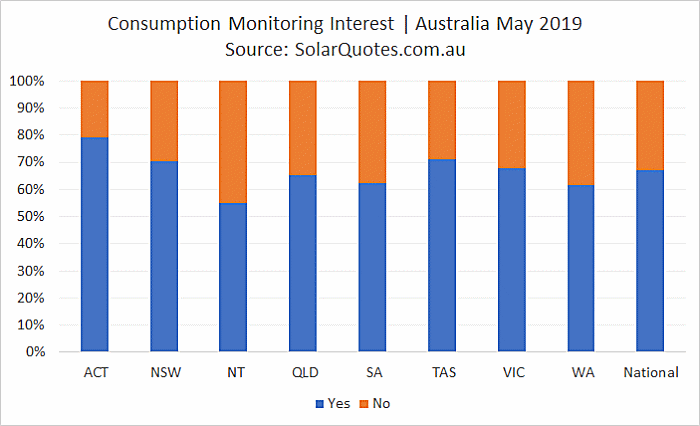 Battery Ready Systems
Interest in "battery-ready" solar power systems remained fairly steady in May – a bit over 26% ( ~27% in April and March). This question is on the quoting form to assist prospective installers with system design when compiling a quote.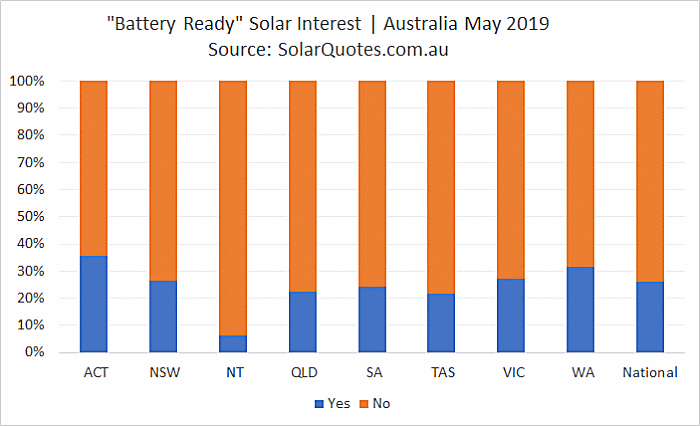 Solar + Energy Storage
8% indicated interest in a battery being installed at the same time as the their solar power system, up on April's 7%. Solar batteries may be very attractive to many, but pricing still has some way to go to make them more widely accessible (and worthwhile installing). Something that stands out on the graph is the complete lack of interest in batteries during May in the Northern Territory – hence the blank slot.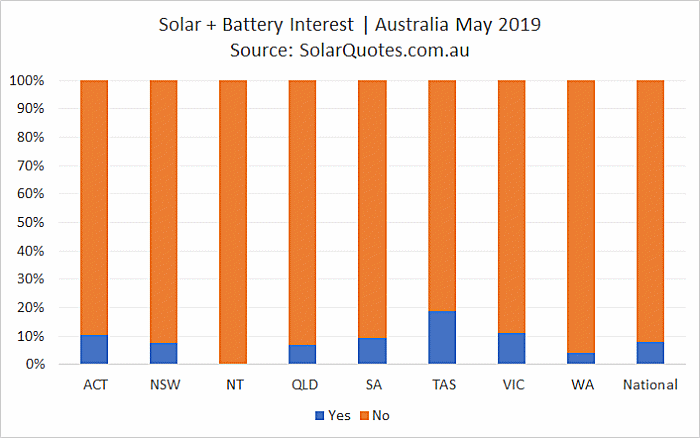 Battery Size Preference
Among those wanting a concurrent battery installation and who specified capacity, approximately 20% indicated a 1-5kWh system in May (21% in April), 45% a 5-10kWh battery (43% in April) and 35% a 10kWh+ battery (same as April). There continued to be significantly more uncertainty on choosing a battery size compared to choosing PV capacity – with close to 54% wanting advice on energy storage sizing in May.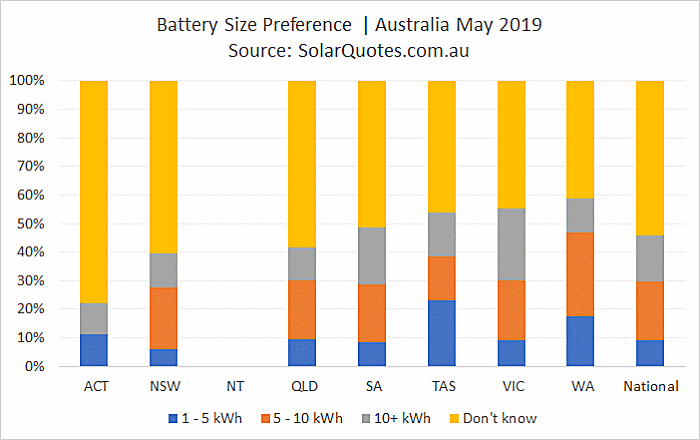 Battery Use Intention
Just 3% wanted a solar battery primarily for backup purposes – down from 6% in April. 48% were wanting a battery for minimising grid electricity use, while 49% wanted it for both applications (47% in April).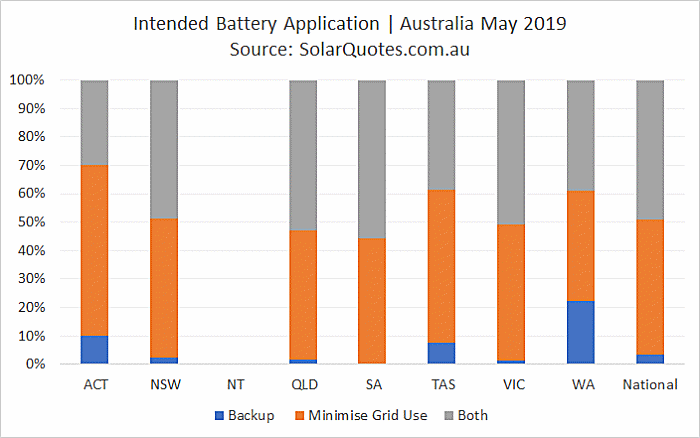 Electricity Costs
Where Australians using our service knew how much they were paying quarterly for electricity, in May just on 50% said they had electricity bills of $500 – $1,000 (same as April) and close to 13% said  $1,000 or more (11% in April).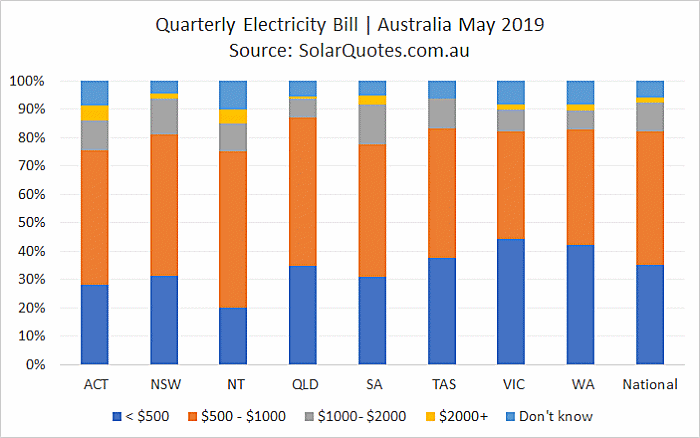 auSSII Data Source
auSSII reports are compiled based on responses provided by thousands of Australians who use our solar quotes service every month. Prospective solar buyers receive system pricing and details from up to three of SQ's network of pre-vetted installers best matched to their requirements.
A Decade Of Quality Solar Sales Leads
SolarQuotes has been around since 2009, providing quality sales leads to Australian solar businesses who take pride in their work – and good care of their customers. Discover why our solar sales lead services are a cut above the rest.
Republishing auSSII Content
We permit reproduction of figures and graphs from any our auSSII reports, but the page you source content from must be acknowledged in your reproduction.