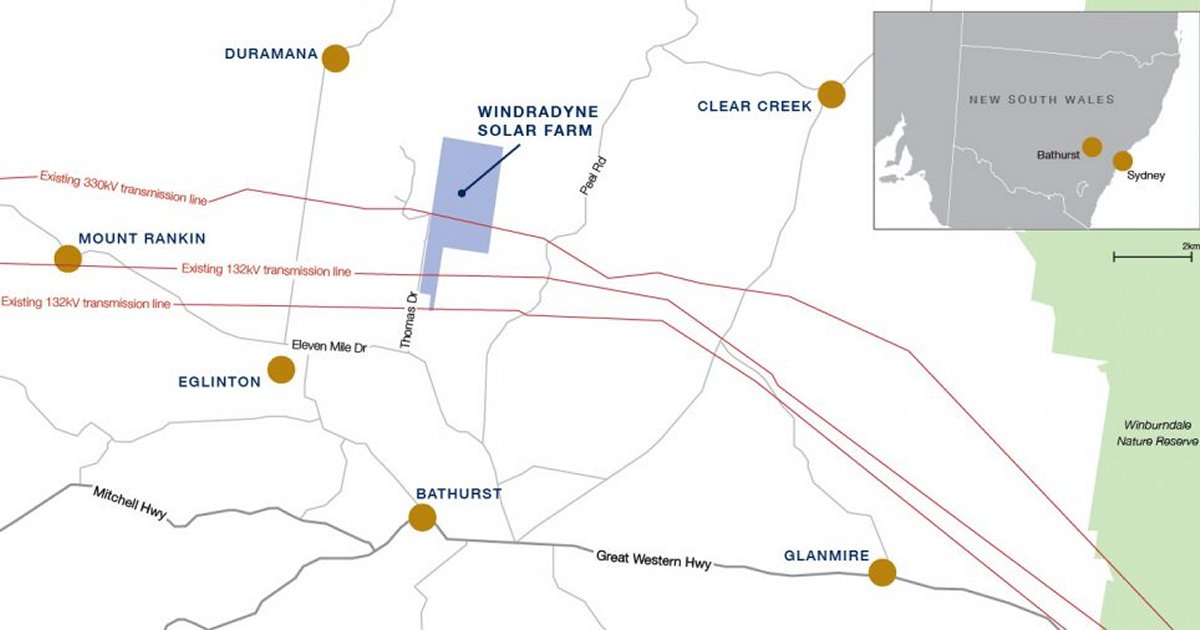 Renewable energy developer Neoen has been keen to get cracking on community engagement for a new proposed solar power project in New South Wales.
Last month the France-headquartered developer signalled a proposal to build a 200MW solar farm near Bathurst. Currently named Windradyne Solar Farm, Neoen says the clean power station would span 500 hectares and generate approximately 500 gigawatt-hours of electricity a year (which seems a tad optimistic); while avoiding 410,000 tonnes of carbon emissions annually.
There would be significant benefits for the local community in addition to the activity generated through 230 jobs during construction and 5 – 8 ongoing positions. Some of the options Neoen is investigating include a community benefits fund, potential for community co-investment, and grants to make locally installed rooftop solar and home battery storage more affordable.
Vegetation And Agricultural Production Concerns
While still at its very early stages, Neoen has already launched a community feedback survey for the project. As is usual with large-scale solar ventures, among the concerns raised so far are the removal of trees and loss of agricultural land.
According to the Western Advocate (paywall), Neoen has sought to allay these fears; stating the trees within the project boundary are concentrated along the gullies, and these are areas that will remain protected. As for the potential loss of agricultural land, all five of Neoen's operational solar farms (Parkes, Dubbo, Griffith, Coleambally and Numurkah) continue to have sheep grazing within the sites.
The number of sheep isn't just a token figure – the host landowner for Neoen's Dubbo Solar Farm, Tom Warren, estimates at least 80% of normal stocking rates can be achieved.
"Plus, in areas with a lot of sun the panels provide plenty of shade for livestock. It's an opportunity and a win-win for farmers and renewable energy producers," says Mr. Warren.
Mr. Warren has commented that the net benefit to and productivity of his land hosting the solar panels has dramatically increased.
While Windradyne Solar Farm is the current working name, the community is also being asked for feedback on that aspect. Neoen says "Windradyne" was chosen in honour of a local Aboriginal warrior from the early 1800's, but this isn't set in stone and three other names have been proposed by the company. Those completing the survey can also suggest a name and no doubt someone will submit Solary McSolarface.
Neoen has a solid track record in Australia. Probably its most high-profile project is the "Tesla Big Battery" (Hornsdale Power Reserve) in South Australia. Situated adjacent to Neoen's 309MW Hornsdale Wind Farm, the Tesla Big Battery was originally 100MW/129MWh, but a 50 MW/64.5 MWh expansion of the facility is just about ready for prime time, with final testing starting late last month.
Neoen had 3GW of renewables capacity in operation or under construction across 14 countries by the end of last year and is aiming for 5GW by 2021.